ACCUPLACER Reading Practice Test
How prepared are you for the ACCUPLACER reading test?
This overview looks at the Reading test and answers several questions about the exam.
Take our free ACCUPLACER reading practice test to see if you are ready for test day.

The ACCUPLACER reading subtest is a computer-adaptive, untimed test designed to help accurately place students into appropriate class levels by assessing their individual skill and knowledge. Computer adaptive testing means that the test will use a complex algorithm to adjust the complexity level of the questions over time based on your previous responses. The result is an accurate representation of your individual capabilities with no outside influence. As such, the test is not scored as either passing or failing; instead, the test simply reflects your aptitude upon completion.
What to Expect on Test Day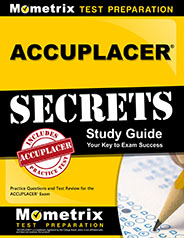 Check Out Mometrix's ACCUPLACER Printed Study Guide
When you arrive to your designated testing location for your ACCUPLACER reading test, you will be asked to present the test administrator with an appropriate form of legal identification prior to admittance to the test center. This is for security and safety purposes. Individual test centers may have their own rules and guidelines, so be sure to contact your center prior to test day to discuss any questions or concerns you may have, disability accommodations (if needed) and any additional special materials that may be required for the test. Once you have checked in with the administrator, you will be instructed on how to begin your test. Once it begins, you will be presented with passages and questions that you may answer at your own pace with no time limit. The test is untimed to allow you to display your capabilities in a comfortable environment.
How to Make an Appointment
The ACCUPLACER reading subtest is administered by College Board. When you are ready to schedule an appointment to take the test, you will need to contact your college advising or counseling center to receive instruction. If your institution is located out of state, you may have access to remote testing options, but you will need to speak with an advisor or counselor on necessary steps in order to receive permission from the institution and schedule and your appointment.

ACCUPLACER Reading Subtest
The ACCUPLACER reading subtest is comprised of 20 questions that are all based on presented texts or passages that have been designed to assess your ability to:
Distinguish between direct statements and supporting ideas
Identify main ideas
Make inferences
Understand what you read
The passages will either be single or paired, and will cover a range of complexity levels, content areas and writing modes. The reading test includes the following broad knowledge and skill categories:
Information and Ideas (7-11 questions / 35-55%)

Determining central ideas and themes (identify explicitly stated or implicit central ideas and themes)
Reading closely (identify information and ideas to draw inferences and conclusions)
Summarizing (identify a reasonably summary)
Understanding relationships (identify explicitly stated or implicit relationships)
Rhetoric (7-11 questions / 35-55%)

Analyzing arguments (analyze claims and counterclaims and how an author uses or fails to use evidence to support them; assess author's reasoning for soundness)
Analyzing point of view (determine the point of view or perspective and its influence on content and style)
Analyzing purpose (determine the main purpose of a text)
Analyzing text structure (describe overall structure of a text or analyze the relationship between part and the whole of a text)
Analyzing word choice rhetorically (determine how the selection or use of words or phrases shapes meaning and tone)
Synthesis (2 questions / 10%)

Analyzing multiple texts (synthesize information and ideas from multiple texts)
Vocabulary (2-4 questions / 10-20%)

Determine the meaning of words and phrases in context
Reading Passages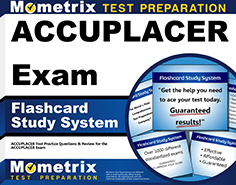 Check Out Mometrix's ACCUPLACER Flashcards
The passages presented on the ACCUPLACER reading test will be either single or paired. All the texts are commissioned, written explicitly for the test, or are authentic published texts. They will be of the literary or informational genre. Each passage will vary in length, with very short passages ranging between 75 and 100 words, short passages between 150 and 200 words, medium-length passages between 250 and 300 words and long passages between 350 and 400 words. Complexities vary as well, ranging from early high school to first-year postsecondary levels. Each passage you encounter will represent one of three different content areas:
Careers / History / Social Studies (career-related topics; academic social science disciplines)
Humanities (arts and letters)
Science (academic natural science disciplines)
The passages will also represent one of the following three writing modes, or text types:
Argument (move readers to action or change belief through logical argumentation)
Informative / Explanatory (convey or describe new information and ideas)
Narrative (use chronology or sequence as the organizing principle)
Online ACCUPLACER Test Prep Course
If you want to be fully prepared, Mometrix offers an online ACCUPLACER Test Prep Course. The course is designed to provide you with any and every resource you might want while studying. The ACCUPLACER Course includes:
55 Review Lessons Covering all the Topics
650+ ACCUPLACER Practice Questions
Over 170 Video Tutorials
More than 200 Electronic Flashcards
Money-back Guarantee
Free Mobile Access
and More!
The ACCUPLACER Prep Course is designed to help any learner get everything they need to prepare for their ACCUPLACER exam; click below to check it out.
Preparing for the ACCUPLACER Reading Subtest
In order to perform to your best ability, take advantage of the resources available to you to study and prepare for the test in advance to test day. Mometrix's free library of ACCUPLACER study resources includes ACCUPLACER practice tests and study guides to help prepare you for the ACCUPLACER reading test by reviewing critical concepts and ideas, and familiarizing you with passage types and content.