ACCUPLACER Study Guide
Welcome to the ACCUPLACER study guide page. The links below will take you through our online ACCUPLACER review. Watch our ACCUPLACER study guide tutorials and brush up on any concepts you don't remember from high school. Pinpoint your strengths and weaknesses to get the most out of your studying. If you need more help or additional practice questions consider upgrading with our ACCUPLACER book and flashcards.
Free ACCUPLACER Study Guide
Featured Lecture: Adding and Subtracting Exponents
Upgrade to our best ACCUPLACER test prep resources:
Online ACCUPLACER Test Prep Course
If you want to be fully prepared, Mometrix offers an online ACCUPLACER Test Prep Course. The course is designed to provide you with any and every resource you might want while studying. The ACCUPLACER Course includes:
55 Review Lessons Covering all the Topics
650+ ACCUPLACER Practice Questions
Over 170 Video Tutorials
More than 200 Electronic Flashcards
Money-back Guarantee
Free Mobile Access
and More!
The ACCUPLACER Prep Course is designed to help any learner get everything they need to prepare for their ACCUPLACER exam; click below to check it out.
Check Out Mometrix's ACCUPLACER Study Guide
Get practice questions, video tutorials, and detailed study lessons
Get Your Study Guide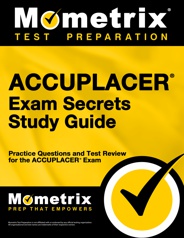 ACCUPLACER Test Study Guide Customer Success Stories
Our customers love the tutorial videos from Mometrix Academy that we have incorporated into our ACCUPLACER study guide. The ACCUPLACER Exam Secrets Study Guide reviews below are examples of customer experiences.
Very easy to understand. Explains things very well! Great customer service!
ACCUPLACER Test Study Guide – Tawnee
I particularly like the explanations of various aspects about the "new generation" format of the exam, especially since that form just recently has begun to be used. I also like the fact that your work book has explanations of answers to the practice test questions. My main focus is English, writing, and language arts, so any help I can get for my students in mathematics is an added bonus for me and them.
ACCUPLACER Test Study Guide – Steve
This book provides lots of good strategies to help with preparation for the Accuplacer. The book intertwines different modes of learning by pairing an instructional video after each explanation of strategies.
ACCUPLACER Test Study Guide – Kacie
I have been through the book and think you have a great product here. The math skills (which is why I purchased it) that are covered are great and the practice problems are just as good. I also really like the "extra" ideas you have included especially about math anxiety. I think it is written to be inspirational which is what came across when I read it.
ACCUPLACER Test Study Guide – Donna
This book is must have to study for the next generation accuplacer test. With the video guidance available for each section, it is not just a book. It will walk through the lessons in two dimension. One reading and the second instruction. Glad I purchsed this book.
ACCUPLACER Test Study Guide – Customer
My experience so far is that the product is expansive and the support behind it extensive. It's clear to me that the skills learned can be applied to any test and college study improvement in general.
ACCUPLACER Test Study Guide – Buck
The explanations of the answers are helpful in the practice test sections, and the web links provide another useful and accessible way to access the test preparation material.
ACCUPLACER Test Study Guide – Customer
Very happy with my purchase!!! I don't feel so helpless before taking this test!! I diffently feel more prepared!!
ACCUPLACER Test Study Guide – Customer
This book has it all. Everything is detailed. It has everything needed to know for the Next Generation Accuplacer Test.
ACCUPLACER Test Study Guide – Karen
Great review! Helped me refresh my math skills for an upcoming test. Thank you!
ACCUPLACER Test Study Guide – Annette
Learn more about the Mometrix ACCUPLACER Study Guide