ACCUPLACER Writing Practice Test
The ACCUPLACER writing subtest is a broad-spectrum, computer-adaptive, untimed test. It has been designed to help accurately place students into classes of an appropriate level by assessing their individual capabilities of two broad knowledge and skill categories. Computer adaptive testing uses a complex algorithm in order to adjust the complexity level of your test questions as you respond to them. This results in an accurate representation of your individual capabilities without any outside influence, such as the results of your peer. You will not receive a passing or failing score on the test; instead, you will be given a report of your performance that reflects your individual aptitude.

What to Expect on Test Day
Before being admitted to your designated test location, you will be asked to present the test administrator with an appropriate, accepted form of legal identification for both safety and security purposes. Each test center may have its own set of guidelines and rules, so as part of your ACCUPLACER test prep, reach out to your designated center to discuss questions or concerns, any necessary disability accommodations and any additional special materials you may need to bring for the test. After you have met with the test administrator, you will be instructed on where to go and how to begin your test. The test will present you with a variety of writing passages and related questions. Since the test is not timed, you may respond to the questions at a pace comfortable to your ability.
How to Make an Appointment
Check Out Mometrix's ACCUPLACER Printed Study Guide
Get practice questions, video tutorials, and detailed study lessons
Get Your Study Guide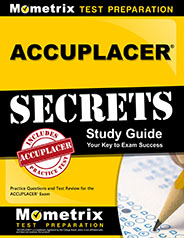 The ACCUPLACER writing subtest is administered by College Board. When you are ready to make an appointment to take the ACCUPLACER writing test, you will need to speak with your institution's advising or counseling center. They will be able to provide guidance and instruction on how to register for the test, including options for remote testing when needed and available. Remote testing availability is dependent upon the institution and will require permission prior to registering for an appointment time.
ACCUPLACER Writing Subtest
In order to evaluate your ability to revise and edit multi-paragraph text, the ACCUPLACER writing test will present you with a series of 25 questions. These questions are divided into two broad knowledge and skills categories and their respective subcategories:
Expression of Ideas (14-16 questions / 56-64%)

Development (add, revises, retain or delete information and ideas)

Focus (relevance to topic and purpose)
Proposition (structure tests or convey arguments, ideas and information effectively)
Support (support claims or points)
Effective Language Use (revision of text for rhetoric)

Concision (improve economy of word choice)
Precision (exactness or content appropriateness)
Style and tone (consistency of style and tone)
Syntax (use various sentence structures)
Organization (text revision)

Introductions, conclusions and transitions (improve texts for effective grammar and connection of ideas)
Logical sequence (present information and ideas logically)

Standard English Conventions (9-11 questions / 36-44%)
Conventions of Punctuation (recognize and correct violations and inappropriate uses of conventions of punctuation)

End-of-sentence punctuation
Hyphenation conventions
Items in a series
Nonrestrictive and parenthetical elements
Possessive nouns and pronouns
Unnecessary punctuation
Within-sentence punctuation
Conventions of Usage (recognize and correct lack of agreement and inconsistencies)

Conventional expression
Frequently confused words
Logical comparison
Noun agreement
Possessive determiners
Pronoun-antecedent agreement
Pronoun clarity
Subject-verb agreement
Sentence Structure (recognize and correct problems and inappropriate shifts within and between sentences)

Inappropriate shifts in pronoun person and number
Inappropriate shifts in verb tense
Inappropriate shifts in verb voice and mood
Modifier placement
Parallel structure
Sentence boundaries
Subordination and coordination

Writing Passages
Check Out Mometrix's ACCUPLACER Flashcards
Get complex subjects broken down into easily understandable concepts
Get Your Flashcards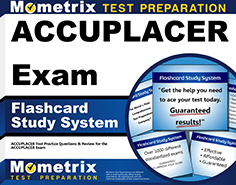 The writing passages presented on the ACCUPLACER writing test are between 300 and 350 words. They will be commissioned literary or informational texts written specifically for the test. They are intended to reflect a variety of complexities ranging from early high school to first-year postsecondary. Each passage represents one of the following three content areas:
Careers / History / Social Studies (career-related topics; academic social science disciplines)
Humanities (arts and letters)
Science (academic natural science disciplines)
They also represent one of the following three text types, or writing modes:
Argument (move readers to action or change belief through logical argumentation)
Informative / Explanatory (convey or describe new information and ideas)
Narrative (use chronology or sequence as the organizing principle)
Online ACCUPLACER Test Prep Course
If you want to be fully prepared, Mometrix offers an online ACCUPLACER Test Prep Course. The course is designed to provide you with any and every resource you might want while studying. The ACCUPLACER Course includes:
55 Review Lessons Covering all the Topics
650+ ACCUPLACER Practice Questions
Over 170 Video Tutorials
More than 200 Electronic Flashcards
Money-back Guarantee
Free Mobile Access
and More!
The ACCUPLACER Prep Course is designed to help any learner get everything they need to prepare for their ACCUPLACER exam; click below to check it out.
Preparing for the ACCUPLACER Writing Subtest
As you prepare to take the ACCUPLACER writing subtest, take advantage of the resources available to you in order to perform at your best. Mometrix's free ACCUPLACER test prep and study resources include ACCUPLACER practice tests and ACCUPLACER study guides to help you review critical concepts and ideas, and familiarize you with passage types and content.