AP tests are exams designed to measure a person's grasp of a particular subject area. Passing one of these exams certifies that you have achieved a level of learning commensurate with that of a student who has passed college classes in the subject. If you're in high school and are preparing for college, Advanced Placement (AP) courses are a great way to go with earning college credit while still being in high school.
The AP European History exam focuses on developing student's abilities to think conceptually about European History from 1450 to the present and apply historical thinking skills as they learn about the past.
Students who wish to take the AP exam should expect to pay a $92 fee and must score a 3 on the exam to be considered as passing. Scores on the AP exam range from 1 to 5 with 5 being the highest score.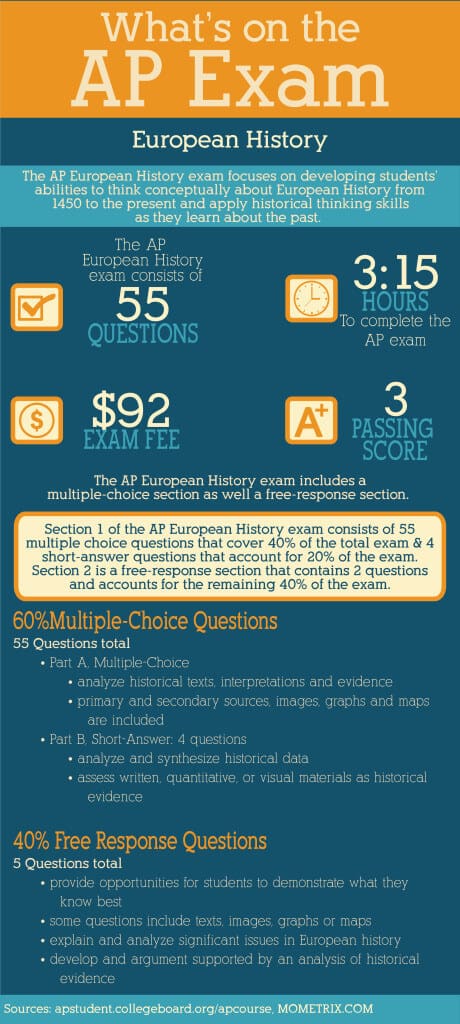 The AP English Literature exam consists of 52 multiple-choice questions that account for 60% of the exam. The AP exam also includes a free-response section with 5 questions total. The free-response section counts for the remaining 40% of the exam.
The questions on the multiple-choice section includes a Part A with multiple-choice questions that analyze historical texts, interpretations, and evidence. It includes questions about primary and secondary sources, images, graphs, and maps.
Part B includes 4 short answer questions that analyze and synthesize historical data and students should assess written, quantitative, or visual materials as historical evidence.
 The free response section contains 5 questions total that provide opportunities for students to demonstrate what they know best. Some of the questions may include texts, images, graphs or maps. Students must explain and analyze significant issues in European History as well as develop an argument supported by an analysis of historical evidence.