– In 2018, 1.9 million students took the ACT from all 50 states as well as many other countries.
– Your ACT test scores are accepted by ALL four-year colleges and universities in the US.
Are you a high school student with hopes of going to college after graduation?
Many students are.
But before you head off to college, you'll more than likely be required to take an exam.
That exam is the ACT.
What is the ACT?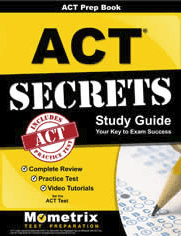 The ACT was developed by ACT.org and is a standardized test that is required for entrance into many colleges and universities around the country. Your results on the ACT exam help schools to make admission decisions. Although, many colleges and universities not only look at your ACT score, but also your GPA, class rank extracurricular activities and recommendations.
The ACT exam measures your readiness for college based on the knowledge that you have learned throughout your time in high school such as English, Math Reading, Science, and Writing.
Not every school requires the Writing section of the ACT exam, so you will need to contact the school of your choice to see if they require this section for an admissions decision.
What's on the ACT Exam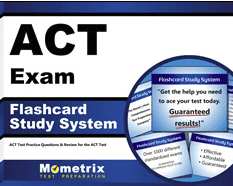 The ACT consists of 215 questions and you are given 175 minutes to complete the test.
The ACT is divided into four sections with an optional fifth section:
English
Math
Reading
Science
Writing (optional)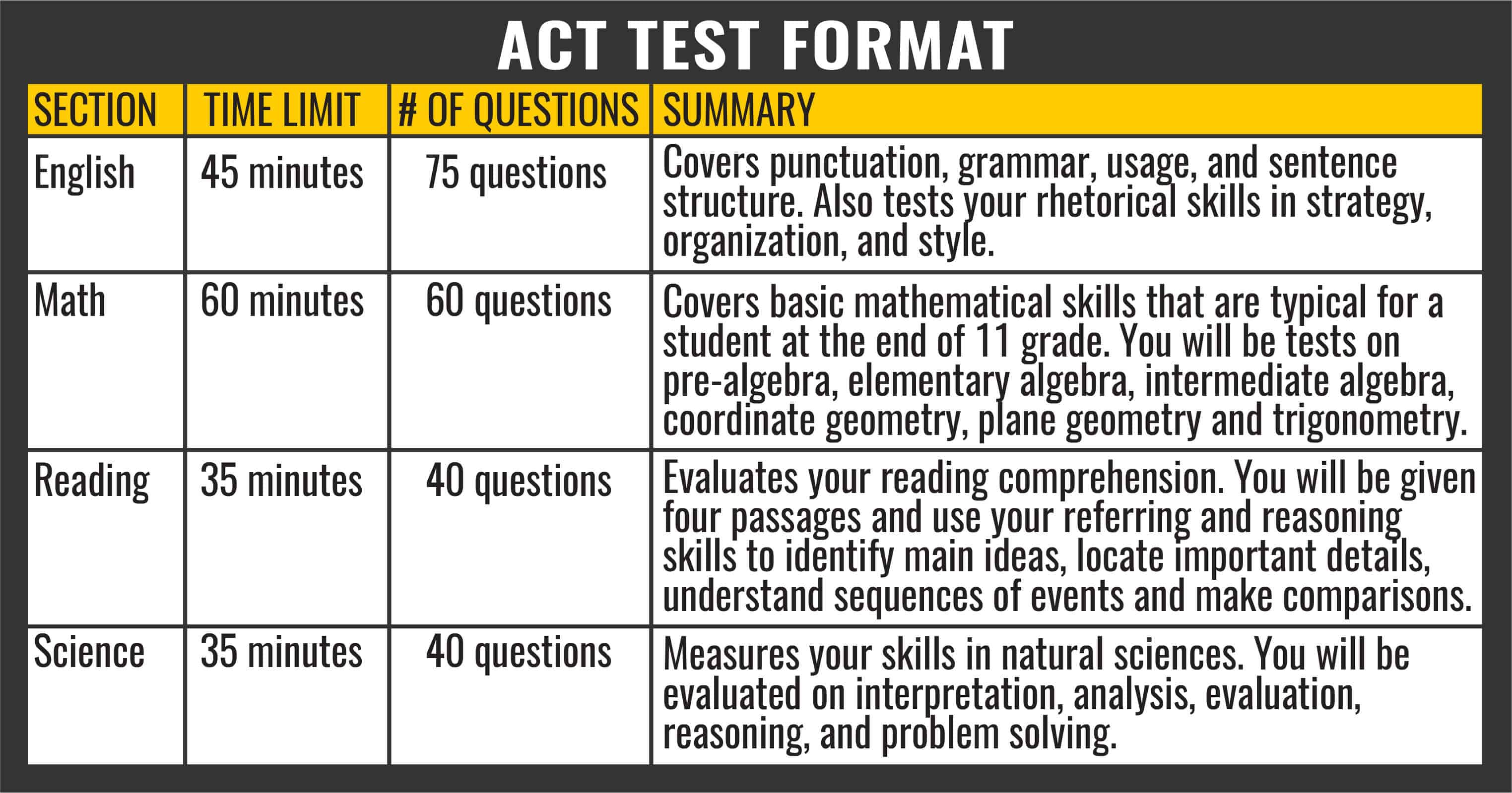 English
The English section is the first section you'll complete on the ACT exam. You will be given 45 minutes to answer 75 questions. All questions in the English section are multiple-choice and contain four answer choices.
In this section, you'll be given two types of English questions: Usage and Mechanics and then Rhetorical Skills. The Usage and Mechanics questions will cover punctuation, grammar and usage, and sentence structure. The questions over Rhetorical Skills will cover strategy, organization, and style.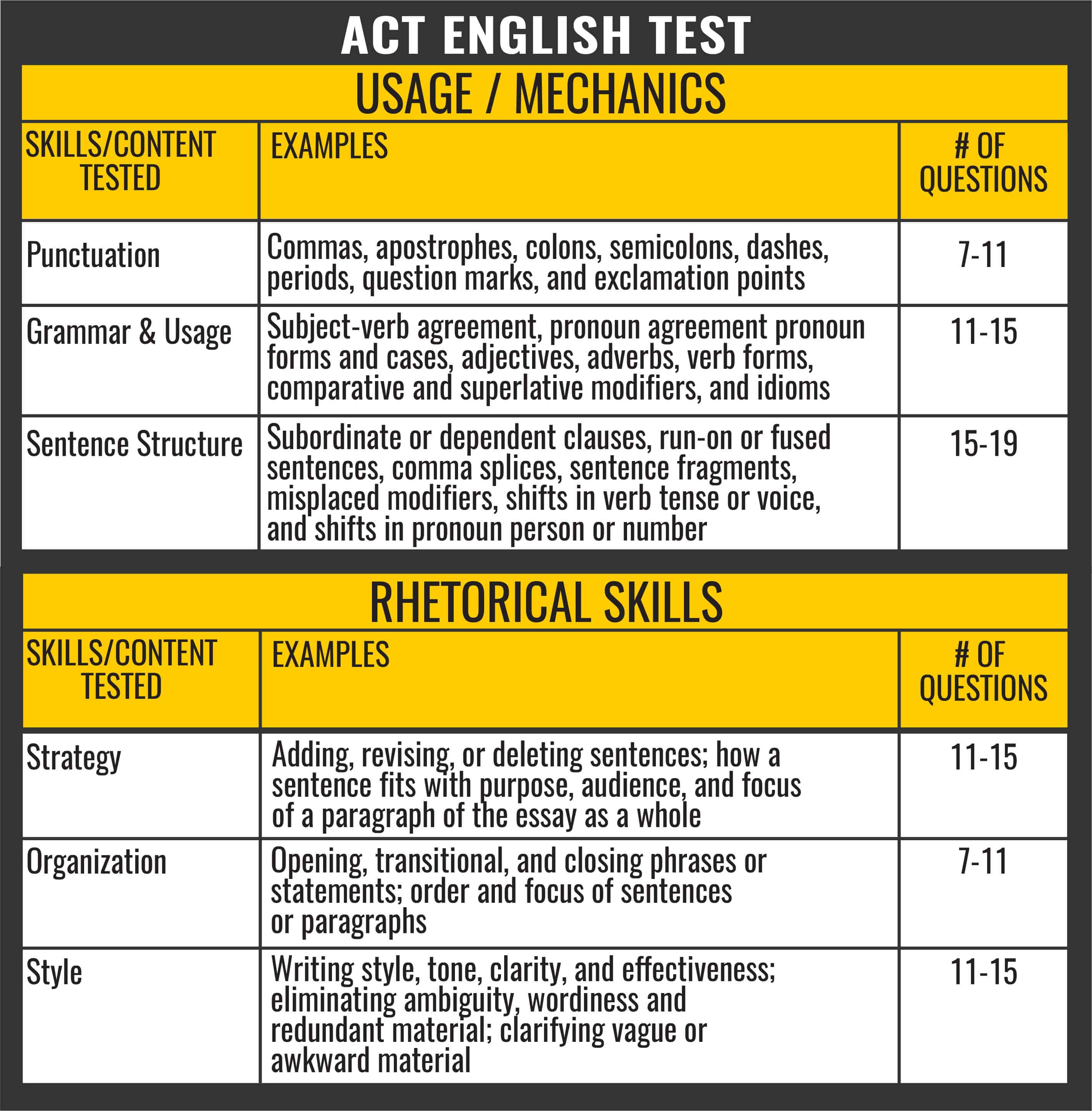 In the English section, you'll be given five passages to read which include underlined portions. Each passage contains 300 to 350 words. Some questions will require you to decide which the appropriate alternate context of the passage is. You'll also be required to decide whether a sentence is a run-on or a fragment. Other questions will ask you if the sentences in the passage need to be reordered or if a particular detail should be added or removed.
Math
In the Math section of the ACT, you'll be given 60 multiple-choice questions to be completed within 60 minutes – which basically gives you 1 minute for each question. In this section, you'll need to know how to work faster and more strategically that you have in class. Each question will give you five answer choices to choose from. The topics that you'll be tested on are topics that are typically covered in high school classes through your 11th-grade year.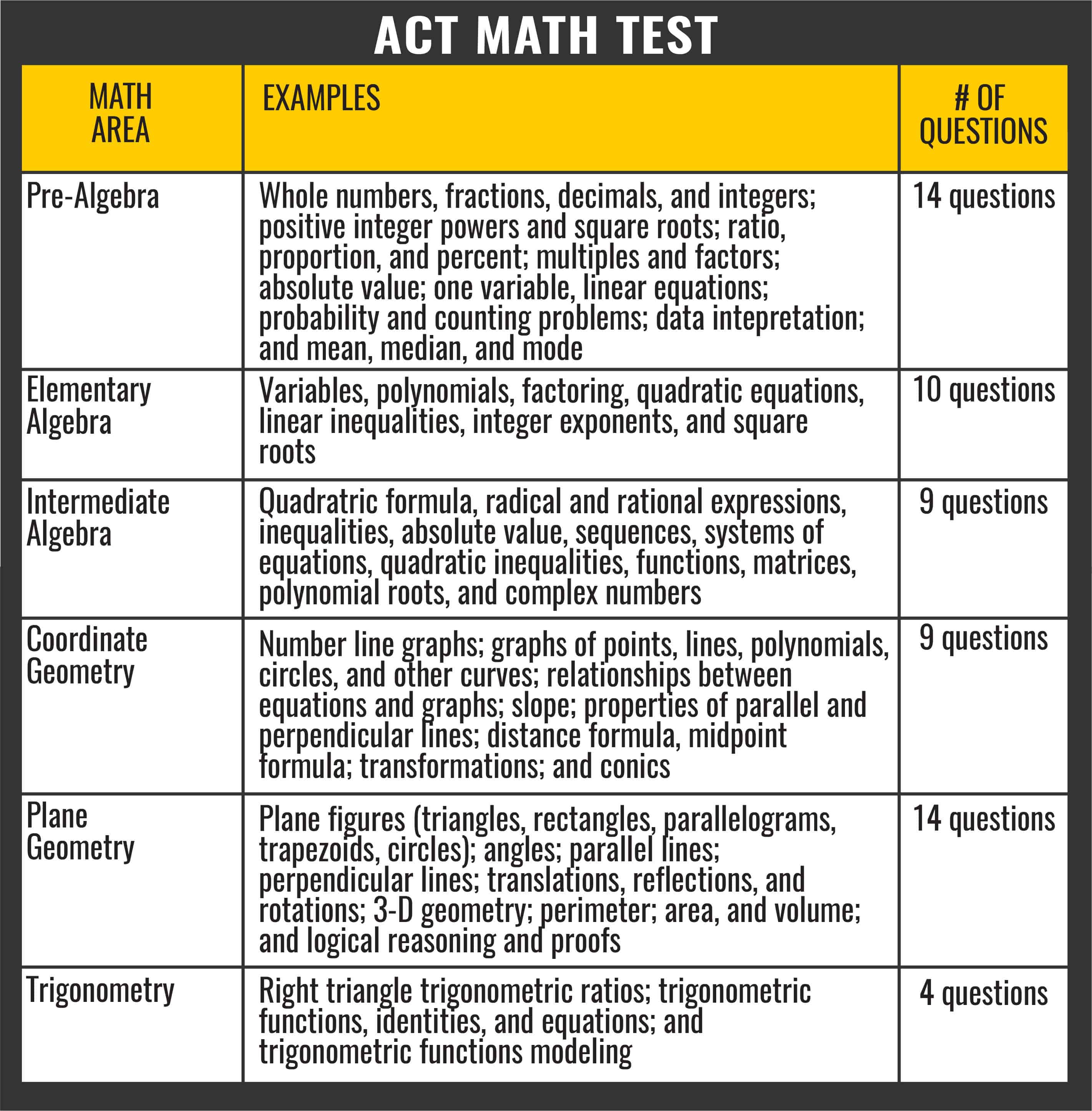 There are 3 areas of math that are tested that includes 6 types of questions.
Algebra
You'll be given 14 questions that are pre-algebra and are based on math terminology such as integers and prime numbers, basic number theory and manipulation of fractions and decimals.
Along with the pre-algebra questions, you'll be given 10 questions of algebra-based on inequalities, linear equations, ratios, percents, and averages.
You'll also be given 9 intermediate algebra questions based on exponents, roots, simultaneous equations, and quadratic equations.
Geometry
You'll be given 14 questions about geometry that are based on angles, lengths, triangles, quadrilaterals, circles, perimeter, area, and volume.
You'll also have 9 questions over coordinate geometry that are based on slope, distance, midpoint, parallel and perpendicular lines, points of intersection, and graphing.
Trigonometry
You'll be given only 4 questions that are based on basic sine, cosine, and tangent functions, trig identities, and graphing.
The ACT allows you to use a calculator on the math section of the exam. However, you'll need to make sure that your calculator is acceptable for use on the test.
Reading
The ACT Reading section is always the third section to take. This section will measure your reading comprehension skills. It contains 40 questions that need to be completed within 35 minutes. You'll be given three passages and a set of paired passages, each containing 750-800 words. Each passage contains 10 questions, each with four answer choices. The passages in the Reading section have line numbers every 5 lines and some questions will reference these line numbers.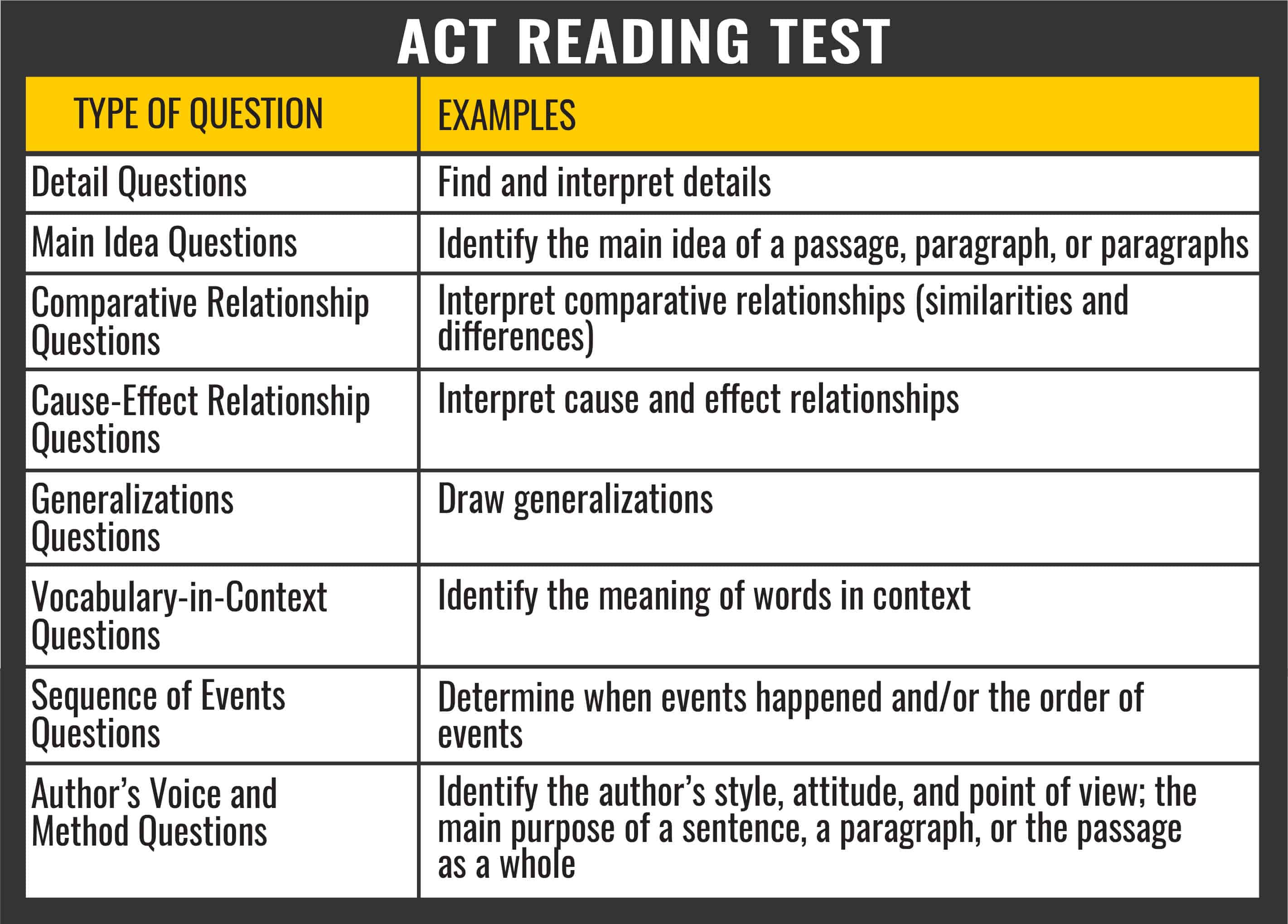 The passages in the Reading section cover four subject areas:
Prose fiction/literary narrative – short stories, excerpts from novels, personal essays
Humanities – film studies, music, theater, art
Social Science – history, political science, sociology, psychology
Natural Science – biology, chemistry, physics, geology
While the passages given on the Reading section of the ACT covers four subject areas, the questions for those passages are divided into three categories that measure multiple reading skills.
Key Ideas: close reading (finding and interpreting facts, drawing conclusions, paraphrasing); central ideas, themes, and summaries (identifying and summarizing topics, main ideas, and supporting ideas; relationships (sequence, cause and effect, comparison)
Craft and Structure: understanding word meaning, word choice, text structure, point of view
Integration of Knowledge and Ideas: arguments (main ideas presented in passages) and multiple texts (passage comparison and drawing conclusions from two sources)
Science
The ACT Science section contains 40 questions that are to be completed within 35 minutes. This means you'll have about 53 seconds to spend on each question. The Science section is organized into 6 reading passages with each passage containing 6 to 7 questions. Each passage focuses on one subject area including biology, chemistry, earth/space sciences, and physics.

The passages are also presented in one of three different formats:
Data Representation: You'll be required to read graphs, interpret scatterplots, and explain information in tables. You will need to be able to read and understand data for these questions.
Research Summaries: You'll be required to interpret the design and results of experiments. For these questions, you'll need to have knowledge of scientific method and data collection.
Conflicting Viewpoints: You'll be tested over your ability to understand, analyze, and compare alternative viewpoints or hypotheses. These questions will require you to read two different viewpoints and compare the similarities and differences.
Writing
The Writing section of the ACT is an optional section. You do not have to take this section in order to get scores on the other four sections.  If you choose to take the Writing section, you'll have a prompt for one essay and you'll be given 40 minutes to complete it.
The Writing section will evaluate your writing skills that are taught in high school English courses. It includes four domains that you'll be tested over including Ideas and Analysis, Development and Support, and Language Use and Convention.
You'll be given three different perspectives on an issue of contemporary importance. You'll be required to give your own opinion on the issue and connect your views with the perspectives that are provided.
How is the ACT Scored?
The ACT exam is scored on a scale of 1 to 36, with 36 being the highest possible score. Each section on the ACT is scored separately, also on a scale of 1 to 36. You'll receive a final score which is the average of the scores from each section on the exam.
If you have taken the optional Writing section, you'll receive a score on a scaled of 1 to 6, with 6 being the highest score.