SAT Test
Almost everyone who has started high school has heard of the SAT. Whether you need help studying for the SAT or just want some more information about what the test is like, you've come to the right place!
This page will cover everything you need to know about the SAT, such as what information the examination covers, the number and type of questions you can expect, and what score you need to pass.
What is the SAT?
The SAT exam is a standardized test used for college admissions in the United States. The exam was introduced in 1926 under the name Scholastic Aptitude Test but has since become known simply as the SAT. The test was created to assess high-school students' readiness for college and to provide colleges with a standard benchmark to evaluate applicants. Today, more than 4,000 colleges and universities in the US and 85 other countries use SAT scores to make admission decisions!
In 2022 and 2023, the SAT will be given in the United States using the paper-and-pencil format. Outside of the US, the SAT will transition to a digital format in 2023.
What's on the SAT?
The SAT contains 154 questions, and you will have 3 hours to complete it. The majority of SAT questions will be multiple-choice, but there are 8 questions in the Math section that require you to simply write your answer instead of choosing from a list of choices.
The test is divided into three sections, all of them based on the core subjects you've learned throughout your academic career.
1. Math (58 questions)
The Math section of the SAT is split into two parts: a calculator portion and a no-calculator portion. The calculator portion contains 38 questions and has a time limit of 55 minutes, while the no-calculator portion only contains 20 questions and has a time limit of 25 minutes.
The 58 questions on this section are split into four broad categories:
Heart of Algebra (19 questions)
Problem-solving and Data Analysis (17 questions)
Passport to Advanced Math (16 questions)
Additional Topics in Math (6 questions)
2. Reading (52 questions)
In the Reading section, you will be given 65 minutes to read five passages and respond to questions regarding their content.
These are the types of passages you can expect:
One passage from a piece of fiction
One passage from a founding document of the US, such as the US Constitution
One passage from a social science text
Two passages from science texts that explore basic biology, chemistry, physics, or Earth science
The 52 questions in this section cover three distinct topics:
How an Author Uses Evidence
These questions focus on how well you can distinguish the evidence that an author uses within a written work to support a claim. using what is written to deduce how it relates to the work's assertion. You will likely be asked to compare a reading selection with pictorial data, recognize the ways writers strengthen their arguments through evidence, and make inferences using information pulled directly from the reading.
Words in Context
These questions deal with words and what they mean, especially in reference to the themes and message of a written work. You will have to examine specific words within a reading selection and infer the influence it has on the work, including why those words may have been used in place of other words. You will also be asked to define terms based on their place in the passage.
Analysis in History/Social Studies and in Science
These questions concentrate on the more specialized reading selections you will encounter on this part of the exam. You will have to read and interpret each work and their respective questions according to their subjects. This skill category will involve many of the same tools you use throughout your science and history classes, but all questions will be kept within the context of the work itself.
3. Writing and Language (44 questions)
In the Writing and Language section, you will be given 35 minutes to read four passages and identify and correct errors and weaknesses.
A variety of topics will be covered in these passages, such as science, history, careers, and social studies. One of the passages will be a narrative, while the rest will either be argumentative, informative, or explanatory.
The 44 questions in this section cover two specific topics:
Expression of Ideas
These questions revolve around the composition of a written work. It will be up to you to decide whether the concepts included in a work are arranged in a way that makes sense.Standard English Conventions
These questions are based entirely on grammar rules. As such, this skill category will assess your understanding of such concepts as how to properly utilize commas, compose sentences, and similar concepts.
Check Out Mometrix's SAT Study Guide
Get practice questions, video tutorials, and detailed study lessons
Get Your Study Guide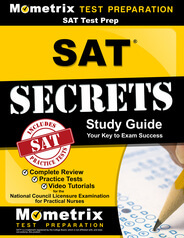 Registration
Registration for the SAT can be done on the College Board website. You may take the SAT at any time during your final two years of high school on dates set by the College Board.
Many students take the exam in the spring of their junior year. This will give you enough time to take the exam twice, which is strongly advised because most students perform better on the second attempt.
You'll be able to identify your areas of weakness and get ready to retake the test if you so choose once you receive your initial test results in your junior year. If you weren't happy with your initial score, you can retake the test in the fall of your senior year.
The registration cost for the SAT exam is $60, though a fee waiver is available to some students.
Test Day
Before the Test
Exam centers open at 7:45 am, and doors close at 8:00 am. Check your admission ticket to confirm your arrival time and the location of your testing facility.
To verify your registration and identity, test center staff will cross-reference the information on your Admission Ticket and your photo ID with the roster. If any of the information doesn't match, you will not be allowed into the testing room.
Your ID must be a valid photo ID that is government-issued or issued by the school you currently attend. It must have a recent recognizable photo that clearly matches your appearance on the test day and the photo you provided when you registered.
You should also be ready to answer questions about your health when arriving at the test center. If you are feeling unwell on the day of your exam, you are advised to stay at home; there will be no charge or cancellation fee if you miss the test because you are unwell. It is your responsibility to be aware of and adhere to any quarantine regulations or travel restrictions in the area where you are testing if you are traveling there to take the test.
During the Test
Between 8:30 and 9:00, the proctor will begin the test, noting when it's time to move on to the next section. It is important to note that once a section has ended, you cannot go back to it. If you finish early, you cannot move on to the next section early.
You can ask the proctor questions, but they can only respond to questions about the process, not the test questions or content. They will read all instructions verbatim from the SAT manual prior to the start of the exam.
Typically, there are two breaks during the test, one 10-minute and a 5-minute break. These are the only times you can eat or drink during the test.
Calculators, test books, and answer sheets must all stay on your desk during breaks. Accessing and powering up your mobile phones or other devices is strictly prohibited, and your scores may be canceled if you disregard this rule.
After the Test
Before you are allowed to leave the testing room, the proctor will gather and count the test books at the end of the test to ensure that all required materials have been turned in.
Don't be surprised if your test experience isn't exactly like that of the student sitting next to you. The sections in your test book may be different.
About the Digital SAT
In 2023, the International SAT will transition to digital to meet the changing needs of students and educators.
Bluebook is the custom-built digital testing app that is being used by SAT to administer the exam. Before the test, Bluebook needs to be downloaded to your device, and you will need to do a quick exam setup one to five days before your test. The software will verify that your device satisfies all specifications before downloading your exam and producing your admission ticket.
After you have been seated and your device is connected to the center's WiFi, the Bluebook application will guide you through the instructions. The proctor may only be questioned regarding procedure; test questions or content cannot be discussed.
You will be given a start code by the proctor. Once the start code has been entered, your test will start, and Bluebook will track the time of your test.
As you take the test, your responses are saved on your device, and your answers are submitted automatically once the test is complete.
Testing Devices
You can take the Digital SAT on a wide range of devices, including your own laptop, iPad, Windows tablet, or school-owned Chromebook.
Your device must be able to connect to WiFi and have a sufficient battery life of three hours or more. Students are permitted to use a mouse and an external keyboard, but all programs and applications must be closed during the test.
Check Out Mometrix's SAT Flashcards
Get complex subjects broken down into easily understandable concepts
Get Your Flashcards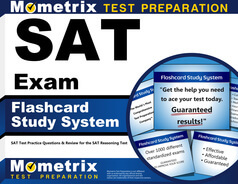 How the SAT is Scored
Scores for the SAT range between 400 and 1600, and the typical score is 1050. Any score higher than that would be considered above average and acceptable by many colleges. You would be in the top 10% of test takers with a score of 1350, which would help your application stand out to more selective colleges!
Typically, you can access your SAT test results from two to four weeks after the test date. Scores might take a little longer for SAT administrations in the summer.
As soon as your scores are ready, you will be able to access them in a comprehensive online score report from within your College Board account.
SAT Online Study Course
If you want to be fully prepared, Mometrix offers an online SAT Prep Course. The course is designed to provide you with any and every resource you might want while studying. The SAT Course includes:
75 Lessons Covering all the Topics
1,250+ SAT Practice Questions
Over 200 Video Tutorials
More than 600 Electronic Flashcards
Money-back Guarantee
Free Mobile Access
and More!
The SAT Prep Course is designed to help any learner get everything they need to prepare for their SAT exam. Click below to check it out!
SAT Study Guide Customer Success Stories
Our customers love the tutorial videos from Mometrix Academy that we have incorporated into our SAT study guide. The SAT study guide reviews below are examples of customer experiences.
We really enjoyed the product and found it very beneficial to our students.First off, we teach students whose first language is not English. The majority of our student body plan on going to university and we have had several who not only have to take the TOEFL but also the SAT. For many, this kind of test is not new, but taking it in English with an English organization style can be quite challenging. This book had great key points that we were able to explain in depth to students that they would not normally get in a standard SAT prep class. The answer and explanation section was thorough and easy to comprehend.
SAT Study Guide – Customer
Having glance through the book which was recommended by a colleague I know this is the right book for my daughter's preparation of the SAT.
SAT Study Guide – Customer
Definitely deserves 5 stars for its great explanations, advice, and teachings; this also happens to be a NEW SAT study guide for the redesigned test. This redesigned test has a new format, new styles and designs of questions, and new topics covered- thus making this the perfect study guide to read to become aware of the changes and what is now expected.
SAT Study Guide – Regina
My daughter is a Junior in High School so it's becoming that time of year when (for our particular school district) she is preparing to take her college entrance exams. This SAT prep book is an excellent resource! It is written well and cuts right to the necessary topics, focusing on what is covered on the test and leaving out the frills and stays on-topic. I especially like that it includes the SAT practice tests so you can concentrate on your most weakest areas before the real test. This book also does a great job at providing tips and tricks on the approach to figure out the correct answer of the options if you are unsure. If you or someone you know will be taking this test this is a book I would definitely recommend as reference material for studying, it is worth the money!
SAT Study Guide – Customer
This is a nice study prep book to use when studying for the SAT. I do think that it included everything that you need to know when studying for the exam. The practice questions were great and help you to get some practice in on questions that are very similar to ones that will be on the exam. I like that the answers themselves included explanations, so you understand why the answer was right or wrong. The topics seemed well organized as well in this prep book, and the formatting and subject knowledge are great as well. The writing is at the level of someone who will be preparing for the SAT, and won't have any wording that is too hard or too easy for studiers. All in all, a nice prep book to get you ready to take the SAT.
SAT Study Guide – Nadya
I got this book for my over-achieving 9th grader who wanted to go ahead and start preparing for the SAT exam. She dove right into it as soon as it arrived and I have not heard a peep from her since! It was hard to pry away from her, but I managed to allow her to let me take a look and I must say, this book is quite impressive! It provides tips on everything from what to bring with you to the exam to types of questions, specific sections and subjects, examples and test-taking tips. Overall this is an EXCELLENT resource for SAT preparation!!!
SAT Study Guide – Wendy
This book is a must have if you're studying for the SAT! It is well written and not only gives you practice but helps you with different strategies to try to get the correct answer. I would definitely recommend this book!
SAT Study Guide – Ashley
I gave this book to my friend who is preparing for the SAT. This book is great because it provides practice problems with solutions, practice test, and walk through examples that help you understand what the questions are asking. I highly recommend this product for any soon to be college student that is practicing for the SAT.
SAT Study Guide – Michael
This is an awesome book for SAT preparation. My sister uses it on a daily basis to prepare for her SATs in March. It has very comprehensive explanations and gets down to the point.
SAT Study Guide – Kaci
Bought this for my son, who is a junior. He needed something that wasn't overwhelming, easy to follow and comprehend. This fit the bill completely. It's well laid out, appropriate reading level and jargon, well suited for his age and abilities. Sample questions are helpful and plentiful. I find this to be a great study tool and prep for anyone looking to take the SATs.
SAT Study Guide – Megan
Affiliate disclosure: As an Amazon Associate, we may earn commissions from qualifying purchases from Amazon.com.