PSAT Test
The College Readiness Board has created the PSAT/NMSQT to give students an opportunity to practice for the SAT while simultaneously competing for scholarships based on their performance.
Every year, thousands of high school students across the United States prepare to take the SAT. To give students an opportunity to practice for the SAT while simultaneously competing for scholarships based on their performance, the College Readiness Board has created the PSAT/NMSQT (Preliminary SAT/National Merit Scholarship Qualifying Test).
This page will cover everything you need to know about the PSAT/NMSQT, such as what information the examination covers, the number and type of questions you can expect, and what score you need to pass.
What is the PSAT?
As mentioned previously, the PSAT/NMSQT is administered by the College Board, the organization that helps high school students prepare for college.
The PSAT/NMSQT, along with several other aptitude tests offered by the College Board, is designed to measure the knowledge and skills of 11th-graders that will be beneficial as they advance through college and further their career.
Exam Outline Review
The PSAT/NMSQT contains of 139 questions and has a time limit of 165 minutes (2 hours and 45 minutes).
The exam is split into three tests:
Reading
The Reading test is composed of 47 questions, and you are given 1 hour to complete the test. It gives you five passages to read: four standalone reading passages and one pair of passages to be read together. Each passage is followed by corresponding multiple-choice questions. Some questions demand information recall, but most require testers to use inference skills and context clues to determine the best answer choice.
The passages range from 500-750 words and are usually from a US founding document, a piece of literary fiction, or a globally relevant work. There are also two passages on either the social sciences or the natural sciences.
This test will evaluate your skills in data analysis and interpretation, evidence-based understanding, and understanding context clues.
Writing and Language
The Writing and Language test is composed of 44 multiple-choice questions, and you are given 35 minutes to complete the test. This test involves reading four passages, each of which is 350-400 words long, and identifying various mistakes and weaknesses. The passages cover a wide variety of topics and will either be argumentative or narrative in nature. Some passages may also contain charts, graphs, or infographics that you need to interpret.
Each passage is followed by 11 multiple-choice questions that test your ability to improve how ideas are expressed, as well as identify and correct errors in sentence structure, usage, grammar, and punctuation.
Math
The Math test is divided into two parts: a calculator portion and a no-calculator portion. While most of the test questions are multiple-choice, some questions near the end ask you to write out the answer without any answer choices to reference. These are called "grid-ins."
The no-calculator portion gives you 25 minutes to answer 13 multiple-choice questions and four grid-in questions, while the calculator portion gives you 45 minutes to answer 27 multiple-choice questions and four grid-in questions.
No-Calculator Portion
The no-calculator portion tests mathematical fluency and number sense. It focuses more on the ability to organize and use quantitative information in everyday situations. Answers fall into one of two categories, either multiple-choice or grid-in answer choices. Multiple choice answers make up the majority of the exam, but 17% of the test has student-generated responses that are recorded in a grid box. When recording answers in a grid box, it is important to remember to fill in only one circle per column.Answers recorded in boxes that do not have corresponding circles filled in will not be given credit. Where you put the digits within the grid box does not matter, as long as the number is in the box. Each grid can accommodate four decimal places and only positive numbers and zero. Mixed numbers must be converted to improper fractions and repeating decimals gridded to the most accurate answer. Unless otherwise stated, all answers will be recorded as decimals or fractions.
The questions in this test assess the ability to analyze and apply mathematical skills to solve real-world problems and focus on two basic areas of math that are used in most college majors and careers.:
Heart of Algebra: This area focuses on the mastery of linear equations, systems of linear equations, and functions. These questions will evaluate your ability to represent situations through equations and solve them, as well as make connections between different representations of linear relationships.
Problem Solving and Data Analysis: This area focuses on analyzing problems and drawing information from data. These questions include using ratios, percentages, and statistical analysis to assess a practical command of math applied to real-world situations.
Finally, there are 14 additional questions in the Passport to Advanced Math section. These questions involve more complex functions and equations that will test your readiness for calculus and advanced courses in statistics.
Check Out Mometrix's PSAT Study Guide
Get practice questions, video tutorials, and detailed study lessons
Get Your Study Guide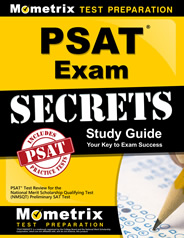 How to Register for the PSAT/NMSQT
You may take this test on a regular school day between the months of September and April. Your high school will most likely arrange for scheduled testing dates during these months or you may also inquire with your school guidance counselor regarding this matter. The fee for the test materials used is $18, but your high school may also decide to cover these expenses for the students.
Homeschooled students can request to take the test by contacting their local school. For students with disabilities and special testing accommodations, official approval is not needed by the College Board. Students outside the US who want to take the PSAT/NMSQT must contact a local school in their current country at least four months before the exam for ample preparation.
Test Day
What to Bring
There are only a few things that you need to bring with you on the day of the test. The most important things to bring are two No. 2 pencils, an eraser, and an approved calculator.
In addition to these items, students outside the US should be prepared with their US school's code, their US school's name and address, and the name and address of the school where they're taking the test.
What NOT to Bring
The College Board lists the following as items that you are not allowed to bring with you into the testing room:
Mobile phones, smartwatches, fitness trackers, or other wearable technology
Audio players or recorders, tablets, laptops, notebooks, Bluetooth devices, or any other personal computing devices
Separate timers of any type
Cameras or any other photographic equipment
Pens, highlighters, or mechanical or colored pencils
Books or references of any kind
Compasses, rulers, protractors, or cutting devices
Papers of any kind, including scratch paper
Earplugs
Calculators that have QWERTY keyboards, use paper tape, make noise, or use a power cord
Weapons or firearms
PSAT/NMSQT Scores
The PSAT/NMSQT scoring system starts with a raw score for your exam, where each correct answer is equivalent to one point, and each wrong answer or blank answer equals no point. This raw score is then converted into a scaled score.
Your overall score report will show a number in the range of 320-1520. You will also see your score percentile, which is the percentage of test-takers who scored higher or lower than you after taking the test during the same time period.
This overall score is composed of two section scores: your Evidence-Based Reading and Writing score (composed of the Reading and Writing and Language Tests), and your Math score (composed of the No-Calculator and Calculator Tests).
Your score report will also show your specific test scores, cross-test scores, and sub-scores to get an in-depth look at your academic performance.
Online PSAT Test Prep Course
If you want to be fully prepared, Mometrix offers an online PSAT Prep Course. The course is designed to provide you with any and every resource you might want while studying. The PSAT Course includes:
Review Lessons Covering Every Topic
1,100+ PSAT Practice Questions
More than 600 Electronic Flashcards
Over 200 Instructional Videos
Money-back Guarantee
Free Mobile Access
and More!
The PSAT Test Prep Course is designed to help any learner get everything they need to prepare for their PSAT exam. Click below to check it out!
PSAT Study Guide Customer Success Stories
Our customers love the tutorial videos from Mometrix Academy that we have incorporated into our PSAT test study guide. The PSAT study guide reviews below are examples of customer experiences.
I love that I have a printed book with support material and more context, but my daughter has processing issues so going over all this information can be challenging. That said, I LOVE the video clips you can use to summarize and explain the concept to review. She may not get out of this book what one could, but she will get much more review than I could ever dream of with these little video clips. Great set up.
PSAT Study Guide – Sandy
This review was very thorough and my daughter thought it was comprehensive. She liked the practice test and test taking strategies. She had to take the PSAT to get into a SAT prep course at school, that actually uses this program also.
PSAT Study Guide – Kim
Not only does it explain the test, but it breaks down each section by topic, number of questions and subtopics. You provide concise reviews with examples and I love the video tutorials! You guys have pretty much covered everything we need to know about the PSAT test, so there's no guessing. I've purchased other study guides, but I absolutely love this one the best. Thank you Mometrix!
PSAT Study Guide – Nicole
You have to love the quality of the products that Mometrix puts out. My son has this PSAT Secrets book and the flashcards that are even more powerful. Yes your kids will have to do a lot of work, but if they put the work in this book and the Flashcards will pay off big time!
PSAT Study Guide – Edward
Great product. Just started using it with my son and I wish I had this available to me as a student. Highly recommended.
PSAT Study Guide – Customer
This study guide helped with my test-taking skills. The practice tests are a great plus!
PSAT Study Guide – Anissa
*PSAT/NMSQT is a registered trademark of the College Entrance Examination Board, which was not involved in the production of, and does not endorse, Mometrix Academy.