ACT Study Guide
Do you have questions about how to study for the ACT?
The links below will take you through our online ACT test review.
Watch our ACT study guide tutorials and brush up on any concepts you don't remember from your high school classes.
Pinpoint your strengths and weaknesses to get the most out of your studying for the ACT test.
If you need more help or additional practice questions consider upgrading with our ACT book and flashcards.
Featured Lecture: Adding and Subtracting Exponents
Get more ACT math review here or upgrade to our best ACT test prep resources:
ACT Test Online Prep Course
If you want to be fully prepared, Mometrix offers an online ACT Prep Course. The course is designed to provide you with any and every resource you might want while studying. The ACT Course includes:
64 Lessons Covering all the Topics
1500+ ACT Practice Questions
Over 220 Video Tutorials
More than 500 Electronic Flashcards
Money-back Guarantee
Free Mobile Access
and More!
The ACT Prep Course is designed to help any learner get everything they need to prepare for their ACT exam; click below to check it out.
Check Out Mometrix's ACT Study Guide
Get practice questions, video tutorials, and detailed study lessons
Get Your Study Guide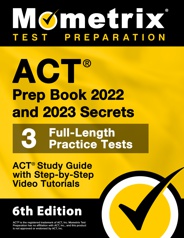 ACT Study Guide Customer Success Stories
Our customers love the tutorial videos from Mometrix Academy that we have incorporated into our ACT test study guide. The ACT Secrets Study Guide reviews below are examples of customer experiences.
This guide is a must for anyone prepping for the ACT. First of all, this guide is a 2017 edition, so I know that it has the most up to date content. Many of the other guides that I saw were from last year and beyond, so this was a big deal to me. The guide is well written and easy to understand. It is also broken up into sections, so you can go right to the area that you want to focus on without having to do a ton of searching or reading the guide from cover to cover. This saved me a lot of time! There are a lot of practice questions that come with detailed answer explanations to help you get a good idea of what you'll see on the real test. I thought that the practice questions were very similar to the real ones, so I felt more confident about my score. I would definitely recommend this guide to others.
ACT Study Guide – Frost
This book is such a great study guide for the ACT! it explains everything very well in each section, and it even includes a practice test which is awesome! it also includes videos you can watch which explains things step by step. I definitely recommend this book to study for the ACT.
ACT Study Guide – Customer
I received this study guide for ACT and have read through this as well as my son. I was amazed on how well this was put together and allowed my son to study for his ACT test. He felt this really helped him prep for the test! He and I both felt it was a easy read which assisted in retention of the information. I can tell you I would HIGHLY RECOMMEND this book!! He felt very confident going into the test and is very confident he did well when taking the test!
This is a MUST buy if you want to prep your child for the ACT exam!
ACT Study Guide – Saluki
My son loves it. It is preparing him real well for the ACT. The book is very detailed yet precise.
ACT Study Guide – King
A very complete book. I really like this book. Very complete content. It also helped me to understand better some new terms and words. I would definitely recommend it to a friend.
ACT Study Guide – PrinceLizz05
This review is a very easy, quick, and helpful way to review for this difficult exam. The information is to the point and very understandable. This is a great buy and a great study tool.
ACT Study Guide – Rafaelov
This is a nice study item for the ACT. I really liked the Appendix. It provides a great quick reference guide. The "secret keys" are helpful as well. It is easy to use.
ACT Study Guide – Meadows
This study guide gives you a complete review of all topics including access codes to video tutorials!! There is also a practice test included along with test taking tips and strategies that are invaluable!! I am currently studying for another test and the strategies are helping me be successful 😀
ACT Study Guide – DAVALYN
I love this company. I bought the Mometrix guide to study for my TEAS test and it helped more than the manual put out by the company who gives the test, so when my husband had to take the ACT, he used this. While he used other things in addition to this book, he said that this book was not only excellent on testing content, but has easy codes to videos to help clarify things that may not click in Text. The practice tests are invaluable. After each of our experiences with this company, I wouldn't hesitate to include whatever study material they provide for any test I need to take. Also, if you have to ever deal with customer service, they honestly are amazing.
ACT Study Guide – Hallzies
This study tool is well organized, as well as easy to read and understand. It does a great job of preparing you for the ACT with examples and practice problems!!
ACT Study Guide – Hannah
Learn more about the best ACT prep book