– 1.9 million students took the 2018 ACT exam.
– The ACT is offered seven times a year: September, October, December, February, April, June, and July.
– Your ACT test scores are accepted by ALL four-year colleges and universities in the US.
If you're one of the millions of students that are preparing to take the ACT exam, you're probably wondering what a good score is for the ACT. With a lot of exams, a "good" score depends on what you're trying to accomplish and what your specific goals are.
The ACT exam is the same.
What Does the ACT Test Measure?
The ACT exam measures college readiness and is used by colleges around the country to determine which students they should accept and if they qualify for financial aid and scholarships.
The ACT exam takes roughly three hours to complete and it covers a lot of material.
English
Covers punctuation, grammar, usage, and sentence structure.
Tests your rhetorical skills in strategy, organization, and style.
Math
Covers basic mathematical skills that are typical for a student at the end of 11th grade.
Tests your skills in pre-algebra, elementary algebra, intermediate algebra, coordinate geometry, plane geometry, and trigonometry.
Reading
Evaluates your reading comprehension.
You will be required to identify main ideas, locate important details, understand sequences of events, and make comparisons.
Science
Measures your skills in natural sciences.
You will be evaluated on interpretation, analysis, evaluation, reasoning, and problem-solving.
How is the ACT Scored?
Scoring the ACT is pretty simple and straight forward. The ACT is scored based on the four test subjects. Each section of the exam is scored on a scale of 1-36 points in 1 point increments. These scores are the total number of questions that you answered correctly in each section; you do not lose any points for answering a question incorrectly.
You'll also receive a composite score of the four sections. This score is simply an average of the scores that you received in each section, rounded up to the nearest whole number.
ACT Score Range

Average ACT Scores
The national average for the ACT score is 21 out of a possible score of 36.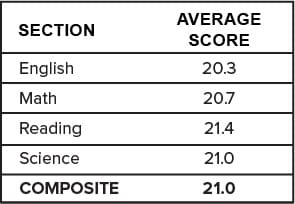 The average individual scores for each section include:
English: 20.3
Math: 20.7
Reading: 21.4
Science: 21.0
What is a Good ACT Score?
The ACT exam is meant to test the knowledge you gained in high school as well as to test your readiness for college. The higher you score on the ACT, the better your chances are of getting into the college of your choice.
However, to have a competitive advantage over other ACT test-takers, you'll need to have a score of at least 23 because that is above the national average.
There's really no good score or bad score. What your score depends completely on what goals you want to achieve and what college you want to attend. A "good" score for you might not be a "good" score for someone else.
ACT Scoring Chart