Having a perfect score on an exam is a goal for anyone especially when they're trying to get into college based on that exam. When it comes to the ACT exam, you'll want to do your best, but what is thought of as a great score depends on which college you want to get into.
How is the ACT Scored?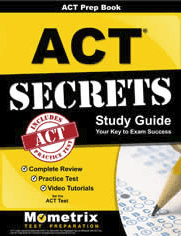 The ACT is scored on a scale of 1 to 36, which makes 36 being the highest score you can make on the exam. Each section of the ACT exam is scored separately with each section being scored on a scale of 1 to 36 as well. The scores that you receive from the separate sections are called scaled scores that are created from your raw scores. The raw scores are the total number of questions that you get right on each section of the ACT exam, and you do not lose any points for any answers you get wrong. Once you get a raw score, the four areas of the exam are calculated to get your final score, which is the average of your scores from the four areas.
How are the sections scored?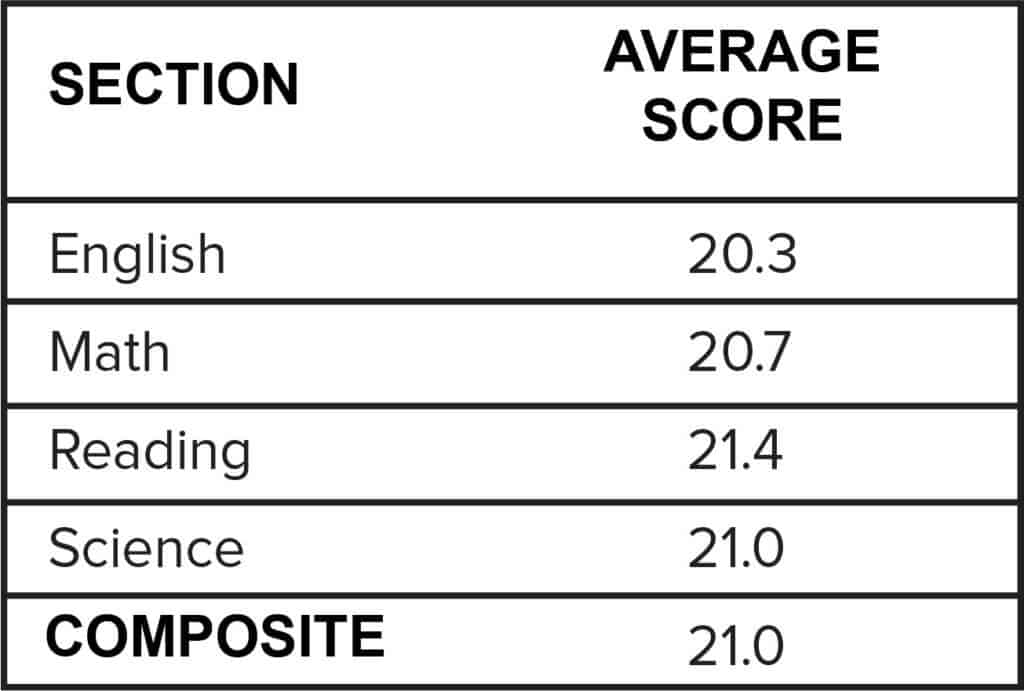 Each section of the ACT exam contains a different amount of questions, which means that you'll have a different raw score on each section.
English
The English section on the ACT exam has 75 multiple-choice questions, which means that 75 can be the highest score possible that you can receive. Out of the 75 questions in this section, 40 will be over Usage and Mechanics and 35 will be over Rhetorical Skills.
Mathematics
In the Mathematics section, you will have a total of 60 questions which can give you a 60 for the highest score possible. In the math section, you will be given questions over Pre-Algebra and Elementary Algebra, which contain 24 questions, Intermediate Algebra and Coordinate Geometry that contains 18 questions, and Plane Geometry and Trigonometry-based questions, which contain 18 questions.
Reading
The Reading section contains 40 questions, giving you the opportunity to have a high score of 40 in this section. There are 20 questions for Social Studies and Natural Sciences reading skills and 20 questions for Arts and Literature reading skills.
Science
The Science section of the exam contains 40 total questions, which allows you to get a raw score as high as 40. However, the science section of the ACT exam does not have subscores like the other sections on the exam. You will be tested over three different types of questions such as data representation, research summaries, and conflicting viewpoints.
The ACT exam also offers a Plus Writing section where you will need to write an essay. The score that you get on the writing section will not affect your final score.
ACT Score Chart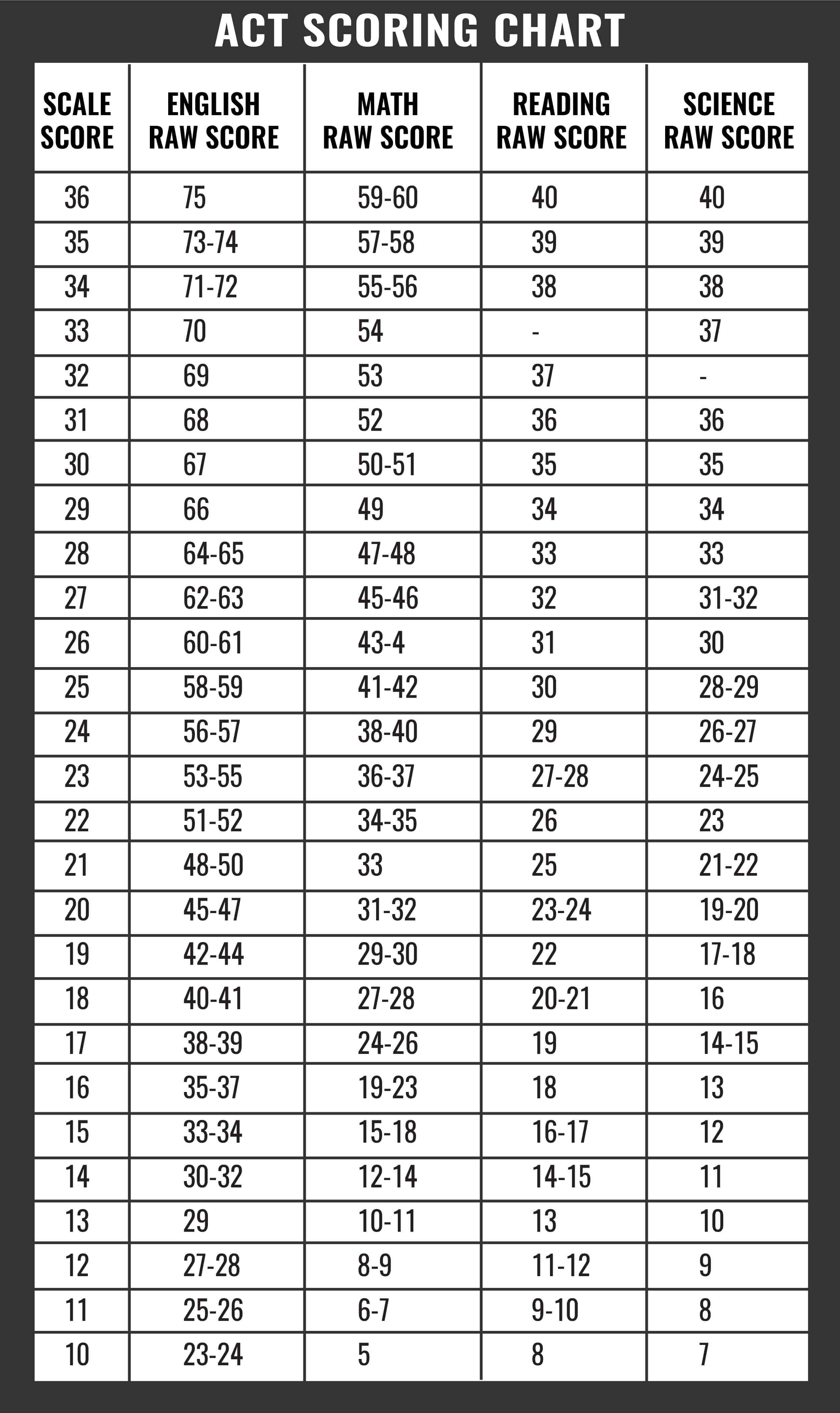 What is a perfect score on the ACT?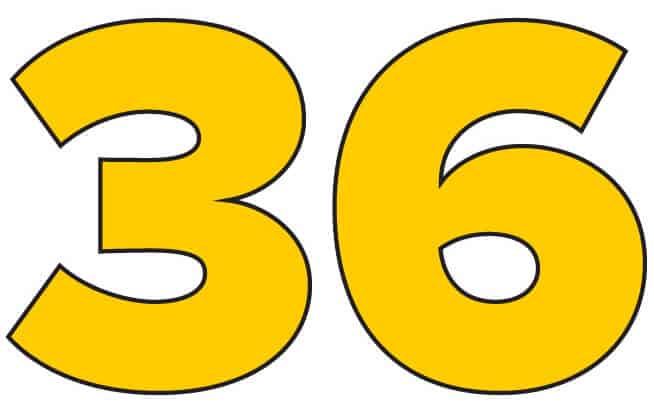 If you're preparing for the ACT to apply to college, you're probably wondering what a perfect score would be.
For many students, having a score of 21 or higher on the ACT is a good score. This is an average ACT score and allows them to get into the college of their choice. However, for those students who want to be accepted into elite colleges such as Harvard, they will need to have a score that ranks in the 94th or even in the 98th percentile, which is a score of 30 or higher and 33 or higher for the 98th percentile.
ACT Score Percentiles

Getting a perfect 36 score on the ACT is not only difficult to do, but it's also rare. According to ACT.org, 1,914,817 students in the 2108 class took the ACT. Out of those students, 3,741 earned a 36 as their score, which comes out to be just 0.195% of the test takers.
It's not impossible to get a perfect ACT score, but it will take a lot of work. In fact, to be able to get a perfect 36 score on the ACT, you will need to get a perfect raw score in every section on the exam.
You're probably asking yourself, how do I get a perfect raw score on every single section of the ACT exam? If your goal is to get a perfect score on the ACT exam, here are a few things that you'll need to do to get every single question correct!
1. Find Your Weak Spots
The first step in getting a perfect score on the ACT exam is to find what areas you're weak in. The best way to do this is to take a practice test. Taking a practice test can help you to identify which areas of the exam that you are weak in. Once you find out which areas you are weak in, then you can put a study plan into place and target those specific areas.
2. Be Consistent
To get a perfect raw score in every section of the ACT, you'll need to be consistent in studying and maintaining a good speed while working through the exam. Each section of the exam has a different amount of questions that are to be answered in a specific amount of time, which means that you'll only have a set amount of time per each question.
Based on the chart, you'll get exactly one minute for each math question. For the other sections, you'll get less than a minute, which means that you'll need to learn how to pace yourself while aiming for both speed and accuracy while answering those questions. Timing yourself while you take a practice test is a great way to work on your speed and accuracy.

3. Keep Studying
You may feel like you're doing well in one section or another, but even though you feel like you are, that doesn't mean that you should stop studying that section. Focus on the sections of the exam that you know you need more work on, but still, take the time to go back to the other sections and work on those.
4. Pay Attention
It's going to be difficult with the time limits that you have while taking the exam, but you need to make sure that you pay attention. Read and pay attention to every question and answer on the exam. Don't skim or read too fast because you could overlook an important detail which could make you end up marking an incorrect answer.