Becoming a teacher can be a rewarding career within itself and there will always be a demand for teachers at any grade level. One great way for aspiring teachers to gain real classroom experience is through student teaching.
Being a student teacher is essentially like being in an apprentice program, where you get hands-on experience prior to becoming a full-fledged teacher. We asked five professors and education faculty members what tips they would offer to new student teachers, in order to help them get the most out of their experience:
1. Make an effort to get to know each student.
"The most important thing for all teachers, especially new teachers, to know is their students. Know who they are, how they think and feel and be open to their ideas." -Jill Burkert, Associate Professor of Education – University of Alaska Southeast School of Education
2. Don't be afraid to ask your host teacher questions.
"[I think it's important for student teachers to understand] how to balance personal lives and the demands of student teaching and first year teaching. How to REALLY ask questions of their host teachers – they are their closest and most important mentors. (Of course, it helps to know what questions to ask.) [Finally,] how important it is to REALLY finish your other course work before you start their student teaching." -Elizabeth A Hartley, Assistant Professor of Education – University of Alaska Southeast School of Education
3. Observe examples of good instruction that takes students' differences into account.
"I think [what's] most important for students to understand is what good instruction looks like, how to personalize learning, how to differentiate and make learning relevant to students. It is a big challenge for all of us." -Mary Curcio, Student Teaching Supervisor – State University of New York OSWEGO
4. Respect your students and model the behavior you expect from them.
"As a student teacher, the children and youth you work with will look up to you as a trusted mentor and role model. Be very mindful to always model what you expect of your students, and treat them with respect including during your most challenging moments. Also, the students and families you interact with will be some of the most valuable teachers in your professional journey, so listen to them carefully, and consider each interaction with them as a new learning opportunity." -Dr. R. Endo, Associate Professor and Chair of Teacher Education Department – Hamline University
5. Take into account each student's academic, social and emotional needs.
"Teaching is much more than academics. There are social and emotional components that have to be accounted for when teaching. Not only do students have to be guided socially and emotionally, but strong social and emotional characteristics have to be modeled. Academics are the primary reason students are in school, but never ever forget that all three areas must be intact for a student to be successful. We must view what we do as a stool. All three legs need to be stable for the stool to stand." -Dr. Tracy Meetze-Holcombe, Associate Dean, School of Education – Francis Marion University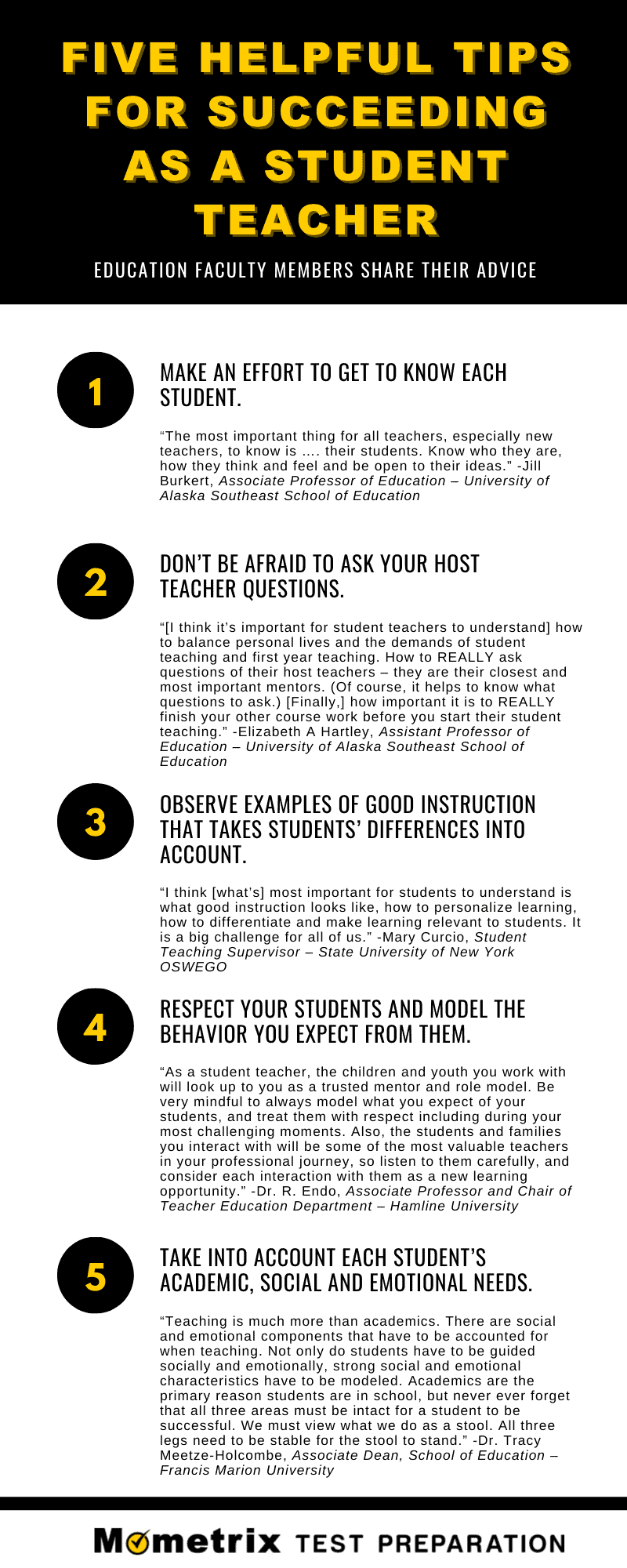 Editor's Note: This post was originally published in May 2017, but has been updated for clarity and relevancy.