Teachers' Day 2019 in the United States of America is on May 7, 2019.  This date falls during Teacher Appreciation week which is May 6-10, 2019. We have created a special way to say thank you to the teachers that inspire us all.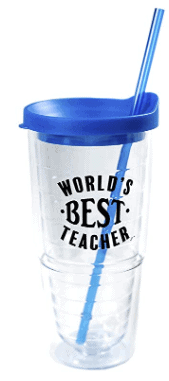 This awesome tumbler is a great way for teachers to keep a cool drink, or hot coffee at their desk all day!
Check out these benefits of this tumbler:
• This tumbler has double wall insulation that keeps hot drinks hot and cold drinks cold.
• Each mug comes with a matching, removable straw.
• The tumbler has a sliding lock to prevent spills.
• The tumbler is made out of clear acrylic which makes it have a sleek and sturdy design.
• This tumbler is also the perfect hold for gift cards or cash!
This isn't just your everyday "coffee mug"! Get something special for your teacher this year!
Click here to order from Amazon.com
Here's another awesome Teacher Appreciation gift!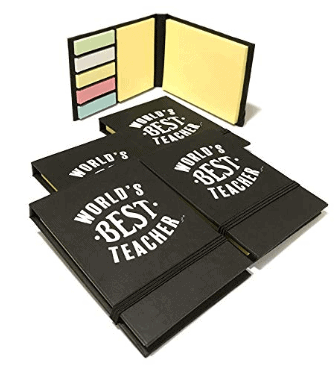 This handy sticky note flipbook is the perfect teacher appreciation gift idea.  It comes in packs of 5 and has an elastic band to keep the flip book secure.
Check out all of these benefits:
• This product contains a pack of 5 sticky note booklets so that you can give one to every teacher you want to thank. Or you can give multiple to one teacher!
• Each booklet contains 3 different sizes of sticky notes so that your teacher has the exact size they need.
• Each booklet contains five colors of sticky notes for when your teacher needs to color code.
• Has the words "World's Best Teacher" on the front cover to remind them daily of how great they are!
• Sturdy design holds up and keeps everything in place
• A band around the booklet keeps it closed and the sticky notes protected.
If you want a special teacher appreciation gift that isn't just another coffee mug, we have the perfect solution for you.
Click Here to Order from Amazon.com
Want other ideas for a great Teacher Appreciation gift? Check out our Teacher Appreciation Gifts on Pinterest!