USMLE Step 1 Exam
Becoming a doctor isn't easy. The years of school work is just the first step in a long process of obtaining your license. One of those steps involves taking the United States Medical Licensing Examination (USMLE) Step I preparation exam. Medical students and graduates take the test and the results are often used as a part of residency applications. Not only that, candidates must past the test to practice medicine in the United States. Here's some valuable information about the test.
Check out Mometrix's USMLE Step 1 Study Guide
Get practice questions, video tutorials, and detailed study lessons
Get Your Study Guide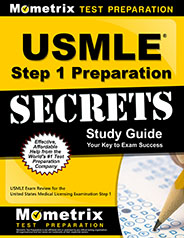 Who sponsors the USMLE Step 1 Preparation exam?
The Federation of State Medical Boards and the National Board of Medical Examiners sponsor the test.
What are the eligibility requirements to take the exam?
Candidates must meet one of the following requirements
Be a medical student who has enrolled in or graduated from a medical school program in the United States or Canada that leads to an MD degree. The program must be accredited by the Liaison Committee on Medical Education.

If seeking a Doctor of Osteopathic Medicine (DO) degree, the program must be accredited by the American Osteopathic Association

Candidates from outside the U.S. of Canada must be a medical student enrolled in, or a graduate of, a medical school listed in the World Directory of Medical Schools. The student must meet various eligibility requirements and criteria from the Educational Commission for Foreign Medical Graduates (ECFMG)
How is the exam delivered on test day?
The computer-based, multiple-choice test is administered over the course of eight hours in seven, 60-minute blocks.
How many questions are on the exam?
Each block contains a varying number of questions with a maximum of 40 questions in any individual block. The total maximum number of items won't exceed 280.
What is the test's minimum passing score?
The minimum passing score is 194.
I failed the USMLE Step 1 Preparation exam. Can I take it again?
Yes. You can take the exam up to three times in a 12-month period. Candidates can retake the test up to six total times.
What is the exam fee?
The test fee is $630
What topics does the exam cover?
The exam tests a candidate's knowledge of the basic sciences as they pertain to medical practice in the following areas:
Anatomy
Behavioral sciences
Biochemistry
Biostatistics and epidemiology
Microbiology
Pathology
Pharmacology
Physiology/Interdisciplinary topics, such as nutrition, genetics, and aging.
The exam also tests a candidate's knowledge in five interdisciplinary areas — aging, genetics, immunology, molecular and cell biology and nutrition.
With this in mind, candidates will be tested on competencies and content areas that are subject the change. For example, some questions are organized by physician task and competency. Examples could entail:
Medical Knowledge/Scientific Concepts that examine the application of foundational science concepts.
Patient care issues, including diagnosis and management. Diagnosis could include history and physical exam, lab and diagnostic studies. Management may cover health maintenance and disease prevention, pharmacotherapy, clinical interventions and more.
Communication and Interpersonal Skills might include the ability to foster relationships, information gathering, providing information, decision-making and the use of a translator. These are just a few examples of what candidates could see on the test.
When will my USMLE Step 1 Preparation exam score be available?
Test scores are released on Wednesdays. It normally takes three to four weeks for candidates to receive their score.
Am I allowed to bring notes and other personal items into the testing center on exam day?
No. Personal items are strictly prohibited, and that includes all electronic devices. There are certain medical device exceptions and candidates should consult the test day rules.
What identification should I bring on test day?
Please bring a piece of government-issued identification, like a driver's license.
Where can I take the exam?
The exam is available at private testing centers throughout the country.
I'm a medical school student ready to take the USMLE Step 1 Preparation exam. What are the best study materials I can get?
You're going to want the best to help prepare for this difficult test. Mometrix has what you need. Our experts have devised test preparation materials that will walk you through the elements of the test that tend to give candidates the most trouble. Our comprehensive study guide provides a first-class study plan that provides the most results in the least time. If you're in medical school you're busy, and that means sometimes struggling to find time to study. You can carry our flashcards everywhere and study on the go. These are the test preparation materials you need to help you succeed.
Check out Mometrix's USMLE Step 1 Flashcards
Get complex subjects broken down into easily understandable concepts
Get Your Flashcards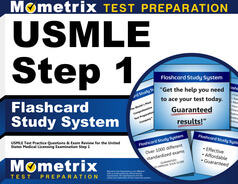 USMLE Step 1 Study Guide
Mometrix Academy is a completely free USMLE Step 1 test resource provided by Mometrix Test Preparation. If you find benefit from our efforts here, check out our premium quality USMLE Step 1 Study Guide and USMLE Step 1 Flash Cards to take your studying to the next level. Just click the USMLE Step 1 study guide link below. Your purchase also helps us make even more great, free test content for test-takers.
Upgrade your studying with our USMLE Step 1 study guide and flashcards:
USMLE Step 1 Study Guide
USMLE Step 1 Flashcards