PSB-HO Practice Test
The Psychological Services Bureau (PSB) administers the Health Occupations (HO) exam to assess the knowledge and skills of prospective healthcare workers. It has a strong track record of successfully predicting which students will do well in healthcare education, which is why so many schools rely on it.
Click "Start Test" below to take a free PSB-HO practice test!
Eligibility
The school or program that will be receiving your test results will determine your eligibility to take the exam. PSB will be provided with your contact information from the school and will send you an email telling you how and where to register via an online application.
Exam Outline Review
The PSB Health Occupations Aptitude exam contains 305 questions and is timed at 2 hours and 15 minutes.
The exam is split into five sections:
Academic Aptitude: The 75 questions in this section assess the innate and acquired abilities that are needed for work of an academic nature. This includes arithmetic, vocabulary, and recognizing relationships and differences.
Spelling: The 45 questions in this section measure your written expression and communication skills.
Reading Comprehension: The 35 questions in this section test your ability to understand direct statements, extract information from written material, and observe the organization of ideas within a text.
Information in the Natural Sciences: The 60 questions in this section assess your knowledge of the fundamental concepts of biology, chemistry, health, safety, and other natural science topics/areas.
Vocational Adjustment Index: The 90 questions in this section are used to test your characteristic lifestyle by way of your distinctive educational and occupational adjustments.
Check Out Mometrix's PSB Exam Study Guide
Get practice questions, video tutorials, and detailed study lessons
Get Your Study Guide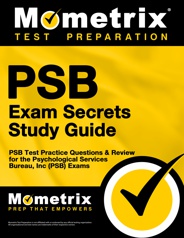 Registration
To register for the exam, you must have received an invitation to fill out an application from PSB via email. This will allow you to provide your information, such as your name, phone number, email, and the program/school of choice. You will also need to send the applicable application fee at this time, which will be different depending on the program or school.
Once your application has been received and approved, you will receive an email asking you to schedule your exam. You can schedule your exam online with Pearson VUE.
Test Day
On the day of the test, you should arrive at the testing center 30 minutes before your scheduled exam time. Once you arrive, you will be asked to show proof of identification, which must be a valid photo ID. If you fail to bring your ID or your ID is invalid, you will not be able to take the test (and your examination fee will not be refunded).
Before the exam begins, you will be asked to place all personal items in a secure locker outside the testing room. Personal items include your cell phone, hats, bags, notes, food, and scratch paper.
Once the proctor has determined you are ready to begin, you will enter the testing room and begin the examination.
How the Exam is Scored
Your score will be available as soon as you finish the exam. There is no set passing score, as the school or program of your choosing will decide what scores they prefer.
Your score is based on a percentile ranking. In percentile rankings, there is a good chance that the questions you do not know how to answer are also questions that several other students have trouble answering.
With percentile rankings, the ranking you get, such as a 90th percentile, indicates that you scored higher than 90% of the students on the national norm.
The chart below outlines the general percentile rankings estimated for the PSB-HO exam on a national level.
PSB-HO Online Prep Course
If you want to be fully prepared, Mometrix offers an online PSB-HO Prep Course. The course is designed to provide you with any and every resource you might want while studying. The PSB-HO Course includes:
Review Lessons Covering Every Topic
700+ PSB-HO Practice Questions
Over 100 Video Tutorials
More than 250 Electronic Flashcards
Money-back Guarantee
Free Mobile Access
and More!
The PSB-HO Prep Course is designed to help any learner get everything they need to prepare for their PSB-HO exam; click below to check it out.
Check Out Mometrix's PSB Test Flashcards
Get complex subjects broken down into easily understandable concepts
Get Your Flashcards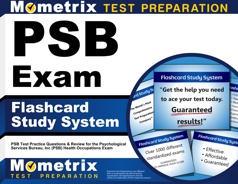 How to Study for the PSB-HO Exam
How to Study Effectively
Your success on PSB-HO test day depends not only on how many hours you put into preparing but also on whether you prepared the right way. It's good to check along the way to see whether your studying is paying off. One of the most effective ways to do this is by taking PSB-HO practice tests to evaluate your progress. Practice tests are useful because they show exactly where you need to improve. Every time you take a free PSB-HO exam practice test, pay special attention to these three groups of questions:
The questions you got wrong
The ones you had to guess on, even if you guessed right
The ones you found difficult or slow to work through
This will show you exactly what your weak areas are and where you need to devote more study time. Ask yourself why each of these questions gave you trouble. Was it because you didn't understand the material? Was it because you didn't remember the vocabulary? Do you need more repetitions on this type of question to build speed and confidence? Dig into those questions and figure out how you can strengthen your weak areas as you go back to review the material.
Answer Explanations
Additionally, many PSB-HO practice tests have a section explaining the answer choices. It can be tempting to read the explanation and think that you now have a good understanding of the concept. However, an explanation likely only covers part of the question's broader context. Even if the explanation makes sense, go back and investigate every concept related to the question until you're positive you have a thorough understanding.
Comprehend Each Topic
As you go along, keep in mind that the PSB-HO practice test is just that: practice. Memorizing these questions and answers will not be very helpful on the actual test because it is unlikely to have any of the same exact questions. If you only know the right answers to the sample questions, you won't be prepared for the real thing. Study the concepts until you understand them fully, and then you'll be able to answer any question that shows up on the test.
Strategy for PSB-HO Practice
When you're ready to start taking practice tests, follow this strategy:
Remove Limitations. Take the first test with no time constraints and with your notes and PSB-HO study guide handy. Take your time and focus on applying the strategies you've learned.
Time Yourself. Take the second practice test "open book" as well, but set a timer and practice pacing yourself to finish in time.
Simulate Test Day. Take any other practice tests as if it were test day. Set a timer and put away your study materials. Sit at a table or desk in a quiet room, imagine yourself at the testing center, and answer questions as quickly and accurately as possible.
Keep Practicing. Keep taking practice tests on a regular basis until you run out of practice tests or it's time for the actual test. Your mind will be ready for the schedule and stress of test day, and you'll be able to focus on recalling the material you've learned.
FAQs
How long is the PSB-HO exam?
The time limit for this exam is 2 hours and 15 minutes.
How many questions are on the PSB-HO exam?
There are 305 questions on the exam.
What is the passing score for the PSB-HO exam?
There is no set passing score for this exam; your school/program of choice will decide what counts as passing.
How much does the PSB-HO exam cost?
The examination fee varies depending on the school/program.