PSB Practical Nursing (PSB-PN) Exam
The Psychological Services Bureau Practical Nursing (PSB PN) Aptitude Exam is an entrance exam required by many practical nursing training and education programs. While it is not the only criteria used to determine whether a candidate is accepted into their program, it is an important one.
How Do I Register for the PSB-PN Aptitude Exam?
You will register for the exam through the school that you are applying to. To do that, you first have to file an "intent to apply" with the college. After that, a counselor or advisor will help you schedule your exam.
How Long Will I Have to Complete the Test?
There are a total of 320 questions on the exam and only a little over two hours to answer all of them. Each section of the test is strictly timed. Here is a quick breakdown of the number of questions and the time limit for each section of the PSB-PN:
Academic Aptitude (including verbal, arithmetic, and nonverbal): 75 questions in 40 minutes
Spelling: 40 questions in 15 minutes
Information in the Natural Sciences: 75 questions in 30 minutes
Judgment and Comprehension in Practical Nursing: 40 questions in 25 minutes
Vocational Adjustment Index: 90 questions in 15 minutes
There will be no calculators allowed at any point, meaning you will have to perform calculations and solve problems using scratch paper or, preferably, in your head. As you can see, time is going to be a serious factor here, so you definitely want to make sure you work on your speed as you prepare for this exam.
What Does the PSBPN Aptitude Exam Measure?
The PSBPN is divided into five sections as follows:
Academic Aptitude

Verbal

These vocabulary related questions will require you to understand the definitions of words and making effective word choices.

Arithmetic

All questions will be at an eighth grade level or lower. Its main purpose is to measure your fundamental arithmetical knowledge as well as your computational speed.

Nonverbal

Similar to an IQ test, this section will include questions requiring you to analyze relationships between forms, manipulate shapes mentally, and find the differences between pictured objects.

Spelling

You will need to choose the correct spelling of provided words.

Information in the Natural Sciences

Questions will cover the natural sciences including biology, chemistry, health and safety, and so on. All questions will be at a basic, elementary level.

Judgment and Comprehension in Practical Nursing Situations

You will need to answer questions regarding ethical and practical issues that can arise in the day-to-day work of a practical nurse.

Vocational Adjustment Index

This will be a sort of personality test measuring your feelings, attitudes, behavioral traits, and personality traits. More importantly, it measures your ability to adjust to the needs of practical nursing where certain behaviors and attitudes that are perfectly acceptable elsewhere will not be desirable while you're on the job. So you don't need to fit a certain "model personality" but rather show your ability to adapt and adjust as needed.
Check Out Mometrix's PSB Practical Nursing (PSB-PN) Study Guide
Get practice questions, video tutorials, and detailed study lessons
Get Your Study Guide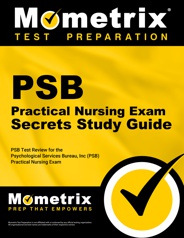 How Is the PSB PN Aptitude Exam Scored?
On your score report, you will be shown both your raw score (the number of questions you answered correctly) and your percentile rank (how well you did compared to others taking the same test). While there is no minimum raw score or percentile rank needed, doing well on this test is a way of demonstrating your potential to succeed in the nursing program you are applying to.
With that in mind, you should talk to the admissions office of any program you are interested in to find out what the average scores are of the candidates they admit to this exam.
How Should I Prepare for the PSB PN Aptitude Exam?
This is a comprehensive and rigorous exam covering a wide range of subjects. So smart and effective preparation for the PSB PN is absolutely essential. As part of that preparation, you should include the Mometrix Study Guide and the Mometrix Flashcards. The guide will give you a comprehensive overview of all the material that will be covered on this exam. This will help you refresh your memory on the subjects you already know and learn more about the subjects you aren't as familiar with.
The flashcards will give you another, more engaging way of reviewing all of this material. Once you've studied the guide, you can quiz yourself or have a friend quiz you using the flashcards.
In addition to giving you the information and concepts you need to know, these tools offer additional support in the form of proven study tips and test taking strategies that will help you get through the exam within the time limit and without sacrificing accuracy!
PSB PN Study Guide
Mometrix Academy is a completely free PSB PN Foundations of Reading test resource provided by Mometrix Test Preparation. If you find benefit from our efforts here, check out our premium quality PSB-PN Foundations of Reading Study Guide and PSB PN Foundations of Reading Flash Cards to take your studying to the next level. Just click the PSB-PN Foundations of Reading study guide link below. Your purchase also helps us make even more great, free test content for test-takers.
Check Out Mometrix's PSB Practical Nursing (PSB-PN) Flashcards
Get complex subjects broken down into easily understandable concepts
Get Your Flashcards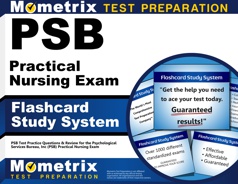 Upgrade your studying with our PSB PN study guide and flashcards:
PSB PN Study Guide
PSB PN Flashcards