The Kaplan Nursing Admissions Test is a tool used by nursing programs to predict a student's potential success in an LPN or RN program. Like other admission tests, the Kaplan is often required as a part of a candidate's application.
Click "Start Test" above to take a free Kaplan nursing entrance exam practice test, and check out our premium-quality Kaplan nursing test prep resources by clicking the links below!
Kaplan Nursing Admissions Test Outline
The Kaplan Nursing School Admissions Test contains 91 multiple-choice questions, and you will be given a time limit of 2 hours and 45 minutes.
The test is split into four main sections.
Reading Comprehension (22 questions)
This section is timed at 45 minutes, and each question measures essential reading skills: determining the logic of a passage, comprehending details of the passage, drawing inferences, and identifying the purpose of the selected passage. The topics covered in the reading comprehension section include themes from science, nature, and history.
Writing (21 questions)
In this section, timed at 45 minutes, nine passages measure your knowledge of the essential skills of writing. The questions assess your knowledge of passage development, paragraph development, logic, and writing mechanics.
Math (28 questions)
This section, which is timed at 45 minutes, contains questions that range from basic arithmetic to algebra, presented in basic equations or word problems. The purpose of the math section is to measure your ability to apply mathematical principles in conversions, operations, ratios, and word problems.
Science (20 questions)
In this section, which is timed at 30 minutes, you will be tested on your knowledge of physiology in ten areas: the cardiovascular system, electrolytes, the renal system, the hematological system, the gastrointestinal system, neurology, homeostasis, the respiratory system, the immune system, and the sensory system.
Check Out Mometrix's Kaplan Nursing Study Guide
Get practice questions, video tutorials, and detailed study lessons
Get Your Study Guide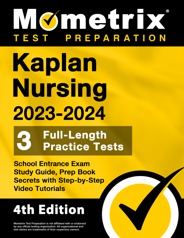 Kaplan Nursing Admissions Test Registration
Once you have determined that your school requires the Kaplan test, you can work with your admissions counselor to schedule your exam. The exam is usually given at the campus assessment and testing center, but the location could be off-campus at a testing center.
Additionally, each college sets the cost of the exam. The range varies from free to as much as $70 for the test. Be sure to talk with your program advisor about the test location and cost.
How the Test is Scored
After your exam, you receive your score report. Your results include individual scores for each section and a composite, or average, score for the test as a whole. A passing composite score generally falls between 60% and 70%, but each school maintains its scoring standards. Additionally, some schools may require a specific composite score and a minimum score in one or more test sections.
The required passing score is not the only thing that varies by school; the retake policy for the exam differs as well. Some schools allow you to retake the exam twice, while others allow candidates three attempts. Talk with your admissions counselor for specifics about the exam for your school.
Online Kaplan Test Prep Course
If you want to be fully prepared, Mometrix offers an online Kaplan test prep course. The course is designed to provide you with any and every resource you might want while studying. The Kaplan course includes:
70 Review Lessons Covering Every Topic
600+ Kaplan Practice Questions
Over 170 Video Tutorials
More than 250 Electronic Flashcards
Money-back Guarantee
Free Mobile Access
and More!
The Kaplan Prep Course is designed to help any learner get everything they need to prepare for their Kaplan exam; click below to check it out.
FAQs
How many questions are on the Kaplan nursing entrance exam?
There are 91 multiple-choice questions on the exam.
How long is the Kaplan nursing entrance exam?
The time limit for the exam is 2 hours and 45 minutes.
What is the passing score for the Kaplan nursing entrance exam?
There is no set passing score for this exam. Each school determines their own minimum passing score requirements.
How much does the Kaplan nursing entrance exam cost?
The cost of the exam varies by school.