PCAT Reading Practice Test
Most pharmacy schools require that prospective students take the PCAT. The Critical Reading portion of this exam is computer-based and made up of sets of questions that are associated with reading passages.
You will be given 50 minutes to answer the 48 questions.
There are special accommodations available for individuals with conditions approved by the Americans with Disabilities Act 1990 and ADA Amendments Act 2008. Some of these accommodations include:
Screen reading technology
Extended time
Wheelchair-accessible testing station
Permission to take medication during the exam
Distraction-free room
This request must be made in writing and approved prior to the day of the exam.
What are the categories covered on the exam?
The three categories of Critical Reading that are covered in this subtest include Comprehension, Analysis, and Evaluation. Within each category, you will find several topics and sub-topics on which you should focus. They are:
Comprehension – 30%
Words in context
Main ideas
Supporting details
Drawing conclusions
Check Out Mometrix's PCAT Reading Study Guide
Get practice questions, video tutorials, and detailed study lessons
Get Your Study Guide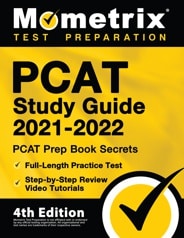 Analysis – 40%
Relationships between ideas
Purpose of author
Tone of author
Facts vs. Opinions
Rhetorical strategies
Evaluation – 30%
Bias
Support in an argument
Author's conclusion/thesis
The passages on the Critical Reading Subtest address a variety of issues, such as historical, social, and political, as they relate to science, social science, and humanities.
In order to properly answer the stems, reading comprehension is crucial.
What is the most convenient way to register for the exam?
Using a credit card from a United States bank, register online.
What is the cost of the exam?
Critical Reading is one section of the PCAT. The cost for the entire exam is $210.
What are the testing locations?
You may take the test at one of the many sites in the U.S. or outside the country.
What should I do the day of the exam?
Be sure to bring two forms of identification. Ensure one ID consists of your name, photo, and signature. Your name is the only requirement for your other ID.
This exam does not require a calculator, and you will not be allowed to bring one into the testing area.
Examples of other prohibited items:
Highlighters
Rulers
Cell phone
Headphones
What happens after I take the exam?
On the same day of taking the exam, you will get an unofficial score report.
You will also have access to the official score report within five weeks of the closing of testing window.
Your score transcript will be sent to the schools you requested.
How do I know if I passed the exam?
The pharmacy schools to which you applied can tell you whether you passed according to their standards.

Check Out Mometrix's PCAT Reading Flashcards
Get complex subjects broken down into easily understandable concepts
Get Your Flashcards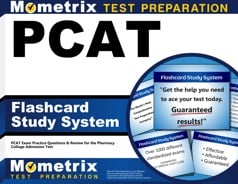 What happens if I don't pass the exam?
You are given five opportunities to take this exam. If you have not passed by the fifth attempt, you must request permission to re-take the exam. In this request, you will be required to provide additional documentation establishing why you should be allowed another chance to undertake the test.
When you submit this request, ensure you also include your name and PCAT ID.
We have great news! Your success on PCAT Critical Reading is not only on your shoulders. Mometrix is here to help. We've created a complete study guide that supplies you with test taking strategies and all the content you'll need to do well. Secure your copy Here.
Not only that, we've developed a state-of-the-art compilation of flash cards that will further your knowledge to be victorious over this exam. Don't forget to purchase your set Here.
Upgrade your studying with our PCAT study guide and flashcards:
PCAT Study Guide
PCAT Flashcards