PCAT Quantitative Practice Test
Most pharmacy colleges and schools require prospective students to successfully complete the PCAT Exam in order to be admitted to the institution.
The Quantitative Reasoning portion of the exam is computer-based and 50 minutes in length. There will be 48 items. Questions will be in the multiple-choice format.
Accommodations are available for individuals with certain conditions. Prior approval is required.
What are the categories covered on the exam? What percentage of questions are there for each category?
There are five categories of Quantitative Reasoning that will be covered. They are Basic Math, Algebra, Probability & Statistics, Pre-Calculus, and Calculus. Each of these categories include questions from various topics and sub-topics. These are:
Basic Math – 25%
Fractions, Percentages, and Decimals
Unit Conversions
Log Base 10
Algebra – 25%
Expressions, Equations, and Inequalities
Functions
Probability and Statistics – 18%
Measures of Central Tendency
Variation
Graphical
Probability
Statistical Concepts
Check Out Mometrix's PCAT Quantitative Study Guide
Get practice questions, video tutorials, and detailed study lessons
Get Your Study Guide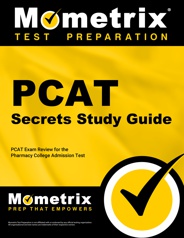 Pre-Calculus – 18%
Functions
Complex Numbers
Vectors
Calculus – 14%
Limits
Continuity
Derivatives
Integrals
Integration
What is the most convenient way to register for the exam?
Online registration is the most expedient way to sign up for this exam. Within 24 hours of registering, you will receive an email outlining how you should set up your seat for taking the exam.
What is the cost of the exam?
Quantitative Reasoning is one section of the PCAT. The cost for the entire exam is $210.
What are the testing locations?
You can register to take this exam at various sites throughout the United States. There are also several international locations to choose from.

Check Out Mometrix's PCAT Quantitative Flashcards
Get complex subjects broken down into easily understandable concepts
Get Your Flashcards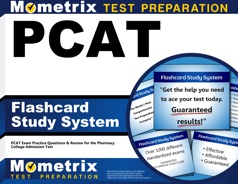 What should I do the day of the exam?
You are required to bring two forms of original (no copies) identification in order to take the exam. Of the two, one must include your name, signature, and photo. The other only needs to have your name.
The calculator you'll need for this subtest is built into the exam.
Items such as food, drinks, earplugs, and cell phones are prohibited.
What happens after I take the exam?
After taking the exam, you will be given an unofficial score report.
Your official score report will be available to you within five weeks of the testing window closing. The official transcript will be sent to the academic institutions you chose.
How do I know if I passed the exam?
Whether you passed the exam depends on the schools to which you applied, and their passing standard.
What happens if I don't pass the exam?
PCAT allows you to take the exam up to five times. If you do not pass by the fifth time, you must seek special permission to get another chance. This will be done by either submitting your completed pharmacy school application or PharmCAS OR acquiring an official letter from the pharmacy school to which you are applying, recommending that you be allowed to take the exam again.
Whichever method you choose, it is important that your documentation include your name, PCAT ID, and why you should be allowed to take the exam again.
What is the best gift you can give to yourself before taking the PCAT Quantitative Reasoning Subtest? Being thoroughly prepared. Mometrix has your best interest at heart, and has developed a process that will allow you to do just that. Visit Here to get a sneak peek at and purchase our all-inclusive study guide.
Not only have we drafted this robust manual for being successful, but also a flash card set that you can use to review important exam concepts at times that are convenient for you. Get your very own set Here.
These two resources are thorough, easily accessible, and offer a money-back guarantee!
Upgrade your studying with our PCAT study guide and flashcards:
PCAT Study Guide
PCAT Flashcards