PCAT Biology Practice Test
The PCAT is used by individuals seeking admission into a pharmacy college or school.
This computer-based subtest is 45 minutes in length, with 48 items. Questions can be multiple choice, based on the question itself (full question or fill-in the blank), or multiple-choice based on an illustration. You will also see questions that are based on a short passage.
Accommodations are available for individuals with certain conditions. Prior approval is required.
What are the categories covered on the exam? What percentage of questions are there for each category?
There are three categories of Biological Processes that will be covered. They are General Biology, Microbiology, and Human Anatomy and Physiology. Beneath each of these categories, you will find the following topics and sub-topics:
General Biology – 50%
Cellular and Molecular Biology:

Cell structure and functions
Expression of genes
Division and growth of cells
Energy transformations
Metabolism
Microbiology – 20%
Microorganisms
Infectious Diseases and Prevention
Microbial Ecology
Medical Microbiology
Immunity
Check Out Mometrix's PCAT Study Guide
Get practice questions, video tutorials, and detailed study lessons
Get Your Study Guide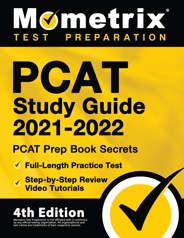 Human Anatomy and Physiology – 30%
Systems:

Skeletal/muscular/nervous
Circulatory/respiratory
Excretory/digestive
Endocrine/reproductive
Integumentary/immune
What is the most convenient way to register for the exam?
Register online. Within 24 hours of registration, you will receive a message explaining how to arrange your seat for taking the exam.
What is the cost of the exam?
Biology is one section of the PCAT. The cost for the entire exam is $210.
What are the testing locations?
The test is offered at various sites throughout the United States, and in some international locales.
What should I do the day of the exam?
Bring two forms of original identification. One must contain your name, signature, and photo. The other requires your name only.
You will not be allowed to bring a calculator to the testing area, or even use an online calculator. However, there will be a calculator built into the exam for use.
Food, books, watches, and such items, are also prohibited.
What happens after I take the exam?
Before leaving the test center, you will receive an unofficial score report that presents your scaled scores and percentile rank for multiple-choice questions.
Within five weeks of the testing window of when you took the exam, your official score report will be available for you to access online. The transcript of your scores will be sent to your designated institutions.

Check Out Mometrix's PCAT Flashcards
Get complex subjects broken down into easily understandable concepts
Get Your Flashcards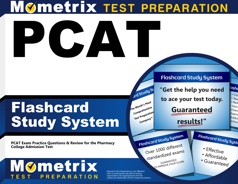 How do I know if I passed the exam?
Each school has its own standard of what is considered passing. You must consult the schools for which you are applying.
What happens if I don't pass the exam?
Candidates are allowed to take the exam up to five times. If the exam is not passed by the fifth time, you may not be allowed to take the exam again. If you are allowed to request permission after this fifth time, you will likely have to submit the following additional documentation before registering again:
Completed and submitted application to pharmacy school or PharmCAS, or, Letter on official pharmacy school stationery, recommending that you take the exam. This letter must mention that you are applying to a pharmacy school for the approaching academic year.
In either case, documentation must include your name, PCAT ID, and why you should be allowed to take the exam again.
Mometrix wants to ensure you have what you need to be fully prepared for this exam. With this in mind, we've created a study guide that not only complies with the new PCAT format, but supplies you with all content information and elite techniques to successfully complete the exam. Get your study guide Here.
Be sure to also purchase your set of Mometrix flash cards Here, which will give you that extra boost of confidence when taking the exam.
Upgrade your studying with our PCAT study guide and flashcards:
PCAT Study Guide
PCAT Flashcards
Affiliate disclosure: As an Amazon Associate, we may earn commissions from qualifying purchases from Amazon.com.