National Board Certification Generalist: Middle Childhood Exam
The National Board Certification Generalist: Middle Childhood Exam concentrates on nine standards to evaluate a teacher's ability to effectively serve in this capacity.

Standard 1: Knowledge of Students
Standard 2: Respect for Diversity
Standard 3: Establishing an Environment for Learning
Standard 4: Knowledge of Content and Curriculum
Standard 5: Instructional Decision Making
Standard 6: Partnership and Outreach
Standard 7: Professionalism, Leadership, and Advocacy
Standard 8: Responsiveness to Change
Standard 9: Reflective Practice
For the purpose of this article, we will focus on Standard 4.
The Content Knowledge component of this exam is a computer-based assessment with 45 selected-response items and 3 constructed-response items. Regarding the selected-response items, 5 do not count toward your score. You will be given 30 minutes to complete the 3 constructed response items, and at least 60 minutes for selected-response items.
For examinees with conditions covered under the Americans with Disabilities Act (ADA), you may request special testing accommodations via the Request for Testing Accommodations Form.
Before taking this exam, you must meet these requirements:
Have a Bachelor's Degree from an accredited institution
Have completed at least 3 years teaching in PK-12
Have held a valid state teacher's license for each of the above 3 years
Check Out Mometrix's National Board Certification Generalist: Middle Childhood Study Guide
Get practice questions, video tutorials, and detailed study lessons
Get Your Study Guide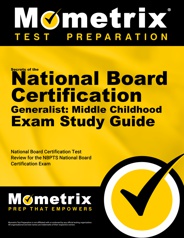 What categories and topics are covered on this exam?
English Language Arts, the Arts, and Health and Wellness: 30%
Science and Mathematics 35%
Social Studies: 35%
The English Language Arts, the Arts, and Health and Wellness category will address the topics of balanced literacy, choosing and analyzing texts, value and purposes of visual and performing arts via cross-curricular contexts, and health-enhancing skills.
The Science and Mathematics category will address the topics of number sense and algebraic thinking, geometry, data analysis, understanding science domains, science vocabulary, scientific thinking, and engineering design principles.
The Social Studies category will address the topics of history, geography, civics/government, economics, themes of social studies, and critical thinking in social studies.
What is the most convenient way to register for this exam?
Online registration. When registering, you must pay a $75 registration fee. This fee is separate from the exam fee. It can be paid via credit card, debit card, or eCheck.
What is the cost of the exam?
The first attempt at the National Board Certification Generalist: Middle Childhood Exam (Content Knowledge) is $475. A re-take of this exam will cost $125 per constructed-response exercise and/or the selected-response section.
What are the testing dates and locations?
The testing window is March 1 – June 15.
There are various testing sites throughout the United States at which you can take the exam. You can choose the location that is closest to you.
What should I do the day of the exam?
Be sure to arrive at the testing site 30 minutes before your scheduled exam. Arriving 30 minutes late could prevent you from taking the test.
Ensure you bring a valid form of identification that includes your name, signature, and photo. A passport and driver's license are examples of acceptable forms of ID.
An online calculator will be provided. You are not allowed to bring your own.
You are prohibited from bringing food/drink, cell phones, and smartwatches, among other personal items.
What happens after I take the exam?
For 2019 testing window, scores will be released on or before December 31, 2019.
What is the passing score?
You must earn an average of 1.75.
What happens if I do not pass the Content Knowledge portion of this Exam?
You have up to two re-takes. You can re-take if you failed the initial attempt or received a score that is lower than you would like.
Why put unnecessary pressure on yourself by inadequately studying for the National Board Certification Generalist: Middle Childhood Exam? Let Mometrix provide you with the resources you'll need to not only feel self-assured, but to actually pass the exam with flying colors.
Our wide-ranging study guide and flash cards are essential to being thoroughly prepared. We back this assertion with a money-back guarantee.
Don't just hope you'll do well, ensure you do, by investing a minimal amount of money for maximum results.
Check Out Mometrix's National Board Certification Generalist: Middle Childhood Flashcards
Get complex subjects broken down into easily understandable concepts
Get Your Flashcards