NBCSN Exam Study Guide
Nursing education typically involves several years of schooling, as well as numerous exams meant to evaluate one's competency with the material and ensure students are gaining all the proper knowledge and skills they will need for their future career. This training path is universal, regardless of where in the world a nursing student may be studying. However, the administrative board responsible for assessing graduating nursing students varies from country to country.
In the United States, the NBCSN (or National Board for Certification of School Nurses, Inc.) that oversees the final assessment of nursing students all across the country. Since the year 2008, the NBCSN has run and monitored the NCSN (Nationally Certified School Nurse) program. The NCSN program was designed as a means of allowing nursing students to earn certification at a national level and, in turn, proceed toward the next step in officially starting their careers.
Nursing students may obtain their national certification by taking and earning a passing score on the official NBCSN exam.
Check out Mometrix's NBCSN Study Guide
Get practice questions, video tutorials, and detailed study lessons
Get Your Study Guide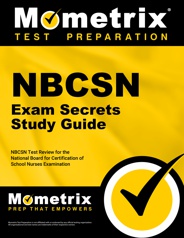 What Subjects Feature on the NBCSN Exam?
The NBCSN Exam divides into five categories, each of which will pertain to the knowledge the test taker has acquired during their nursing studies. These categories are:
Professional Issues (13 percent), which addresses issues surrounding evidence-based and research practice, the Code of Ethics, various types of legal issues one may face, the conduct regulations for nursing, policies for treatment, administrative responsibilities, medication standards, management of health records, and how to work with the Administration on Health Issues;
Health Appraisal (26 percent), which focuses on evaluating the function of the different bodily systems, as well as psychosocial and physical health overall;
Special Health Issues (14 percent), which pertains to the legal matters surrounding caring for those with special needs, how to help patients with special needs manage their health and educate other caregivers in the same manner, and how to identify and treat various forms of special health conditions;
Health Promotion/Disease Prevention (20 percent), which deals with one's comprehension of safety education, immunizations, concerns relating to the work environment, how to control the spread of infections and reduce health risks, how to meet the health-related needs of the surrounding community, and how to administer health counseling and education; and
Health Problems and Nursing Management (27 percent), which centers on the test taker's knowledge of how to be prepared for disaster situations, how to administer various forms of urgent care, and how to identify and treat communicable diseases and chronic, episodic, and acute health conditions.
What Is the Exam's Format?
The format of the exam may prove familiar to anyone who has already experienced a standardized test. The NBCSN Exam is timed, lasting exactly four full hours. Test takers will be expected to complete 200 questions, all of which are presented in multiple choice format, within this span of time. Test takers may use calculators; however, they are restricted to only simple models and must be standalone from other devices, such as a tablet or cell phone.
How Can Test Takers Register for the NBCSN Exam?
The first step to registering for the NBCSN Exam involves submitting an application, which will be reviewed by the NBCSN administrative team. This must be done a full month (or, more specifically, 30 days) before the next exam period opens. The NBCSN team will review your credentials and email you a letter of approval for the exam. From there, you may set up when and where you'll be taking the test based on the time of year you have chosen to register.
Can the Exam Only Be Taken Once?
No. Nurses will have to reapply for their certification once per five years. Applying for recertification is its own process; test takers may receive precise details on the NBCSN's official website.
Is There a Fee for This Exam?
Yes. It costs approximately $360.00 to take the NBCSN Exam. There are no refunds for this fee once it has been paid.
What Is the Exam's Scoring Process?
Test takers will find out their scores between a period of six and eight weeks following the closing of their chosen exam period. The NBCSN will mail these scores directly to the test taker. Passing test takers will receive their official NBCSN certification alongside their scores.
Are Retests Available?
Yes. Test takers can choose to retake the test as often as they would like. This simply involves re-registering during another exam period, fee payments included.
What Is the Best Study Approach for the NBCSN Exam?
The most ideal study method for the NBCSN exam involves investing in comprehensive study tools. This type of resource can be hard to find if you do not know where to look. At Mometrix, we know just how significant this test is to achieving your goals; as such, we strive to provide the most thorough tools for you.
Below you will find links to our main two study tools for the NBSCN exam:
NBCSN Flash Cards – ideal for those interested in quizzing themselves on the material, as well as those who find quick review to be their best study technique
NBCSN Study Guide – for those who want detailed information on the ins and outs of the exam and how to approach its content
We hope these tools will serve you well as you prepare for the NBCSN Exam. Good luck!
Check out Mometrix's NBCSN Flashcards
Get complex subjects broken down into easily understandable concepts
Get Your Flashcards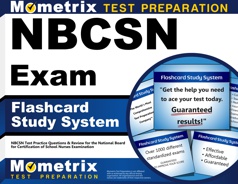 Upgrade your studying with our NBCSN study guide, online course, and flashcards:
NBCSN Study Guide Customer Success Stories
Our customers love the tutorial videos from Mometrix Academy that we have incorporated into our NBCSN test study guide. The NBCSN study guide reviews below are examples of customer experiences.
The study guide is informative and I feel much better prepared for the test. It lays out a plan of study so that the studying is optimized.
NBCSN Study Guide – Shirley
I purchased the NBCSN Exam Secrets , Study Guide and Flash Cards. The price was very reasonable and included additional Bonus Material. The information was up to date, clear and concise. I took the exam in July and recently received an email that I PASSED! I truly appreciate the content that addressed reducing test anxiety and setting up a daily study plan. I am not a strong test taker, but this material gave me the confidence and knowledge to enable me to pass on my first try!
NBCSN Study Guide – Martha
I am finding the NBCSN Exam Study Secrets to be very helpful. It is nicely organized and helps break down the vast amount of material.
NBCSN Study Guide – Patricia
The book is easy to read, clear and concise. I feel confident with the help of this study guide that I will pass my NBCSN exam. It is also a good reference to keep in my school clinic.
NBCSN Study Guide – Customer