NAECB Exam
The National Asthma Educator Certification Board or NAECB Exam was created to measure the aptitude and competence of professional asthma educators. The passing of this exam proves than an individual is to the challenges and on par with the standards set for this field of work. These individuals can then practice as a certified Asthma Educator for the next seven years.
Who is Eligible?
To be able to take the NAECB exam you must fall into one of the two following qualifications:
If you are a currently licensed health care professional in the following fields:

Physicians (MD, DO)
Physician Assistants (PA-C)
Nurses (RN, LPN, NP)
Respiratory Therapists (RRT, CRT)
Pulmonary Function Technologists (CPFT, RPFT)
Pharmacists (RPh)
Social Workers (CSW)
Health Educators (CHES)
Physical Therapist (PT)
Occupational Therapist (OT)

Or have completed at least 1000 hours of experience in direct patient asthma education, coordinating services, or counseling.
If the eligibility requirements have been met, you can begin the application process either online at naecb.org or complete a paper copy to mail in. There is an application fee of $350 for all initial attempts taken domestically. For those that are located internationally the fee is $495.
When and Where is it Taken?
After your application has been approved you will be notified and prompted to schedule your exam. Exams are scheduled through PSI Services. These can be scheduled Monday through Saturday year-round.
There are over 300 PSI testing sites located throughout the U.S. A full list of these will be made available to you when you schedule your exam.
It is important to note that your application is good for up to one year. You must schedule to take the exam within this time period or risk forfeiting your application and all fees paid up to that point.
Check out Mometrix's NAECB Study Guide
Get practice questions, video tutorials, and detailed study lessons
Get Your Study Guide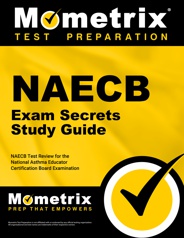 What is Needed?
Make sure to arrive at your scheduled exam on time. Those who show up late will not be allowed to test.
You will need to bring two valid and current forms of identification with you to the testing site. The first or primary ID must contain your name that matches your application information, signature, and photo. The following are acceptable forms of primary identification:
Driver's license
State ID
Passport
Military ID
Your second form of ID must contain your name that matches your application information and your signature. Acceptable forms are:
Credit card
Social Security card
Employment/Student ID
All exams are taken using a computer. This means that any personal items such as pencils, study materials, calculators, and any electronic devices are not needed and will not be allowed in the testing area. Wallets and keys are the only personal items permitted and these will be stored in a secured locker for you until you have completed the exam.
If any personal items are found on your person during the exam your will be dismissed and your exam will be forfeited.
What is Expected?
The 3.5-hour NAECB exam is made up of 175 multiple choice questions. 150 of these are scored and will count towards your results. The other 25 are non-scored, unidentified pretest questions that will be randomly distributed throughout the exam.
The exam is broken into four major categories. A brief outline of the exam with the number of questions for each section can be found below.
The Asthma Condition (30 questions)

Pathophysiology 10 questions
Factors Contributing to Acute and Chronic Asthma 20 questions
Patient and Family Assessment (42 questions)

History from an Individual with Asthma 16 questions
Physical Signs in an Individual with Asthma 4 questions
Objective Measures 7 questions
Educational Needs 15 questions
Asthma Management (60 questions)

Medications and Delivery Devices 20 questions
Behavioral and Environmental Modifications 13 questions
Asthma Management and Education Plan 27 questions
Organizational Issues (18 questions)

Needs Assessment 3 questions
Program Development 5 questions
Program Implementation 2 questions
Program Evaluation 4 questions
Referral and Professional Networking 4 questions
Check out Mometrix's NAECB Flashcards
Get complex subjects broken down into easily understandable concepts
Get Your Flashcards
How is it Scored?
Score reports will be given at the testing site after the exam. This will consist of you pass/fail status, which is based on your raw score or the number of correct answers and your raw scores for each major content category.
Passing candidates will receive a signed certificate within a month following your exam.
How Should I Prepare?
To provide you with the best test preparation experience possible, Mometrix has developed a study guide and set of flash cards specifically for this exam. These tools will include all relevant information that you will be expected to know, as well as, sample questions to test your knowledge on these concepts. The sample questions provided will be formatted and worded similarly to how they will be shown on the actual exam itself.
This allows you to know exactly what to expect when you sit down for your exam. Don't leave this exam and your future to chance. Take control with Mometrix Test Preparation.
NAECB Study Guide
Mometrix Academy is a completely free NAECB test resource provided by Mometrix Test Preparation. If you find benefit from our efforts here, check out our premium quality NAECB Study Guide and NAECB Flash Cards to take your studying to the next level. Just click the NAECB study guide link below. Your purchase also helps us make even more great, free test content for test-takers.
Upgrade your studying with our NAECB study guide and flashcards:
NAECB Study Guide
NAECB Flashcards