Multistate Bar Exam
The Multistate Bar Exam, (MBE), is one component of the Uniform Bar Exam, (UBE). Its purpose is to test an examinee's knowledge of the fundamental legal principles, and how they apply those principles to the questions given.
Check out Mometrix's Multistate Bar Study Guide
Get practice questions, video tutorials, and detailed study lessons
Get Your Study Guide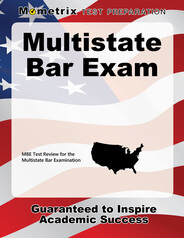 Who gives the exam?
The MBE is given by the National Conference of Bar Examiners, (NCBE), and is administered every year on the last Wednesday in February, and again on the last Wednesday in July.
How do I register?
In order to register for the MBE, the first thing you need to do is create an NCBE Account, so that you can obtain an NCBE Number. The NCBE Number is your unique identifier for the exam, and will never change.
After you log into your NCBE Account, enter the jurisdiction where you will be taking the exam, and the date you prefer to take it.
What about the cost? Is taking the MBE expensive?
Yes, taking the bar exam, and everything leading up to the bar exam, can be expensive. It all depends on what state you're in. Costs can range anywhere from $200 to over $1000. You will also need to pay a variety of different fees, whether it's application fees, or licensing fees after you take and pass the exam.
You should also take into consideration your living expenses if you decide not to work during the exam preparation period.
There are loans you can take out to help you pay for the exam, but please consider the interest rates for some of these loans before deciding on one.
How many questions are on the MBE?
The MBE consists of 200 questions. The questions are all multiple choice, and are divided into two separate sessions. Each session is three hours long, and consists of 100 questions in the morning, and 100 questions in the afternoon. You should not expect any breaks during the two 3-hour sessions.
Note that out of the 200 multiple choice questions, 175 of them are scored, while the other 25 are considered pretest questions, and are unscored. You will not know which questions are the pretest questions on the day of the exam, so it's important to answer each question to the best of your ability.
What kind of questions will I run into on the day of the exam?
The Multistate Bar Exam focuses on seven areas of law:
Constitutional Law
Civil Procedure
Contracts
Criminal Law
Evidence
Real Property
Torts
You will encounter fact situation questions on the exam, so knowing the fundamental legal principles are a must.
How is the MBE scored?
The exam is scored on a scale of 0-200, and is based off of the number of questions you answer correctly. You will not lose points for any incorrect answers. This means that attempting to answer a question you don't know is better than leaving a question unanswered.
Your answers are to be filled out on the answer sheet and not the test booklet. Unfortunately, questions answered inside of the test booklet will not be scored. The MBE component may comprise as much as 50% of your total bar exam score, which means it is a very important part of the UBE.
Now that I know how the exam is scored. What score should I be aiming for in order to pass?
There is no definitive score for the MBE component of the bar exam, but you should be aiming for at least a 138. The score that determines whether you pass or not is the overall score you get on the Uniform Bar Exam.
That particular score varies from state to state. So depending on where you are, you can easily search for that passing score online.
Will I have to wait forever to receive my results?
It depends on the state you're in, but you can most likely look out for your results 6-12 weeks after taking the exam.
So how should I study for the Multistate Bar Exam?
The most effective way of studying for the exam is to go over as many MBE questions as possible, and make it a consistent habit for the 8 to 10 week preparation period. If you're looking for study material to help you prepare, Mometrix is here to help.
Our comprehensive study guide contains all the key topics you need to study in order to do well on the MBE the first time you take it.
What makes Mometrix special is that our study experts meticulously research topics, and then use that information to pinpoint the exact concepts you need to know on the exam. That intense research has led to a study guide and flashcards that are so specific, they're guaranteed to help you pass the exam with a grade you'll be bragging about for years to come.
Check out Mometrix's Multistate Bar Flashcards
Get complex subjects broken down into easily understandable concepts
Get Your Flashcards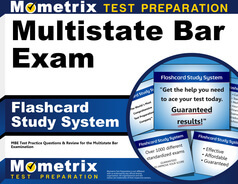 Multistate Bar Study Guide
Mometrix Academy is a completely free Multistate Bar test resource provided by Mometrix Test Preparation. If you find benefit from our efforts here, check out our premium quality Multistate Bar Study Guide and Multistate Bar Flash Cards to take your studying to the next level. Just click the Multistate Bar study guide link below. Your purchase also helps us make even more great, free test content for test-takers.
Upgrade your studying with our Multistate Bar study guide and flashcards:
Multistate Bar Study Guide
Multistate Bar Flashcards