Family Practice Exam
To be board certified by the American Board of Family Medicine (ABFM) as a family practitioner is to prove you have mastered the knowledge, skills, and experience that is required to give high-quality care to your patients. This signifies your excellent expertise in the family medicine field and gives you an edge over other medical professionals.
Check out Mometrix's Family Practice Study Guide
Get practice questions, video tutorials, and detailed study lessons
Get Your Study Guide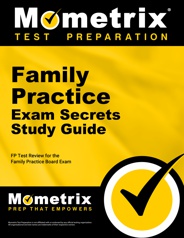 Who is Eligible?
Candidates for the Family Medicine Certification exam may apply through the following routes:
Resident Certification Entry

Completed at least 50 Family Medicine certification points including one knowledge self-assessment and one performance improvement activity with patient population
AOA Certification Entry

Completed a three-year AOA accredited family medicine residency training program
Completed one knowledge self-assessment activity, one performance improvement activity with patient population, and 50 family medicine certification points from self-assessment and performance improvement activities
These must be obtained in no more than three years or by December 31, 2022
Certification Entry

Completed at least 50 Family Medicine certification points including one knowledge self-assessment and one performance improvement activity with patient population
Completed 150 credits of acceptable continuing education (CME).
Must be completed within three years from process start date
There are several payment plans to choose from when you enter into a family medicine certification training program. Those who choose the certification process fee and stage pre-payment plans will have to pay $250. Those who paid in full or annually will have no fees due at the time of examination. Initial, certification entry/reentry, pay-as-you-go, and re-attempting candidates will have an exam fee of $1300.
When and Where is it taken?
After you have completed your application, you will be redirected to the Prometric website to schedule your exam. The Family Medicine Certification Exam can be scheduled during the months of April or November. A complete list of dates and available times will be provided for you during registration of the exam.
This exam is taken through Prometric at one of their many locations throughout the U.S., it's territories, and Canada. A full list will be made available to you during registration.
Once you have scheduled, you will be sent an E-ticket for the exam. It is important that you print this out, as you will need it at the testing center.
What Should I Bring?
Along with your E-ticket, you will need to bring a current and valid form of personal identification with you to the testing site. This must contain your name that matches your application information, your signature, and a recognizable photo. You may be asked to provide a second ID if the information is missing.
The test is taken via computer. This means that you will not need to bring any other personal items with you such as pencils, paper, or a calculator. Any such items will not be allowed in the testing area and will be kept in a designated locker until the exam is complete.
You should plan to arrive at least 30 minutes before your exam begins to allow for appropriate sign in time. If you show up late, you will not be allowed to test that day and will have to reschedule.
What Does it Cover?
The Family Medicine Certification Exam consists of four 100-minute sections. Each of these has 80 multiple choice questions. During the second section, 40 of the 80 questions will be based on a modular topic of your choosing. This topic will be chosen before the exam begins.
Below is a list of topics that you expect to see on the exam:
Community Medicine
Adult Medicine
Maternity Care
Gynecology
Care of Neonates, Infants, Children, and Adolescents
Behavior & Mental Health
the Surgical Patient
the Older Patient
You will be expected to answer questions regarding the above areas in relation to diagnosis, management, and prevention of disease.
Your choices for modular topics are:
Ambulatory Family Medicine
Child and Adolescent Care
Geriatrics
Women's Health
Maternity Care
Emergent/Urgent Care
Hospital Medicine
Sports Medicine
You will be given two optional 15-minute breaks and one 70-minute meal break during the exam. Plan for a whole day of testing.
How is it Scored?
Your exam results will be made available to you about 6-8 weeks after your testing window closes. These can be accessed in the Physician Portfolio of your ABFM account.
Minimum passing scores are evaluated on a continuous basis and updated regularly through ABFM.
How Can I Prepare?
Mometrix knows this certification can better your life. That is why we want to help you prepare for this exam. We are offering an all-inclusive study guide and flash cards to make sure you know everything on the exam.
This will also include sample questions that are designed to test your knowledge and make you familiar with the structure of the exam. Each is formatted and written in a way that mimics what you will see on testing day. Let us make this your best testing experience yet.
Family Practice Study Guide
Mometrix Academy is a completely free Family Practice test resource provided by Mometrix Test Preparation. If you find benefit from our efforts here, check out our premium quality Family Practice Study Guide and Family Practice Flash Cards to take your studying to the next level. Just click the Family Practice study guide link below. Your purchase also helps us make even more great, free test content for test-takers.
Check out Mometrix's Family Practice Flashcards
Get complex subjects broken down into easily understandable concepts
Get Your Flashcards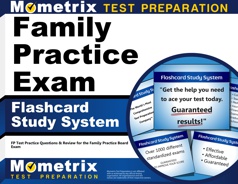 Upgrade your studying with our Family Practice study guide and flashcards:
Family Practice Study Guide
Family Practice Flashcards