ASWB Associate Exam
The Association of Social Work Boards (ASWB) offers several social work exams as part of the social work licensure process, which also includes education, and depending on jurisdiction, supervised experience. The Associate Social Work Exam has been developed as an exam for jurisdictions that do not require social work degrees in order to receive licensure. The exam was designed to assess applicants' entry-level competence and readiness based on the Associate level of education. Social work is a field in which licensure is required, which means the ASWB's social work exams are offered in each U.S. state and territory, as well as in the provinces of Alberta and British Columbia in Canada.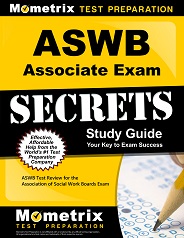 Check Out Mometrix's ASWB Associate Study Guide
What are the eligibility requirements to take the Associate Social Work Exam?
The first thing you need to do if you wish to become a licensed social worker is to contact your state board to inquire about your jurisdiction's requirements. You will need to submit a licensing application in order to determine your eligibility to sit for the exam; however, some jurisdictions have variations in how eligibility is determined, which means communication with your state board is crucial. Your state board will determine at which level you should take the exam, depending on education, experience, and additional criteria.
How much does the exam cost? How do I register for the exam?
The Associate Social Work Exam costs $230 to register. This fee is nonrefundable. If you need to change your registration for any reason—including changing exam levels—you will be assessed an additional $30 fee. If you have an excused absence, such as a verifiable emergency, you need to submit documentation to the ASWB within 30 days of the missed exam date. You may be eligible for a reduced fee of $150, for up to one year of the excused absence. Keep in mind that your state board may assess additional fees related to the application and licensure process, so keep in touch with your state board.
After you submit your initial licensing application, your state board will send you an approval notification, at which time you can register to take the appropriate ASWB exam. When you register to take the exam, you will need to include your legal name, current address, phone numbers, date of birth, and Social Security number (U.S.), or Social Insurance number (Canada). You will also need to include your jurisdiction, education level and degrees obtained, the exam requested (in this case, the Associate level exam), any necessary testing accommodations, and additional demographics information.
You can register for the test by calling the ASWB and providing the aforementioned information over the phone; going to the ASWB website and registering online; or by sending your registration information by mail or fax to the ASWB. Within two business days after your registration is complete, the ASWB will issue you, via the email address you provided, an authorization to take the exam. If you did not include an email address, the authorization will arrive by mail within 7-10 business days.
How is the exam administered?
The first thing to remember on test day is to bring your primary and secondary identification types. These can be ID cards, drivers' licenses, military IDs, Social Security or Social Insurance cards, etc. Your IDs will be taken when you enter the exam facility, your hand will be scanned, and you will need to sign a Candidate Rules Agreement.
The Associate Social Work Exam is administered via computer at one of the many Pearson VUE testing centers across the U.S. and in specified Canadian provinces. The computer-based exam was designed to be taken by anyone, including those who are uncomfortable with computers. You will also be given the option of taking a tutorial before beginning the exam.
What does the exam cover?
The Associate Social Work Exam consists of 170 multiple-choice questions with four answer options each. Of the 170 questions, 20 are pretest questions used to determine the inclusion of such questions, which means only 150 questions are scored. You will not know which questions are scored and which are not, so make sure to try your best on each question. You will be given four hours to complete the exam.
In terms of content, the exam assesses KSAs, or knowledge, skills, and abilities. Each KSA consists of different content areas. Below are the KSAs, content areas, and weighted percentages per area:
Human development, diversity, and environmental behavior, 25%:

Including the subsections of: human growth and development, behavior in the social environment, and diversity, social/economic justice, and oppression
Assessment, 29%:

Including the subsections of: biopsychosocial history and collateral data, methods and techniques of assessment, and abuse and neglect concepts
Client/client systems interventions, 26%:

Including the subsections of: indicators and effects of crisis and/or change, techniques and processes of intervention, collaborative relationships, and documentation
Professional relationships, values, and ethics, 20%:

Including the subsections of: professional values and ethics, confidentiality, and professional development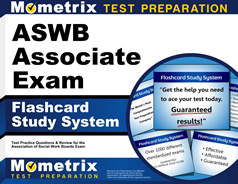 Check Out Mometrix's ASWB Associate Flashcards
Test Preparation
Now, you should have a better understanding of the eligibility criteria, administration, and content of the ASWB Associate Social Work Exam. Preparation is your next step. Perform your best on the ASWB exam by using the most comprehensive test preparation materials available. Mometrix Test Preparation's standardized test researchers have developed everything you need: the Social Work Exam Secrets study guide, including the Social Work Exam Practice Test, and the ASWB Exam Flashcard Study System.
The Social Work Exam Secrets study guide and the Social Work Exam Practice Test include authentic ASWB exam content, and the ASWB Exam Flashcard Study System includes even more authentic ASWB exam content. Evaluate your knowledge, skills, and abilities using Mometrix Test Preparation's Social Work Exam Secrets study guide, Social Work Exam Practice Test, and ASWB Exam Flashcard Study System. The sooner you pass the ASWB Associate Social Work Exam, the sooner you can earn your license and begin working in the social work field.
ASWB Associate Study Guide
Mometrix Academy is a completely free resource provided by Mometrix Test Preparation. If you find benefit from our efforts here, check out our premium quality ASWB Associate study guide to take your studying to the next level. Just click the ASWB Associate study guide link below. Your purchase also helps us make even more great, free content for test-takers.
Upgrade your studying with our ASWB Associate study guide and flashcards:
ASWB Associate Study Guide
ASWB Associate Flashcards