The Praxis Core tests are an assessment of basic academic skills for candidates beginning a teacher education program. These tests are often assigned by colleges and universities, and some states require them before teacher licensure is granted. These tests are also known as the Praxis Core Academic Skills for Educators Tests.
There are three Praxis Core tests: Reading, Writing, and Mathematics. Some candidates may only need to take one or two of the exams, while others must take all three. The tests include constructed-response, multiple-choice, and numeric-entry questions.
The Reading test consists of 56 questions and must be completed within 85 minutes. It addresses three content categories: key ideas and details (35% of the exam, or 17-22 questions); craft, structure, and language skills (30%, 14-19 questions); and the integration of knowledge and ideas (35%, 17-22 questions).
Like the Reading test, the Mathematics test consists of 56 questions and must be finished within 85 minutes. The questions are taken from four main categories: number and quantity (30%, 17 questions); algebra and functions (30%, 17 questions); geometry (20%, 11 questions); and statistics and probability (20%, 11 questions).
The Writing section of the Praxis Core tests has two parts: 40 multiple-choice questions, to be completed within 40 minutes, and two essays that must be written within an hour. The multiple-choice questions are drawn from two general categories: language and research skills for writing; and text types, purposes, and production. These questions may pertain to usage, sentence correction, revision in context, and research skills. For the essays, the student will need to write in different modes. One essay prompt consists of two primary sources, from which the student must extract the most valuable information. The other raises an open-ended question and asks the test-taker to compose an argument based on his or her personal experience, reading, or observation.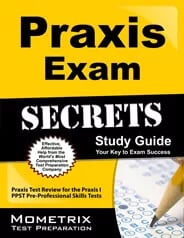 The questions for the Praxis Core tests are composed by educators, university professors, and content-area specialists. The Praxis Core tests are administered by computer throughout the year at testing facilities around the country. Scoring is based on the number of questions answered correctly, which means that candidates should always make their best guess rather than leave a difficult question unanswered.
For aspiring educators, success on the Praxis Core tests is a must. Fortunately, Mometrix has developed comprehensive and effective study materials for all of the Praxis Core tests. Mometrix offers study guides and flashcards, all of which contain the essential information for the test in a plain, easy-to-understand style. The Mometrix resources are the best way to ensure the highest possible score on the Praxis Core tests. They can be purchased at https://www.mometrix.com/studyguides/praxis/ for Praxis Core Study Guides and http://www.flashcardsecrets.com/praxis/ for Praxis Core Flashcard Study System.