Completing graduate school has become a worthy goal for many people, more than at any time in history. Many advanced degree programs require applicants to complete the GRE General Test for admissions consideration. The GRE, like other standardized exams, can seem long and grueling, creating apprehension for taking the test. To reduce your apprehension and improve your chances for success on the GRE, find out the facts that answer the questions, "How long is the GRE? How can I best prepare myself for the long test day?"
The Facts
Scoring well on the GRE helps your chances of being accepted into an advanced degree program, including master's, doctoral, and professional degree programs. The GRE General Test is a test of readiness for graduate school, measured in six sections consisting of two sections each of Verbal reasoning, Quantitative Reasoning, and Analytical Writing. The questions cover general education topics rather than field-specific content and are accepted in liberal arts, technical, education, business, and more. If you're applying for an advanced degree program, check the school's website to find out if the GRE is required for admission.
The GRE presents questions in several formats. The Analytical Writing sections require essays. In the Quantitative Reasoning section, you find quantitative comparisons, multiple-choice questions, and numeric entry questions. The Verbal Reasoning section contains reading comprehension, text completion, and sentence equivalence.
The GRE is available in both computer-delivered and paper-delivered formats. The computer-delivered version takes approximately three hours to complete and 45 minutes, while the paper-delivered option takes around three hours and 30 minutes to finish. In either case, you'll be required to arrive a bit earlier, extending your day.
Your GRE Day
When you register for the GRE, you'll receive an admission ticket. The ticket states your arrival time. Take this time seriously! If you arrive after the test session begins, you might not be allowed into the site, and you may forfeit your test fee.
Arrive 30 minutes prior to test time
Check in
Receive instructions and begin the exam
Complete test:
• Computer-Delivered 3 hours 45 minutes. A 10-minute break will occur following the completion of three sections
• Paper-Delivered 3 hours 30 minutes. A 10-minute break will occur following the completion of two sections.
Test Section Timing
Computer-Delivered Test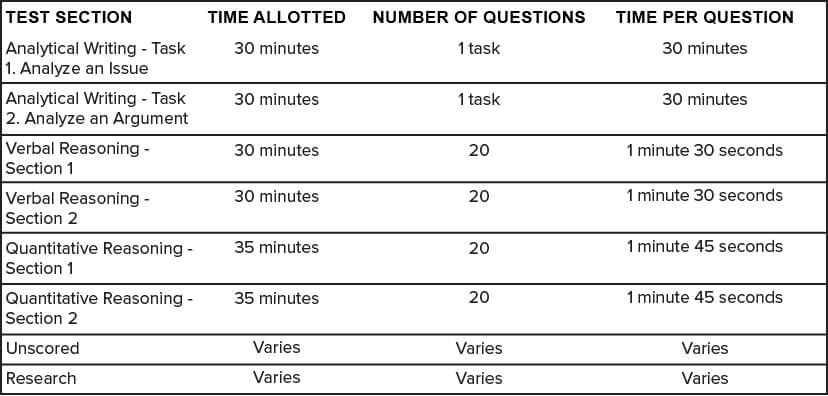 An unscored section may appear in your test. You won't be able to identify it, and the number of questions within it varies. ETS, the organization that offers the GRE, uses this section to pilot test questions for future versions, for research purposes, or to validate scores over time. While the scored test sections last for 3 hours 10 minutes, the unscored section takes up to 35 minutes. Remember, you won't be able to identify this section, so they'll seem like a regular part of the test, yet the score won't count for or against you.
The computerized GRE has an adaptive design. You can move backward and forward through a section to preview, review, or to change answers. Also, you can mark questions to review later, a useful tool items that are more difficult.
The Quantitative Reasoning section provides an on-screen calculator. You're not permitted to bring in and use your own calculator.
Paper-Delivered Test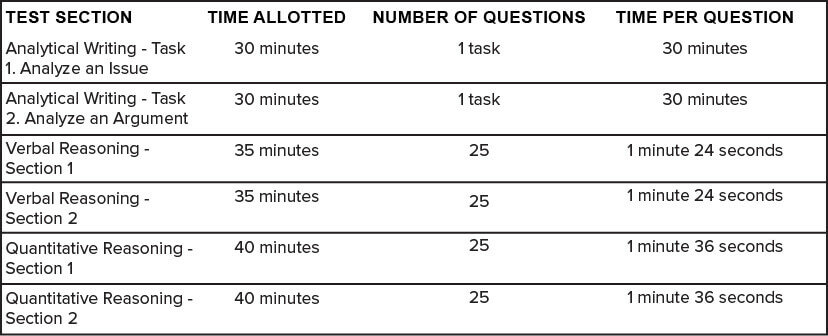 The first section of the paper version of the GRE will always be Analytical Writing. The following sections will be a mix of Verbal Reasoning and Quantitative Reasoning sections presented in any order. For the Quantitative Reasoning sections, the test coordinator will provide a calculator. For all sections, you'll place your answers in the test booklet.
Strategizing for Success
Studying and Taking Practice Tests
Make a study plan that starts months ahead of the GRE test date, giving you have plenty of time to prepare without it seeming overwhelming. There are plenty of helpful strategies you can use to help you. Some people take test-prep classes. Others study on their own or with a partner or study group, using a good GRE study guide and flashcard system.
Taking GRE practice tests plays a huge role in studying and performing on the test.
First, you test your knowledge to identify gaps. You can focus on study plans on your weak areas.
Second, you'll gain insight into the types of test questions and get used to answering each type, making you gain speed.
Third, you can take some of the practice tests within the specified time limits. Limited time helps you to figure out the pace you'll need to set. It will also help you build stamina for the long, three-plus hour test session.
Answering questions
On the GRE, only correct answers receive a score. If you skip a question or answer one incorrectly, it doesn't show in your score as a positive or negative. The correct response scores are added up, and the total number of points forms your raw score. This gives you a clue to the strategy in answering difficult questions.
When you find a question that you can't answer, you can initially skip the question. Don't waste time spinning your wheels and feeling anxiety over the question. If there's time left at the end of a section session, go back and try again. If you have an educated guess or can eliminate a couple of responses in multiple-choice, give it your best guess. Either way, the response won't hurt you and if you happen to get the correct answer, you'll get credit.
Long Test, No Problem
After all of your strategizing and getting ready for the GRE, the time won't seem as long because you know you'll spend it well. Once you begin the exam, you'll get into the flow of reading, thinking, calculating, and responding. You'll know how to handle difficult questions, using the best course of action. When the test coordinator says that time is up, you may feel surprised that by managing your actions before the test, the test didn't seem to take that long at all.