TSI Practice Test
Welcome to the TSI practice test page. The links below will help you take our sample TSI practice test. These TSI practice questions will give you a better idea of what to study on your exam. Good luck with your studying. If you need additional practice questions get our TSI study guide, online course, and flashcards.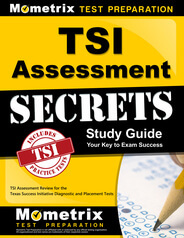 TSI Assessment Study Guide
Do you have to take a TSI?
No, it is not mandatory that students take the TSI Assessment. There are several ways that you can be exempt.
How much does it cost to take the TSI?
To take the full TSIA2 Assessment, the registration fee is $29. If you only need to take a particular section of the test, the ELAR cost is $20 and $10 for the Math or Essay section.
Are you allowed to use a calculator on the TSI?
Calculators are not allowed to be used on the TSI Assessment. However, there will be a pop-up calculator embedded in the test for some of the questions.
Is the TSI test required?
Unless you are exempt, you are required to take the TSI Assessment if you are entering college.
Is the TSI test timed?
The TSI is not a timed test. Some colleges do recommend that you allow two hours for the writing section and one hour for the reading and math sections.
What will be on the TSI test?
There are three sections of the TSI Assessment. These sections include Math, English Language Arts and Reading (ELAR), and an essay.
What do you have to score on the TSI to pass?
Each section of the TSI have different "passing" scores. The Mathematics section has a minimum score of 950, the ELAR section is 945, and the Essay section would need a score of 5.
Best TSI Math Practice Questions

Practice For the TSI the Best Way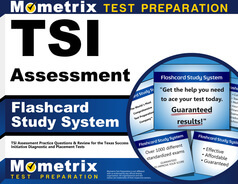 TSI Assessment Flashcards
Scoring well on the TSI is an indication that you are prepared for college level courses and allows you to bypass remedial courses. Although your high school classes have been designed to prepare you for this test, you want to be sure that you have learned the skills and retained the knowledge that you have been taught. How can you know if you have what it takes to score well on the TSI? Utilizing quality study materials and verifying your readiness by taking TSI practice tests is usually the best approach. Mometrix Academy provides free resources to help you in your preparation for the TSI. The links above provide you with practice test study guides that cover all the content subject areas included on the TSI: Reading, Writing, and Math. Free practice tests for each individual TSI subject are also available from Mometrix. Taking a TSI practice test will help you gauge how prepared you are for the actual TSI test. A TSI practice test will also show you the subject areas where you need to focus your attention. You may want to consider taking a TSI practice test for the first time and indicate next to each question which of the following statements is true.
I confidently knew the correct answer.
I chose the correct answer but was unsure of my choice.
I had no idea which option was the correct answer.
This approach will reveal your areas of strength and weakness so that you can appropriately plan your study time. Obviously, you won't need to spend a lot of time on the questions that you answered correctly but you may want to review this material just to confirm that you have a complete understanding of the concept. You'll need to spend a little more time on the questions that you answered correctly but weren't very confident about. The majority of your preparation will be spent on the questions that you were completely at a loss as to the correct answer. Don't let these questions discourage you! You can count on Mometrix to provide you with all the help you need to prepare adequately and score well on the TSI.
TSI Test Online Prep Course
If you want to be fully prepared, Mometrix offers a comprehensive online TSI Prep Course. This course is designed to provide you with any and every resource you may need while studying.  The TSI Course includes:
88 Lessons Covering all the Topics
Over 1,050 TSI Practice Questions
150+ Video Tutorials
More than 300 Electronic Flashcards
Money-back Guarantee
Free Mobile Access
and More!
The TSI Prep Course is designed to help any learner get everything they need to prepare for their TSI exam; click below to check it out.
TSI Practice Methods
You may want to use the following approach as you prepare for the TSI:
Take your first TSI practice test making note of each question as outlined above. Use your notes and study materials to assist you in answering the questions, if needed. The actual TSI exam is not timed so you don't have to be concerned with time limits.
Now that you can see which concepts you struggled with, use the free TSI study materials provided by Mometrix Academy to gain a better understanding of them. Instructional videos and practice tests are available from the links above. The videos explain all the critical concepts you need to know in order to score well on each TSI subject.
Try taking another practice test and only use your resources if absolutely necessary.
Repetition and practice is the key to success on any test. If you need further instruction or desire further assistance in your preparation, check out the Mometrix TSI Online Course, Flashcards, and the Mometrix TSI Study Guide which includes additional review material, practice tests, and much more. These invaluable resources include a risk-free, 1-year 100% money-back guarantee. Use the links below for more information or to order the TSI Online Course, Study Guide, or TSI flashcards.
Upgrade your studying with our TSI study guide and flashcards:
TSI Study Guide
TSI Flashcards
TSI Prep Course