Many schools that offer occupational certificates or associate degrees require applicants to take the Test of Adult Basic Education (TABE). Schools give the TABE test because they want to make sure that students have the basic skills necessary to do well in school. Reading, language, and math are the foundational skills that all education builds on. A person who struggles in these three areas will find it very difficult to complete an education to learn a skill or trade.
What is the TABE?
The TABE test caters exclusively to the education of adults, especially those whose first language is not English. The entire purpose of the test is to measure how much education-seeking adults already know when it comes to academic and workplace environments.
The TABE test came into being during the late 1960s. Its creators, the CTB, sought to create diagnostic tests aimed at Los Angeles children, among many other types of tests prior to the TABE's creation. It wasn't until McGraw-Hill bought out CTB by 1965 that ideas for the TABE began to sprout. It made its official debut in the year 1967. After numerous tweaks and revisions, TABE 11&12 was released in 2018, focusing on the subjects of reading, mathematics, and language.
Check Out Mometrix's TABE Study Guide
Get practice questions, video tutorials, and detailed study lessons
Get Your Study Guide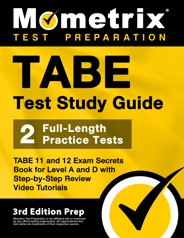 TABE Exam Outline
Each version of the test is tailored to a specific set of needs, meaning that you can pick which test format you want to take based on what you are currently learning. The length of the test itself depends on which version you take. The "survey" test is composed of exactly 100 questions, with each quarter dedicated to a specific subject: language, mathematics, or reading. It takes approximately 1.5 hours to complete. However, the "Complete Battery" test is 195 questions long and has a testing period of three hours.
Before you take the test, you will take a "Locator" test, which is meant to help you discover which testing level is the most appropriate: Advanced, Difficult, Medium, Easy, or Literacy.
Check Out Mometrix's TABE Flashcards
Get complex subjects broken down into easily understandable concepts
Get Your Flashcards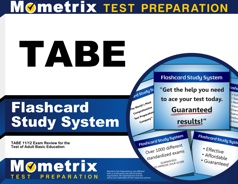 TABE Exam Scores
Scoring takes place either online, through the use of a scanning device, or by hand and human discernment. The test's grading rubric is currently determined by the International Reading Association, the National Council of Teachers of English, and the National Council of Teachers of Math.
If you didn't get the score you wanted, don't worry. There is no way for a student to fail the TABE exam. You will not have to worry about retests or anything similar, as the TABE's only purpose is to measure what you know. Your instructors will then use that information to figure out the best way to teach you. No matter how well you do, you'll benefit from taking the TABE test.
A numerical rating system (NRS) is used to determine your score. Each level of the TABE has its own scoring range:
Online TABE 11 & 12 Prep Course
If you want to be fully prepared, Mometrix offers an online TABE 11 & 12 prep course. The course is designed to provide you with any and every resource you might want while studying. The TABE 11 & 12 course includes:
Review Lessons Covering Every Topic
600+ TABE 11 & 12 Practice Questions
More than 500 Electronic Flashcards
Over 230 Instructional Videos
Money-back Guarantee
Free Mobile Access
and More!
The TABE 11 & 12 prep course is designed to help any learner get everything they need to prepare for their TABE 11 & 12 exam. Click below to check it out!