TABE Study Guide
Welcome to the TABE study guide page. The links below will take you through our online TABE test review. Watch our TABE study guide tutorials and brush up on any concepts you don't remember from your high school classes. Pinpoint your strengths and weaknesses to get the most out of your studying for the TABE test. If you need more help or additional practice questions consider upgrading with our TABE book and flashcards.
TABE Test Prep Resources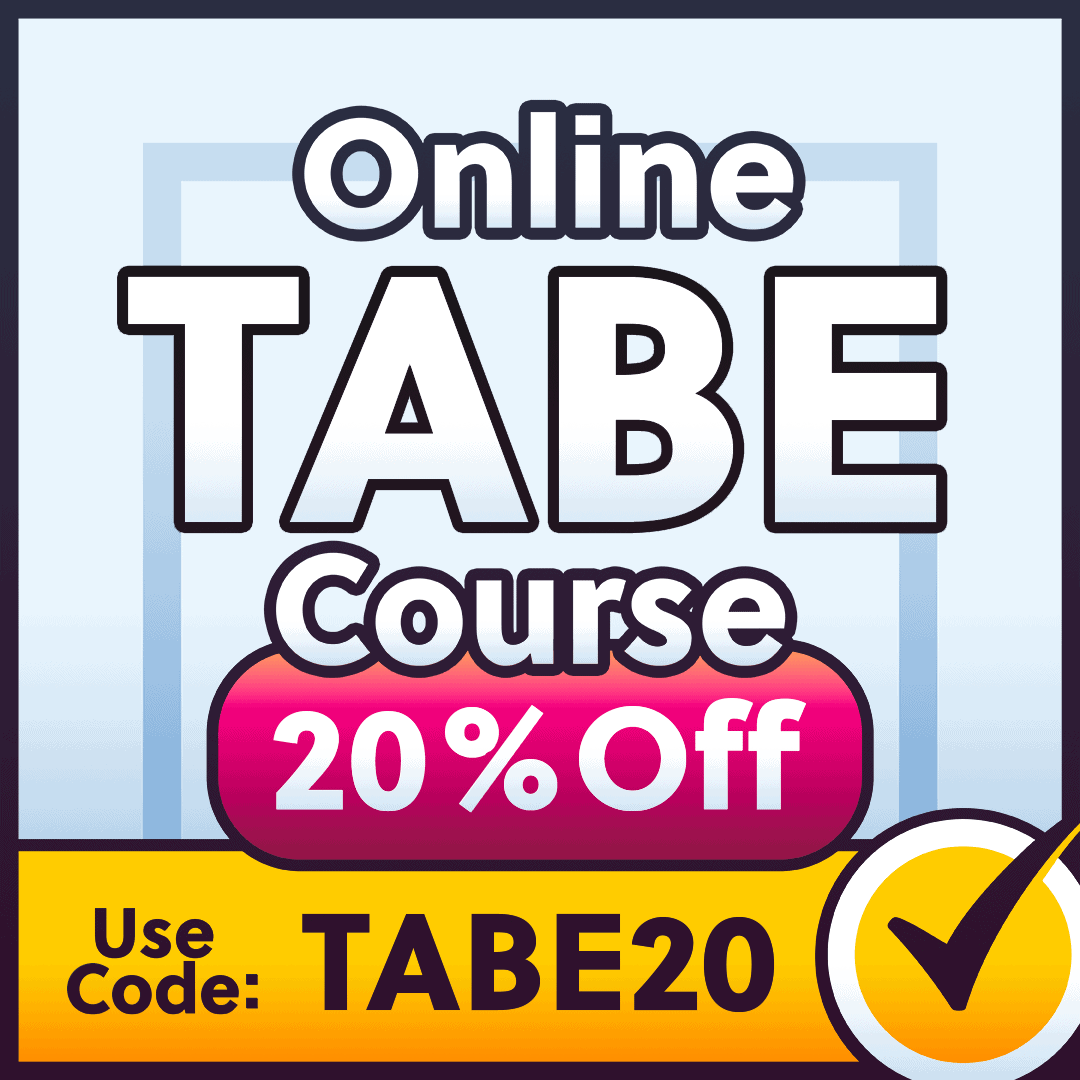 Online TABE 11 & 12 Prep Course
If you want to be fully prepared, Mometrix offers an online TABE 11 & 12 Prep Course. The course is designed to provide you with any and every resource you might want while studying. The TABE 11 & 12 Course includes:
Review Lessons Covering All the Topics
600+ TABE 11 & 12 Practice Questions
More than 550 Electronic Flashcards
Over 200 Instructional Videos
Money-back Guarantee
Free Mobile Access
and More!
The TABE 11 & 12 Prep Course is designed to help any learner get everything they need to prepare for their TABE 11 & 12 exam; click below to check it out.
TABE Study Guide Customer Success Stories
Our customers love the tutorial videos from Mometrix Academy that we have incorporated into our TABE test study guide. The TABE Secrets Study Guide reviews below are examples of customer experiences.
I am applying for a SUB-Teacher position with the local School District. By doing so, one of the qualification was to take the TABE test at the University. I have been out of school for sometime so I knew I needed to brush up. My purchase of TABE Secrets was a great assistance in getting me ready for the test and also the position I am interested in. I recommend this help study highly.
TABE Study Guide – Marilyn
I love this book! It is a blessings to have find this book to helpand guide me to past my test to be LPN.. I recommend this to anyone that what more in life. I'm sooo impressed with how so details and explanation step by step problem solving, Questions etcc… Thank you I wouldn't have done well on the test without this book.
TABE Study Guide – Marie
I appreciate that there are practice tests for Reading and Math and that it is comprised in one book. Many of the other products I found we are based on level – so I would have had to purchase 12 books. I liked that I could get the basics in one book. I like the helpful hints and online resources.
TABE Study Guide – teteruckus
Check Out Mometrix's TABE Study Guide
Get practice questions, video tutorials, and detailed study lessons
Get Your Study Guide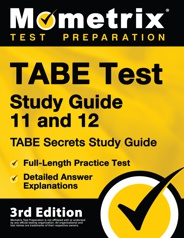 My product rating is a 5. It is a different approach to what I'm used to with other books I have used. It is very easy to read and understand. I'm really very happy with the choice that I made. Thank you.
TABE Study Guide – Heiressly
I rate this material as a 5 on a scale of 1-5. I feel good about going in to take the exam, I have taken a TABE years ago, I am now 52 and starting a new career in another state as I enter my social security years….:) I did not realize how much info that I could not recall as far as finding solutions in the math department… now I am confident,well more confident after reviewing and practicing for TABE with this material…. and as a bonus, I started receiving videos in my email to really help me understand and assure me that I was getting it. Thank you for putting in so much and caring so much to help others. The Videos were a pleasant surprise and very welcomed.
TABE Study Guide – Customer
I only wish I had had the TABE Secrets Study Guide when I was studying for my GRE, and all of my professional licenses. This well written, cut-to-the-chase, mega-informative guide covers everything from studying for a test to studying for a job interview. I can't even begin to guess how much money I would have saved by reading this book as opposed to going to "study lessons" every time I needed to test for a financial license. This guide breaks everything down; types of questions, how to study effectively, question traps, mathematical formulas, English tips and hints and test time management. It also has the forethought to give the reader information on careers that will grow, ways to be an effective interviewee and writing professional cover letters and resumes. This is a great go-to guide for the student and professional.
TABE Study Guide – M. L. Olen
My honest opinion of the study guide is quite positive. You are thrown almost immediately into the subject matter which is just the push I was looking for. Every step for solving the problems is presented in great detail. What really won me over is that it was easy to understand. That combined with your flash card study system has begun to raise my confidence as my exam date draws nearer. They really help with my repetitive learning style and I appreciate you getting them to me so quickly considering the recent hardship that Texas is experiencing. I am going to be recommending Mometrix products to anyone in the future who needs help with examinations.
TABE Study Guide – Customer
Check Out Mometrix's TABE Flashcards
Get complex TABE subjects broken down into easily understandable concepts
Get Your Flashcards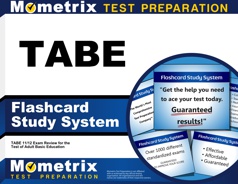 There has probably been a time during your school career when you've wondered where you would use some of the things the teachers are trying to teach you as you grow up. There are plenty of skills that you will learn that might seem insignificant, but when you get older, you will see just how common they are in the real world. When I was getting ready for the TABE test, I knew I would have to take a test in math, reading, and English all in one sitting. There were things I didn't understand in all of those areas and I needed to brush up my knowledge if I wanted to do well. This study guide was great because it had a section on each, just like the test will. It helped me with algebra and geometry as well as statistics in the math department and then moved on to reading comprehension and other items. The English section was especially helpful because I not understand how to use commas correctly and I think that will help me with my reading and writing as well. I'm so glad I found this study guide. I think I'll do pretty well on the test now and the skills I learned in the study guide will be things I'll use in my future job as well, no matter what it might be.
TABE Study Guide – BATE
Being unemployed at my present age (57), availed me of the opportunity to re-invent myself by registering for training to a globally recognized network course (Cisco – CCNA). The stipulation for the free training course is that all participants must take a entrance exam – my guess, to weed out those unwilling or unable to follow a stringent course study. As such, I needed to find a one-stop resource (apparently time is not on my side…lol) that would be informative and not condescending to me. To cut to the chase, the TABE Secrets guide was my resource. I was skeptical at first, yet from the first page I was impressed by how informative and simply straight-to-the-point language the content was. Believe me, at my age anything to assist in speeding my thought process is helpful. This guide gives me just that – I didn't get the feeling of filler math comments or long-winded explanation. It further assists me with links to review videos after each paragraph; which I thought was a great idea. It also provided tips in test preparation; which relieved some initial anxiety. Now I'm looking forward to taking the test and setting a course for a new career.
TABE Study Guide – Neal
The Tabe Secrets study guide was recommended me by someone I knew. I got a copy because I wanted to raise my math math scores from the first test I took a few months prior. The study guide was very helpful to me and explained in great detail how and why the answers are derived. After reading through the book and completing the practice tests, I was able to raise my math score by three grade levels! I would highly recommend this self paced guide to anyone who wants in depth, easy to understand explanations of the Tabe test. It works!
TABE Study Guide – Goodbookaholic
They have been nice, friendly and they are for sure knowledgeable people. I appreciate the help I received from the study of their materials. After studying the study guide I was able to get fine results on my TABE test in order to get enrolled in the classes preparation for the GED tests, so I am plenty satisfied with the product I purchased from them, Thanks and I wish you the best guys.
TABE Study Guide – Customer
I ordered the Mometrix, TABE study guide for my son, who says it is great so far, great review sections, and mock test questions. The material is comprehensive yet easy to read and understand. He will be taking the test to hopefully get accepted to an electrian apprenticeship program, and is that more confident with this study guide. We would highly recommend this book, for those that need to review for the TABE.
TABE Study Guide – Pam
The test-taking tips are great and make a lot of sense. This book has a lot of practice questions and an entire 50 question practice test. Being a hands-on learner, all of the practice questions are nice. Helps you remember a lot of things you learned in school that you've forgotten because you don't use it every day.
TABE Study Guide – Customer Learn more about the Mometrix TABE Study Guide   Mometrix Academy – Home