PERT Test
PERT stands for Postsecondary Education Readiness Test.
It's a college placement exam used by colleges and universities in the state of Florida to determine what level of college courses in math and English an applicant is adequately prepared for.
Incoming college students who do well on the PERT can take regular math and English classes immediately, while those who don't will have to start with basic or remedial classes.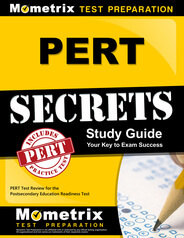 Check Out Mometrix's PERT Printed Study Guide
There are three sections on the PERT test – Math, Reading, and Writing. Each part doesn't have a time limit, but usually takes 45 minutes, and contains 30 questions.
Five questions in each section are experimental, and don't count toward the score, but test takers won't know which questions are experimental. Scores on each section range from 50 to 150, and a score of over 100 is required to be able to skip lower level classes.
Currently, a score of at least 114 is required on the Math section in order to skip basic and remedial classes, while a student will need to achieve a 103 on the Writing section as well as a 106 in Reading in order to qualify for regular freshman level English classes. The test is not easy, and thorough preparation is the key. Here at Mometrix Academy you'll find lots of videos that can help you achieve your best possible score on the PERT test.
PERT Test Prep

PERT Study Guide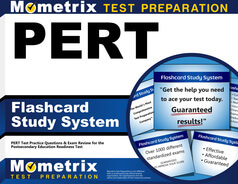 Check Out Mometrix's PERT Flashcards
Mometrix Academy is a completely free resource provided by Mometrix Test Preparation. If you find benefit from our efforts here, check out our premium quality PERT study guide to take your studying to the next level. Just click the PERT study guide link below. Your purchase also helps us make even more great, free content for test-takers.