PERT Writing Practice Test
If you're on this page, there's a good chance you're nearing your high school graduation. Congratulations on this achievement! There's little doubt you've worked hard throughout these past four years, and now all of your efforts are finally paying off.
However, your impending graduation will also come alongside another important milestone: what you will decide to do afterward. This decision can be tough for many, which is completely understandable. If you have already made the decision to pursue higher education, you have fulfilled only one small step in your overall goal. There is a bit more you will have to do in order to proceed to college. Not only will you have to complete high school, but you will also have to send in applications and score well on a myriad of standardized tests—typically the ACT or SAT. Furthermore, if you are a student within the state of Florida, you will also have to complete one last requirement: finishing the PERT exam.
Defining the PERT Exam
The first question that may be on your mind is, "Just what is the PERT exam anyway?" On this page, you will find the answer to that question and more. For starters, the PERT exam (also called the Postsecondary Education Readiness Test) can be compared to the likes of the ACT and SAT. It is meant to serve as a benchmark of sorts, as it is basically the state of Florida's way of ensuring outgoing high school students are adequately prepared for the college environment. It will assess your capabilities in three subjects—Writing, Reading, and Mathematics—and use your results to gauge what types of college courses you will need to take during your first year of college.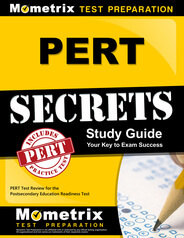 Check Out Mometrix's PERT Printed Study Guide
Thanks to the overall goal of the PERT test, you won't have to worry about earning the perfect score. The PERT exam is unique in that it has no scoring system whatsoever, so there is no such thing as "failing" or "passing." Instead, all you have to focus on is doing the absolute best you can on each section of the test. The exam is also untimed, meaning you will have as much time as you need to finish the exam to the best of your ability. You do not have to worry about running out of time to finish, and you will not have to rush to beat the clock.
The entire exam comes in multiple choice format, and is administered via computer. There will be thirty questions on each part of the test.
As stated above, the PERT exam covers much of the core material you've spent time learning throughout your high school career. The rest of the content on this page will address the Writing subtest of the PERT exam.
All About the Writing Subtest
Unlike other writing tests you may have taken in the past, the PERT Writing subtest has no essay section. Instead, you will be evaluated solely on your knowledge of the mechanics of writing. You will be presented with either a reading passage or a sentence or two, which you then must evaluate for structural and/or grammatical errors. The Writing subtest will assess your capabilities with the following skills:
Punctuation, grammar, capitalization, and spelling
Concentrating on one assertion or subject
How to structure a sentence
Creating an initial argument
Choice of words
How to write according to grammatical conventions
Organization and concept development
Building and backing up an assertion
Recognizing assertions that go against what you have written while also building a solid argument of your own
Composing a specific tone and style
Using proper citational formatting for any and all researched information
Arranging your information in a logical manner
Using data from a number of different sources, all of which relate to your main assertion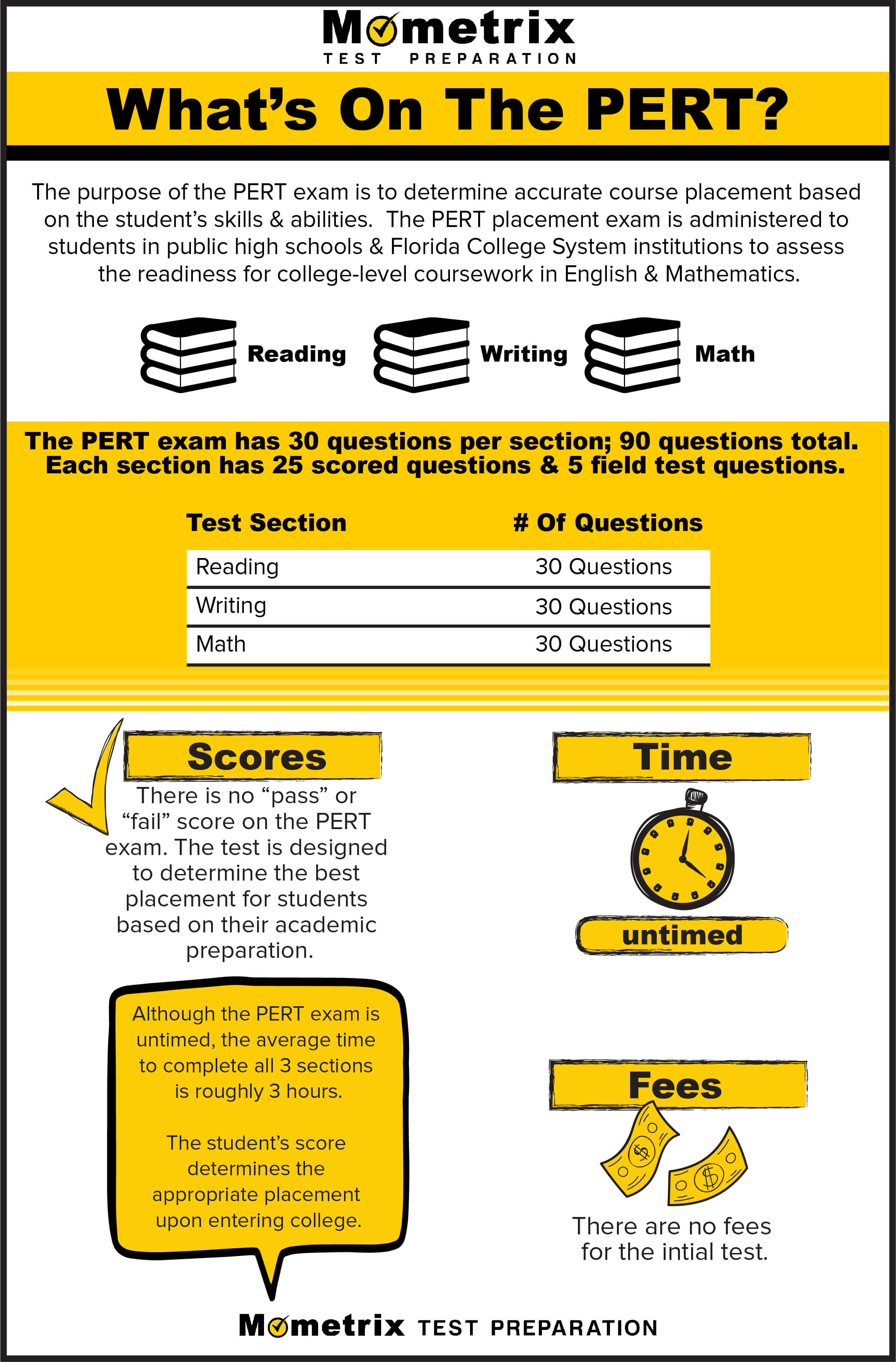 The Tools You Need
You may feel some trepidation over having to take such an important exam. While this is certainly understandable, the Mometrix Test Preparation team wants you to know that you have nothing to fear! We specialize in offering only the very best study tools, so you can turn to us for help with finding the PERT test prep you need.
Here you will find two of our main resources for studying for and succeeding on the PERT exam: our free PERT practice test and PERT test study guide. We have conducted countless hours of research to ensure both of these tools are as faithful and accurate to the real exam as possible, so you will know what to expect and have a much smaller chance of running into any unpleasant surprises on test day.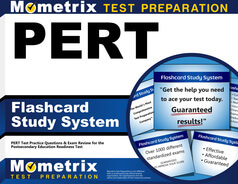 Check Out Mometrix's PERT Flashcards
Our PERT Writing practice test is ideal for those who want to focus their study efforts more directly. By taking a "preview" version of the Writing subtest, you can gain a sense of where your weaknesses and strengths lie with the material and adjust your study plan accordingly. You will also be able to gain a much better idea of the ins and outs of the actual exam.
The Mometrix PERT writing practice study guide follows a similar vein. You can use it to better frame your study plan, as our study guide will contain an outline of every facet of the exam and its material. You will also find a practice test with answers and explanations included.
The Mometrix Test Preparation team is 100 percent dedicated to helping you achieve success on all of your future standardized exams. We hope you will choose to incorporate our tools into your study plan. Good luck, and work hard!
Upgrade your studying with our PERT study guide and flashcards:
PERT Study Guide
PERT Flashcards
PERT Test – Home