PERT Reading Practice Test
As your high school years draw to a close, you've likely been encouraged to think about what you'll do after graduation. It's undeniable that you have a wide myriad of options ahead of you, from higher education to trade school to simply taking some time off to gain real-world work experience.
Attending college is a popular option for most of today's students. However, if you are in the state of Florida, you will have to do a bit more in order to move on to college than simply finishing high school. The Floridian government understands that college and high school are considerably different in terms of academic demand. That's why, in order to ensure incoming college students are adequately prepared, the majority of Floridian school districts are required to have their students take the PERT exam. Much like the SAT, the PERT exam will be administered to you prior to your graduation.
More About the PERT Exam
You may have also heard of the PERT test by its full name, the Postsecondary Education Readiness Test. It is very similar to other college readiness tests you may have already taken, in that it is meant to assess how prepared you are for the college environment. The test splits up into three sections, each of which stem from the core subjects you've already studied extensively throughout your academic career: Writing, Reading, and Mathematics. The formatting of each of these sections of the PERT exam are also similar to what you've experienced through other standardized tests.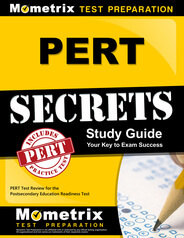 Check Out Mometrix's PERT Printed Study Guide
The biggest difference between the PERT test and other college readiness tests is the lack of any real scoring system. There is no such thing as "PERT passing scores"—or failing scores, for that matter. The only thing the PERT exam measures is your capabilities with the testing material, so you can gain a sense of your academic strengths.
Not only is the test unscored, but it is also untimed. You won't have to worry about running out of time as you take the exam. It is written and administered entirely in a computerized format, and all of its questions are in multiple choice.
On this page, you'll find all of the information you need regarding the Reading portion of the PERT exam.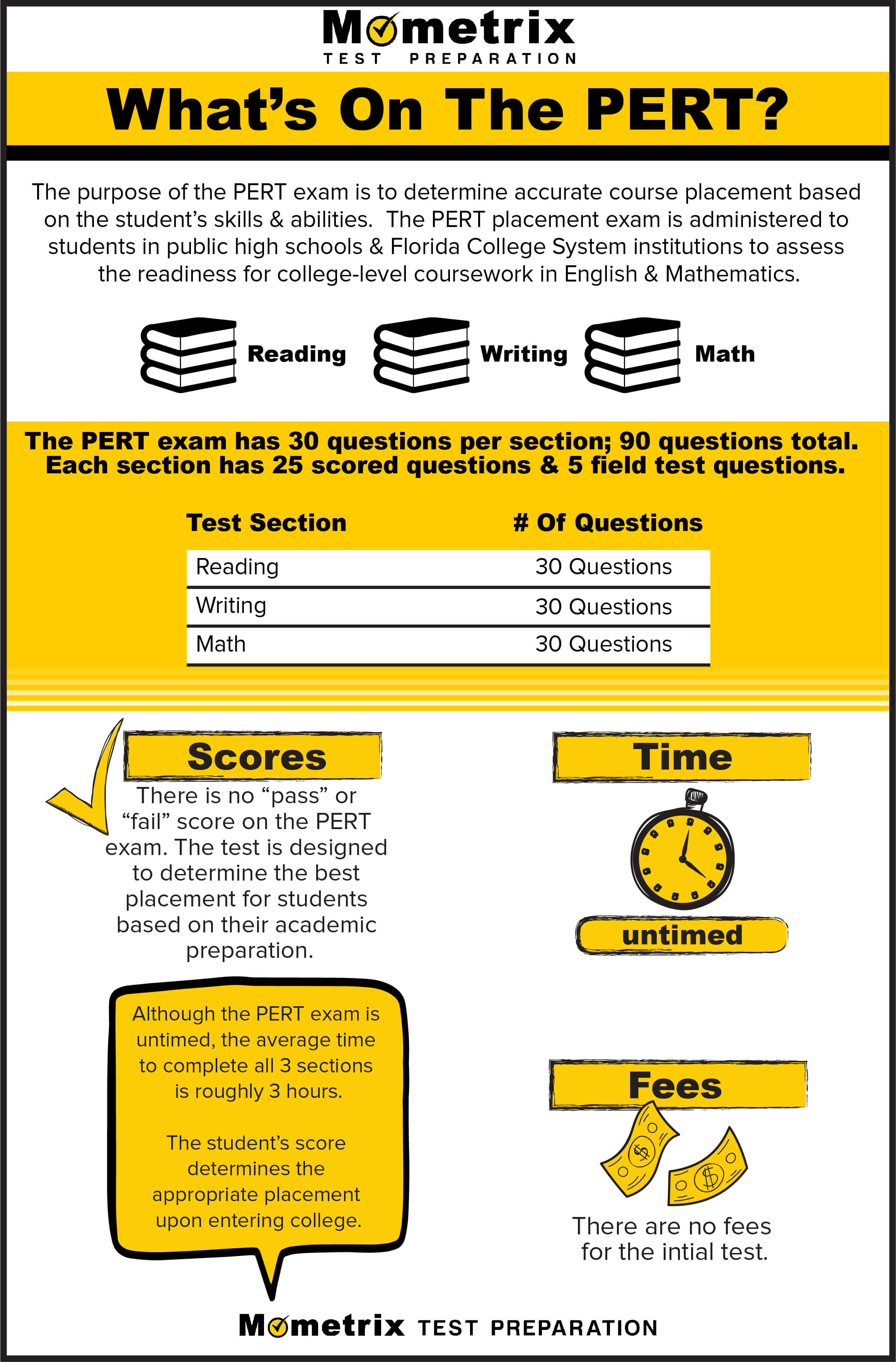 How Does the PERT Reading Test Work?
Each subtest on the PERT exam features a total of 30 questions, the Reading subtest included. The Reading portion of the PERT exam is very similar to other reading tests you may have taken in the past. You will be presented with a short passage, which you must read and then answer questions about. You will be expected to utilize the following skills:
Assessing how an assertion is elaborated upon and/or constructed
Figuring out which pieces of information are most significant within a work
Telling the difference between subjective and objective statements
Arguing against or in favor of statements describing the passage being presented to you
Comparing a pair of passages in terms of how they present their assertions, perspectives, and stylistic choices
Using context clues to define specific vocabulary
Interpreting the feelings and attributes of a work's characters
Examining how a work has been organized, as well as how it utilizes tone and diction
Acknowledging how a set of sentences may relate to each other
Figuring out how the chronology of a work and the intent of the author connect to each other
We Have the Resources You Need
Scoring well on this test will require a thorough study plan and the best possible PERT practice resources. At Mometrix Test Preparation, we make it our priority to provide you with the latter to our greatest ability. That's why, on this page, you will be able to find the study tools we have specially crafted for the PERT exam. More specifically, we have put together a PERT Reading practice test, as well as a companion PERT study guide for the PERT Reading subtest.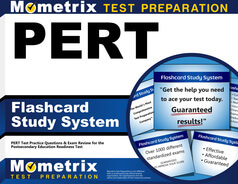 Check Out Mometrix's PERT Flashcards
Our practice test is especially designed with your needs in mind, especially if you are looking for a resource that will allow you to gain an up close glimpse of how the test will work. We have conducted thorough research to ensure our practice test is as accurate to the real thing as possible. You can trust that, through our practice test, you can gain a thorough idea of what to expect on exam day.
Our study guide serves a similar purpose to the practice test, while also providing a detailed overview of every facet of the exam. We recommend our study guide to anyone who is unsure of how to best prepare for the exam or who may have hit a roadblock in their study plan.
These two study tools can become effective components of your study plan whether they are used together or independently. We hope they will serve you well as you prepare for this important exam. Good luck!
Upgrade your studying with our PERT study guide and flashcards:
PERT Study Guide
PERT Flashcards
PERT Test – Home