OAT Test
If you are considering a future in the optometry field, then the Optometry Admission Test (or OAT test) is a must when applying to optometry school. While you are required to have completed one year of college before taking the exam, test-takers are encouraged to finish at least two years at their university. And, your coursework must include biology, general chemistry, organic chemistry, and physics. Your classes in the sciences will be tested during the OAT exam, as the four sections include Physics, Quantitative Reasoning, Reading Comprehension, and Survey of Natural Sciences (Biology, General Chemistry, and Organic Chemistry).
Check out Mometrix's OAT Study Guide
Get practice questions, video tutorials, and detailed study lessons
Get Your Study Guide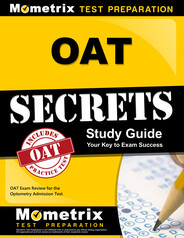 During this three hour exam (offered only on a computer), you will have 50 minutes for Physics, 45 minutes for Quantitative Reasoning, 50 minutes for Reading Comprehension, and 90 minutes for the Survey of Natural Sciences. Following the test, you will have an unofficial score which will be placed on a scale from 200 to 400. In 2012, the official average scores ranged from 293 to 354. Of course, there is more to an application than high marks on an exam, yet you should score well by your second attempt to improve your application. At Mometrix, our growing library of free tutorial videos can be your guide to success on the OAT test. We wish you the best in your studies and for your exam day.
OAT Practice Test
Use the free OAT practice test questions below to get a better understanding of the OAT exam. Take advantage of this valuable resource to pinpoint your strengths and weaknesses.
OAT Study Guide
Mometrix Academy is a completely free resource provided by Mometrix Test Preparation. If you find benefit from our efforts here, check out our premium quality OAT study guide to take your studying to the next level. Your purchase also helps us make even more great, free content for test-takers.

Check out Mometrix's OAT Flashcards
Get complex subjects broken down into easily understandable concepts
Get Your Flashcards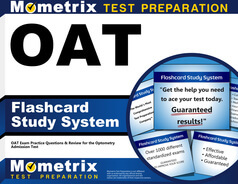 OAT Study Guide Customer Success Stories
Our customers love the tutorial videos from Mometrix Academy that we have incorporated into our OAT study guide. The OAT study guide reviews below are examples of customer experiences.
I purchased this book for my daughter in preparation for OAT exam. The book is easy to follow and top of line written by experts.
OAT Study Guide – Daniella
When I was getting ready for this big test, I didn't know what I was going to do. I knew I needed a study guide to help me, but I had no idea where I was going to find one that would work for my subject. I got online in a futile attempt to find what I needed and I ran across the exact guide I needed. I almost thought I was dreaming because I found a study guide that was in my subject and even on the test I was going to be taking. When I looked through the study guide, I realized it had things that other guides didn't have. First, it had ALL of the content I needed to study...all in one place! Second, it had some test taking tips that helped me realize mistakes I made on tests in the past. And third, it had practice tests that allowed me to see how the real test would look. Oh, and it even had studying secrets to help me get through the grind of the actual studying. I'm not sure how I would have gotten through the test without this study guide but I'm sure glad I don't have to find out.
OAT Study Guide – Tia
Easy to follow and understand the passages. I like the tips and further material available for studying the topics and understanding the test.
OAT Study Guide – Emmy
Good and up to date study guides for the OAT test aren't always readily available. So we are very pleased to add your excellent and comprehensive book to our student collection in our Library.
OAT Study Guide – Edna
The study guide has sections that cover the information needed for every section of the OAT. It also includes test taking tips and practice problems.
OAT Study Guide – Emmelia
The book is very organized and clear. It's detailed, yet to the point to ensure I only focus on what is necessary to know for the exam.
OAT Study Guide – Brittany
I am very satisfied with the test preparation booklet and enjoy working with it. I love how the set of questions are clearly categorized based on their subject ( i.e. Natural sciences, Quantitative reasoning etc) because this allows me to know how well I am doing in those particular subjects and where I need to focus my time more on.
OAT Study Guide – Faiza
This study book has helped me a lot! This has helped with definitions, equations, problem solving...etc. I would highly recommend this book to whoever is taking the OAT.
OAT Study Guide – Raquel