OAT Physics Practice Test
The Association of Schools and Colleges for Optometry created the Optometry Admissions Test (OAT) as a way for candidates to demonstrate their qualifications and potential to succeed in a rigorous optometry education program.
How Do I Schedule My Appointment to Take the OAT?
In order to register for the OAT, you first need to apply for permission to take the test. You will do this through the OAT program itself. Once they verify that you are eligible to take the test, they will forward that information to the testing center and email you with instructions for scheduling an appointment.
Once approved, you will have a six-month window in which to take the test. Schedule your appointment for any available date within this window. However, you should wait 24 hours after receiving the email to schedule your appointment to make sure that your testing center has received the eligibility information. You will also need to pay the $435 exam fee at the time of registration.
How Long Will the Test Take?
You should plan to spend about five hours at the testing center. Your schedule will look something like this:
Arrive 30 minutes prior to your appointment to check in.
(Optional) Complete the exam tutorial – 15 minutes
Natural Sciences Test – 90 minutes
Reading Comprehension Test – 60 minutes
(Optional) Break – 15 minutes
Physics Test – 50 minutes
Quantitative Reasoning Test—45 minutes
(Optional) Post-Test Survey – 15 minutes
You will also be allowed to take unscheduled breaks as needed, but the clock will not stop so make sure you budget your time carefully.
The OAT contains 230 multiple choice questions altogether. Of those, 100 questions relate to the natural sciences, 50 questions measure your reading comprehension skills, 40 questions test your knowledge of physics, and 40 questions measure your mathematical reasoning and problem-solving skills.
Check Out Mometrix's OAT Study Guide
Get practice questions, video tutorials, and detailed study lessons
Get Your Study Guide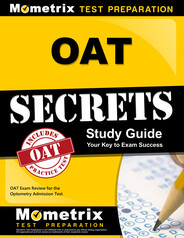 What Topics Are Included in the Physics Test?
The Physics sections of the OAT will account for 40 of the 230 multiple-choice questions on the test. Those 40 questions will cover some of the most fundamental concepts in physics including:
Units and Vectors
Linear Kinematics
Statics
Dynamics
Rotational Motion
Energy and Momentum
Simple Harmonic Motion
Waves
Fluid Statics
Thermal Energy and Thermodynamics
Electrostatics
D.C. Circuits
Optics
Keep in mind that the questions on the test may use either imperial or metric measurements and sometimes require you to convert between the two so if you are more comfortable with one than the other, take the time to become equally familiar with both systems.
When Will I Get My Results?
As soon as you have completed the test, you will get an unofficial score report showing your scaled score. This report is for your personal records only and cannot be used as official proof of your test results.
For that, you will need to request official score reports to be sent to the schools where you are applying. You'll make this request at the time of registration, but you can also update or add to this list after by logging into the account you created when you registered for the test.
If you aren't sure where you are applying yet when you register, you should select every school you are considering applying to. This is recommended because all schools you request official reports for at the time of registration are included in your initial fee at no extra cost.
However, adding additional requests after the fact will result in added fees. So it's more cost-effective to select all possible schools at the beginning and then go back after to eliminate those that you decided not to apply to.
You will receive a scaled score ranging from 200 to 400 for each of the four sections on the test. In order to set an appropriate target score for yourself, you should talk to the schools where you intend to apply to find out what the average scores are for students who have been admitted.
Check Out Mometrix's OAT Flashcards
Get complex subjects broken down into easily understandable concepts
Get Your Flashcards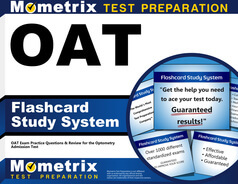 How Should I Study for the Physics Section of the OAT?
The physics section may not be the largest portion of the test, but it is still a challenging one. It requires equal parts understanding of theory and command of math and problem-solving skills.
You can strengthen both of these with the Mometrix Study Guide. In this guide, you'll get easy-to-understand explanations of thermodynamics, energy, motion and other fundamental concepts in physics. Then, you'll be able to sharpen your math and problem-solving skills by working through the practice test questions that are also provided.
For additional practice, pick up a set of Mometrix Flashcards. They will include additional practice test questions and provide another way for you to sharpen your skills by creating educational games and quizzing yourself.
Upgrade your studying with our OAT study guide and flashcards:
OAT Study Guide
OAT Flashcards