NCLEX Review: Strokes
A stroke is a common condition that nurses will encounter. In this NCLEX review video we will explore the two types of strokes – ischemic and hemorrhagic. We will discuss how ischemic strokes are divided further into either thrombotic or embolic strokes; and hemorrhagic strokes are either intracerebral or subarachnoid. We will look at the signs and symptoms of a stroke, the diagnosis, treatment, prevention measures, effects and disabilities stroke survivors experience, rehab, and patient education.
NCLEX Strokes Infographic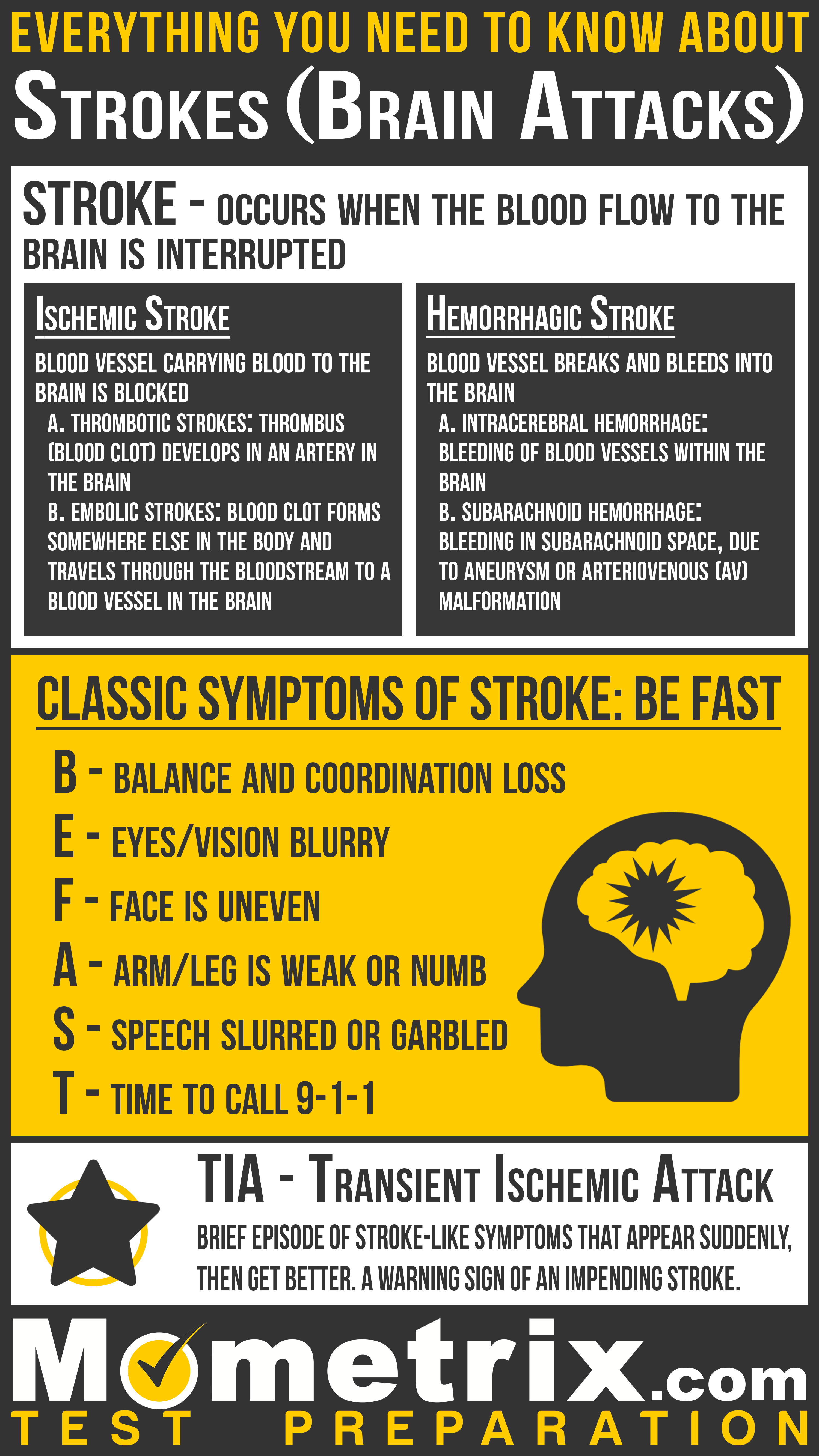 Everything You Need to Know About Strokes (Brain Attacks)
Stroke – occurs when the blood flow to the brain is interrupted
There are two types of stroke
Ischemic stroke

Blood vessel carrying blood to the brain is blocked

Thrombotic strokes: thrombus (blood clot) develops in an artery in the brain
Embolic strokes: blood clot forms somewhere else in the body and travels through the bloodstream to a blood vessel in the brain

Hemorrhagic stroke

Blood vessel breaks and bleeds into the brain

Intracerebral hemorrhage: bleeding of blood vessels within the brain
Subarachnoid hemorrhage: bleeding in subarachnoid space, due to aneurysm or arteriovenous (AV) malformation
Classic symptoms of stroke: BE FAST
Balance – loss of balance, confusion
Eyes – blurred vision
Face is uneven
Arm is weak or numb
Speech is slurred or garbled
Time to call 9-1-1
TIA (Transient Ischemic Attack) – brief episode of stroke-like symptoms that appear suddenly, then get better. A warning sign of an impending stroke.