GRE Biology Exam
The GRE Biology Test is a paper-delivered exam. It consists of 190 multiple-choice questions. You are allowed 2 hours and 50 minutes to complete this subject test.
For examinees with conditions covered under the Americans with Disabilities Act (ADA), you may request special testing accommodations. Some accommodation requests must be made in writing.
Check out Mometrix's Study Guide
Get practice questions, video tutorials, and detailed study lessons
Get Your Study Guide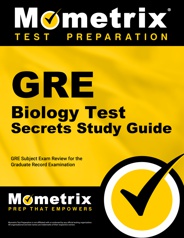 Some of the requests that must be in writing include being diagnosed with a disability within the past 12 months, or you haven't previously used the accommodations you are now asking for.
The documentation you receive confirming your accommodations will also include instructions on how to register for the test.
Some of the accommodations that can be supplied, include prolonged testing time, extra breaks, Braille, special lighting, adjustable table or chair, and a cushion.
What categories are covered on this test?
Cellular and Molecular Biology: 33-34%
Organismal Biology: 33-34%
Ecology and Evolution: 33-34%
The Cellular and Molecular Biology topic will address sub-topics such as cellular structure and function AND genetics and molecular biology.
The Organismal Biology topic will address sub-topics such as animal structure, function, & organization, animal reproduction & development, plant structure, function, & organization, with an emphasis on flowering plants, plant reproduction, growth, & development, with an emphasis on flowering plants, and diversity of life.
The Ecology and Evolution topic will address sub-topics such as behavioral ecology, population ecology, genetic variability, evolutionary consequences, and history of life.
What is the most convenient way to register for this exam?
Online registration is the most convenient way. However, this option is not available for examinees with disabilities, who require special accommodations. For these individuals, mail registration is required.
Except for those testing in Nigeria, acceptable forms of payment are VISA, MasterCard, American Express, Discover, China Union Pay, Diners Club International, JCB debit/credit cards, eChecks, PayPal, and voucher numbers.
For Nigerian examinees, only payments via VISA, PayPal, and voucher numbers are accepted.
The GRE Biology Test is $150.
What are the testing dates and locations?
The GRE Biology Test is administered three times a year: September, October, and April.
There are various test centers throughout the world at which you can take this exam.
What should I do the day of the exam?
Be sure to arrive at the testing site 30 minutes before your scheduled exam. Arriving late could prevent you from taking the test.
Ensure you bring a valid form of identification that includes your name, signature, and photo. A passport and driver's license are examples of acceptable forms of ID. Additionally, bring along your registration confirmation email.
Since this test will be taken using paper and pencil, also bring several No. 2 pencils. Mechanical pencils and pens are not allowed.
You are prohibited from bringing a calculator, food, and smartwatches, among other personal items.
You will be assigned a seat by the test administrator.
What happens after I take the exam?
Approximately five weeks after taking the test, you will receive online access to your official score report. This report will also be mailed to the institutions you have designated. You can choose up to 4 institutions to send you score to without an additional fee. If you decide to send to more than 4 institutions, you will pay an additional fee of $27 per recipient.
What is the passing score?
The score scale is 200 – 990, in 10-point increments. This test also gives sub-scores on a 20 – 99 scale, in 1-point increments. The minimum passing score for this test depends on the institution(s) to which you are applying.
Test preparation is an important part of taking any exam. Mometrix has cut out the leg work of you trying to find the materials you'll need to do well on this test. We have created an all-inclusive study guide and flash card set. Both are chock-full of test-taking techniques, test content, and other information you'll need to know in order to succeed.
Don't take our word of this great claim, you can read testimonials from several of our clients who have had great success.
If that's still not enough to convince you, we offer a money-back guarantee with your purchase!
Give yourself the best opportunity to triumph over the GRE Biology Test. Order your study guide and flash cards today!
Check out Mometrix's Flashcards
Get complex subjects broken down into easily understandable concepts
Get Your Flashcards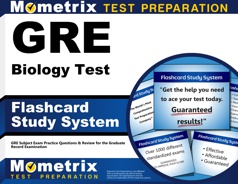 GRE Biology Study Guide
Mometrix Academy is a completely free GRE Biology test resource provided by Mometrix Test Preparation. If you find benefit from our efforts here, check out our premium quality GRE Biology Study Guide and GRE Biology Flash Cards to take your studying to the next level. Just click the GRE Biology study guide link below. Your purchase also helps us make even more great, free test content for test-takers.
GRE Biology Study Guide
GRE Biology Flashcards