TEAS Science Practice Test
The Test of Essential Academic Skills (TEAS) is an aptitude assessment, used as a prerequisite by many nursing programs in the United States. Developed by Assessment Technologies Institute (ATI), the TEAS evaluates students' understanding of key concepts and analytical skills related to the nursing and health science field. Since studies show a correlation between a student's TEAS test score and their performance in the nursing program, institutions use the TEAS as one of the determining factors for acceptance into their program.
The TEAS includes four sections: Science, Mathematics, Reading, and English & Language Usage. The science section tests students' foundational knowledge of chemistry, human anatomy, physiology, and general biology.
FAQs
---
Who takes the TEAS?
The Test of Essential Academic Skills (TEAS) is available for students interested in nursing programs. Many institutions in the US require the TEAS as a prerequisite for their nursing program, so students are encouraged to learn more about the institution's eligibility requirements.
How to register for the TEAS
Students may log on to the ATI Testing website to register for the TEAS. After an application is approved, students are prompted to schedule their test date and location. Testing locations include PSI testing centers and schools that offer the test on-site.
How much does it cost to take the TEAS?
The TEAS exam fee is typically between $60 and $140, depending on the testing location. Students can take the exam at a PSI testing center or a registered school.
How many questions are on the TEAS Science exam?
The TEAS Science exam has 50 questions. This section contains six "pretest" questions that are not calculated with your final score.
How long is the TEAS Science exam?
Test-takers have 60 minutes to complete all 50 questions on the Science section of the TEAS.
Can you use a calculator for the TEAS?
Yes. At the beginning of the exam, a proctor will provide test-takers with a four-function calculator. Students are not allowed to use calculators with special functions.
What is a passing TEAS Science score?
Finding out the nursing program's score requirements is important. With the TEAS, there is no pass-fail score. You will receive a total or "main" score which includes the individual scores from all four sections (Science, Reading, Mathematics, and English & Language Arts). You will also receive the separate scores for each section. Typically, a program requires you to earn a score of at least 60% to 70%. But, it is highly competitive to gain admission into a nursing program, so students are encouraged to aim for higher than the program's requirements.
What topics are on the TEAS Science exam?
The TEAS Science section tests students' ability to:
Demonstrate knowledge of the general orientation of human anatomy
Describe the anatomy and physiology of the following systems:

Respiratory system
Cardiovascular system
Digestive system
Nervous system
Muscular system
Male and female reproductive systems
Integumentary system
Endocrine system
Urinary system
Immune system
Skeletal system

Describe cell structure, function, and organization
Describe the relationship between genetic material and the structure of proteins
Apply concepts underlying Mendel's laws of inheritance
Describe the structure and function of the basic macromolecules in a biological system
Describe the role of microorganisms in disease
Recognize basic atomic structure
Know the physical properties and changes of matter
Describe chemical reactions
Demonstrate how conditions affect chemical reactions
Understand properties of solutions
Describe concepts of acids and bases
Use basic scientific measurements and tools
Apply logic and evidence to a scientific explanation
Apply the scientific method to interpret a scientific investigation
What to expect on test day
Students can take their TEAS exam at a PSI testing center or a registered school location. Below you find some common tips and rules for test day:
Plan to arrive at your testing location at least 15 minutes early. If you are more than 15 minutes late, you risk forfeiting your test and exam fee.
Bring a government-issued ID that includes your photo, your signature, and your permanent address. Credit card photos, student IDs, and expired IDs are not accepted.
Bring two sharpened No. 2 pencils with attached erasers.
You may not bring personal bags, coats, sunglasses, and electronics in the testing area.
There is no food or drink allowed in the testing area unless it is for medical reasons.
A proctor will provide you with scratch paper and a four-function calculator.
You will have a 10-minute break after the mathematics section of the exam. Any other breaks will deduct from your test time.
How to prepare for the TEAS
If you are feeling overwhelmed about studying for the TEAS, you're not alone! Thousands of students across the country are preparing for this exam and are searching for effective test prep materials. So, our test experts created the Mometrix TEAS Study Guide. This comprehensive study guide offers in-depth explanations of key concepts for all four sections of the TEAS. We understand that studying the material is only half of the battle, so this all-in-one guide comes with test-taking strategies that will help you feel more relaxed and confident on test day!
You probably have a limited amount of time to study before test day, so our test experts also created the Mometrix TEAS Flashcards. Studies show that repetition is one of the most effective study strategies. The Mometrix TEAS flashcards cover all four sections of the exam, allowing you to quiz yourself on the key concepts quickly. Ideal for students who have to study on the go, these flashcards are portable!
We understand that it is crucial for you to earn a high score on the TEAS, and we are confident that our test preparation materials will help you get the results you want. Congratulations on taking the next step in your nursing career! We hope you will do great!
Check Out Mometrix's TEAS Study Guide
Get practice questions, video tutorials, and detailed study lessons
Get Your Study Guide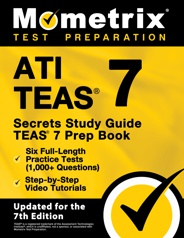 TEAS Online Course
---
If you are wanting to be fully prepared, Mometrix offers an online TEAS Prep Course. The course is designed to provide you with any and every resource you might want while studying. The TEAS Course includes:
106 Lessons Covering all the Topics
Over 1,450 TEAS Practice Questions
190+ Video Tutorials
311 Electronic Flashcards
Money-back Guarantee
Easy Mobile Access
and More!
The TEAS Prep Course is designed to help any learner get everything they need to prepare for their TEAS exam; click below to check it out.
Check Out Mometrix's TEAS Science Flashcards
Get complex TEAS Science subjects broken down into easily understandable concepts
Get Your Flashcards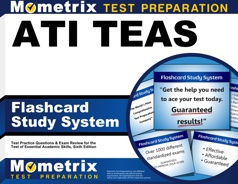 Upgrade your studying with our TEAS study guide and flashcards: