SHRM Certified Professional
For more than sixty-five years, Human Resource professionals have turned to SHRM for information and tools to improve workplace effectiveness and to develop their careers. The Society for Human Resource Management (SHRM) is the largest HR membership organization in the world providing resources to HR professionals and improving the practice of human resource management.
The SHRM Competency Model was developed from their extensive research of HR professionals to determine the critical competencies and knowledge necessary for success in the HR profession. The SHRM Competency Model defines eight behavioral competencies and one technical competency.
The SHRM Body of Competency and Knowledge™ (SHRM-BoCK™) is based on the SHRM Competency Model and provides the framework for the two exams offered by SHRM, the SHRM-CP and the SHRM-SCP. The SHRM-CP exam is designed for HR professionals early in their careers or those serving predominantly in operational roles. The SHRM-SCP exam is designed for senior level HR professionals serving predominantly in strategic roles.
There are specific educational and work experience requirements that must be met in order to sit for these exams. SHRM credentials are recognized by the global business community as an indicator that you have the necessary competencies and knowledge required for optimal job performance.
Check Out Mometrix's SHRM-CP Study Guide
Get practice questions, video tutorials, and detailed study lessons
Get Your Study Guide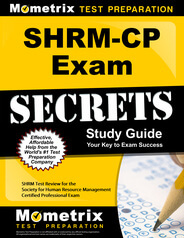 The SHRM-CP exam evaluates technical competency (specific knowledge) and behavioral competencies (application of knowledge) identified by the SHRM Competency Model. The eight behavioral competencies are grouped into three clusters: Leadership, Business, and Interpersonal.
The Leadership cluster includes the competencies of Leadership & Navigation and Ethical Practice. Leadership & Navigation competency questions assess the examinee's knowledge and abilities necessary to navigate the organization, achieve HR goals, create a vision for HR in line with the organization, to lead and promote change, manage HR initiatives, and promote HR as a business partner. Ethical Practice competency questions assess the examinee's knowledge and abilities necessary to uphold high levels of professional and personal integrity and to cultivate an ethical environment throughout the organization with appropriate practices and policies.
The Business cluster includes the competencies of Business Acumen, Consultation, and Critical Evaluation. Business Acumen competency questions measure the examinee's knowledge and abilities to comprehend the organization's operations and to apply analyses and business tools to achieve strategic goals of the organization. The Consultation competency questions measure the examinee's knowledge and abilities to evaluate business challenges and to design, implement, and support HR solutions. The Critical Evaluation competency questions measure the examinee's knowledge and abilities to gather and analyze data and make decisions based on the data collected.
The Interpersonal cluster includes the competencies of Relationship Management, Communication, and Global & Cultural Effectiveness. The Relationship Management competency questions evaluate your knowledge and ability to network with professionals inside and outside the organization, to develop and maintain relationships, to work well as a member of a team, and to effectively manage conflict. The Communication competency questions evaluate your knowledge and ability to create and deliver effective communications, to exchange information within the organization, and to listen to concerns of others and address them appropriately. The Global & Cultural Effectiveness competency questions evaluate your knowledge and ability to operate in a diverse and global environment while advocating for an inclusive and diverse workplace.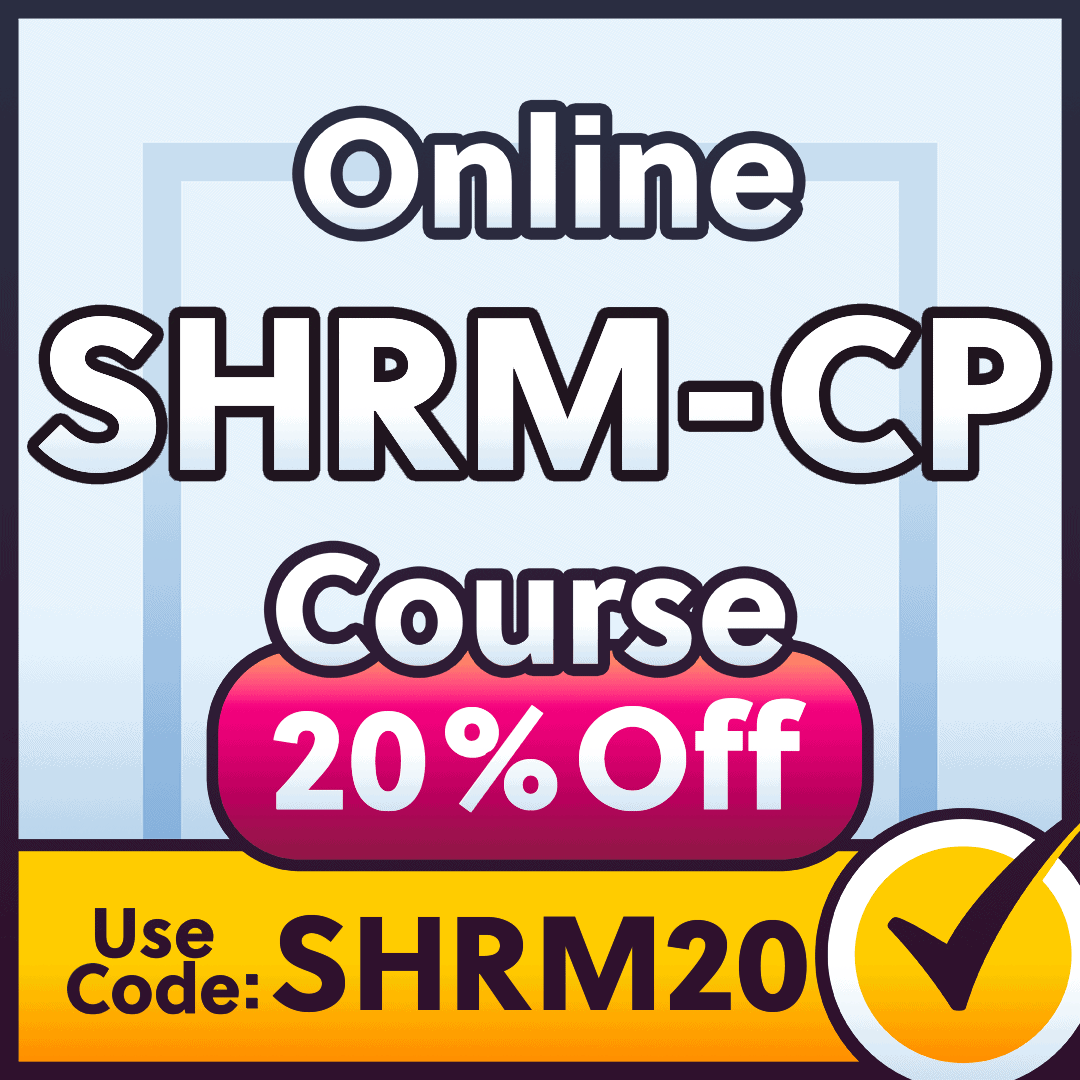 SHRM-CP Online Prep Course
If you are wanting to be fully prepared, Mometrix offers an online SHRM-CP Prep Course. The course is designed to provide you with any and every resource you might want while studying. The SHRM-CP Course includes:
140 Lessons Covering all the Topics
1,000+ SHRM-CP Practice Questions
More than 450 Electronic Flashcards
Audio Mode
Money-back Guarantee
Free Mobile Access
and More!
The SHRM-CP Prep Course is designed to help any learner get everything they need to prepare for their SHRM-CP exam; click below to check it out.
Intro to SHRM Certification
The single technical competency of HR Expertise (HR Knowledge) consists of 15 HR functional areas that are grouped into three knowledge domains: People, Organization, and Workplace. The five functional areas within the People domain includes HR Strategic Planning, Talent Acquisition, Employee Engagement & Retention, Learning & Development, and Total Rewards.
Questions within this knowledge domain cover topics such as developing and implementing the strategic direction needed to achieve organizational success, building and maintaining a qualified workforce, retention of top quality employees, improving employee and employer relationships, employee education, and the development of compensation and benefit packages designed to attract and retain employees.
The five functional areas within the Organization domain includes Structure of the HR Function, Organizational Effectiveness & Development, Workforce Management, Employee & Labor relations, and Technology Management. Questions within this knowledge domain include topics such as HR-related services that provide organizational effectiveness, the overall organizational structure and function, HR practices designed to ensure the organizational talent needs are met, acting as liaison between employer and employees regarding employment terms and conditions, the use of HR technologies, and policies and procedures regarding the use of technologies in the workplace.
The five functional areas within the Workplace domain includes HR in the Global Context, Diversity & Inclusion, Risk Management, Corporate Social Responsibility, and U.S. Employment Law & Regulations. These questions cover topics such as management of global workforces, contributing to the organization's success by creating opportunities to recognize and leverage the varied backgrounds and characteristics of all employees, identifying and managing risks, ethical engagement in social activities to support philanthropy, and knowledge and application of all employment laws and regulations.
Check Out Mometrix's SHRM-CP Flashcards
Get complex subjects broken down into easily understandable concepts
Get Your Flashcards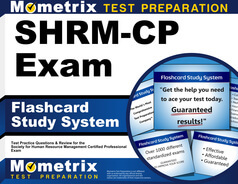 What is the meaning of the SHRM CP?
SHRM-CP stands for the Society for Human Resource Management-Certified Professional.
What is the pass rate for the SHRM CP exam?
The pass rate for the SHRM-CP exam is between 67-70%.
What is a passing score for the SHRM exam?
The SHRM exam contains 160 questions, 130 of which are used to calculate your score. You are given a raw score on a range of 0 to 130 and then a scaled score of 120 to 200 with the passing score being at 200.
What is the SHRM-CP exam for?
The SHRM-CP is a competency-based certification exam for HR professional that implement strategies and policies as well as serving as a point of contact for staff and stakeholders. They also deliver HR services and perform HR functions.
How do you sign up for the SHRM-CP exam?
To apply to take the SHRM-CP exam you will need to visit the SHRM.org website.
How much does it cost to take the SHRM-CP exam?
The exam fee to take the SHRM-CP exam is $300 for SHRM Members and $400 for nonmembers.
Is the SHRM-CP exam all multiple choice?
The SHRM-CP exam is multiple choice with two types of questions including knowledge-based and scenario-based.
How long do you have to take the SHRM-CP exam?
Those taking the SHRM-CP exam are given four hours to complete the exam.
SHRM Certification Exam
The SHRM-CP exam consists of 160 multiple choice questions. Approximately 95 of these questions are stand-alone knowledge items and 65 are situational judgment items. There are two types of stand-alone knowledge items, HR-specific knowledge items including key concepts related to the 15 HR functional areas and foundational-knowledge items including key concepts related to the eight behavioral competencies. Situational judgment items measure a candidate's decision-making abilities. These questions involve realistic work-related situations in which the examinee is required to select the best of several possible resolutions to the issue described in each scenario. Although there may be more than one effective strategy option, the examinee only receives credit for selecting the best possible resolution as determined by a team of experienced HR professionals.
Approximately half of the questions on the exam come from the three behavioral competency clusters and the other half come from the three HR knowledge domains. The breakdown of the behavioral competency cluster questions are typically Leadership (13%), Business (18.5%), and Interpersonal (18.5%). The breakdown of the HR knowledge domains questions are typically People (17%), Organization (17%), and Workplace (16%). The question type is broken down as follows: Situational Judgment (40%), Foundational Knowledge (10%), and HR-Specific Knowledge (50%). Examinees will have a total of four hours to complete the SHRM-CP exam.
You will want to do everything you can to adequately prepare for this important examination. First, you should go to the SHRM website to determine if you meet the eligibility requirements to sit for the exam. While you're there, download SHRM's list of HR-related acronyms that may appear on the exam. You will also want to get the SHRM-CP study guide and the SHRM-CP practice test developed by Mometrix, the world's #1 test preparation company.
This study guide and practice test covers the same content as the actual SHRM-CP exam and includes answers and detailed explanations of those answers so that you can clearly understand which questions you missed and why you missed them. Obtaining your SHRM-CP credential indicates to the global business community that you are a leader in the HR field possessing a high level of knowledge and skills. SHRM-CP credentialing also identifies you as a valuable asset to your current employer and keeps you and your employer more competitive. Mometrix can help you achieve this next step in making you a more valuable asset to your organization and advancing your career as a Human Resource professional.
SHRM Study Guide
Mometrix Academy is a completely free SHRM-CP review resource provided by Mometrix Test Preparation. If you find benefit from our efforts here, check out our premium quality SHRM-CP study guide to take your studying to the next level. Just click the SHRM-CP study guide link below. Your purchase also helps us make even more great, free content for test-takers.
SHRM CP Study Guide Customer Success Stories
Our customers love the tutorial videos from Mometrix Academy that we have incorporated into our SHRM CP test study guide. The SHRM CP study guide reviews below are examples of customer experiences.
This book helped me pass my SHRM-CP exam, so I loved it! It is written in a very concise manner, no fluff, but that also makes it very hard to read. I am a quick reader, but the dryness in this book made me have to really slow down and re-read many times to really make sure I understood. Does it repeat itself? Yes. The paragraphs look similar, but there is always new information presented, so don't skip sections just because it looks like the paragraph above! The practice tests in this book were closest to my exam questions so I appreciated that.
SHRM CP Study Guide – Christine
I used this study guide and the flashcards from the same company. I passed my exam!! I love the practice test questions, and the testing tips they provided were actually really helpful. I read it cover to cover twice, then took notes from each section. Once when I was comfortable with the material, I studied my notes everyday. I'm so happy I found this resource.
SHRM CP Study Guide – Natalie
I have really enjoyed the study guide so far. It gets straight to the point, without all the fluff that can make test prepping a drag. It dives right into the key concepts and terms that are needed and encompasses the meaning of a study guide to prep for an exam. As an HR professional, this guide brings in all the terms and concepts that we should already be familiar with and presents it in a simple and straight forward presentation. This is exactly what I was looking for and it did not disappoint.
SHRM CP Study Guide – Annie
I am in the process of studying for my CP Certification and I found the material very easy to read. Being that I have not had to really study in quite sometime. The book size did not feel overwhelming even though it has a huge amount of knowledge. The practice exam has been very helpful in getting me familiar again with taking exams .Great product!!!
SHRM CP Study Guide – Customer
I brought this product to compare and contrast the data against the SHRM self learn program. I'm pleasantly surprised by the layout and easy to follow design. Five stars for sure.
SHRM CP Study Guide – Terrell
The Secrets study guide is a great synopsis of all the relevant materials on the exam and the flashcards are invaluable to the studying process. The flashcards really help pinpoint the specific areas I needed additional study time with.
SHRM CP Study Guide – Customer
Great resource when studying for the SHRM-CP exam. I highly recommend. Study Guide is thorough and easy to understand. The exam is a great tool to review what you may or may not know. Mometrix is a great company that has provided exceptional customer service!
SHRM CP Study Guide – Linda
This study guide is written exactly the way a study guide should be written. Straight forward information without the fluff. It's fantastic! Just enough information on every topic... which kept me engaged into the reading material-- without having to skim over the fluff to get to the meat. Thank you!!!
SHRM CP Study Guide – Jennifer
- No wasted time or space - Right from the beginning this book jumps into what matters most. The material. There is just one page on how to use this guide, one page of table of contents and one page on test taking tips. This kept the size of the book concise and less intimidating. (that's 2 points right there)
- Easy to view - I like how there a heading in bold for each topic. If there is a sub topic or if there are multiple points they placed as a separate paragraph but does not have an unnecessary heading in bold. This makes going back to topics you'd like to review again much easier.
- Easy to understand - The language seems easy enough to understand. Not too much "fluff" which I sincerely appreciate.
- Great Q&A - I love that each question has explanations for the right answer and the wrong ones. I would have loved more questions though.
- Study and test taking secrets - Although most of us know these we tend to forget to apply. It is nice to have these pointers at the back of the book so when I'm tired of reading the material I can flip pages and skim through the study secrets and remind myself of what I should or should not do.
SHRM CP Study Guide – Deb
This study guide is easy to read and very clear. I am able to follow the different topics and understand what is being taught without having to look up what things mean. It's a fast read and very informational. Well worth the money!
SHRM CP Study Guide – JR