SHRM-CP Practice Test
The Society for Human Resource Management (SHRM), which is the largest HR membership organization in the world, administers the SHRM Certified Professional (SHRM-CP) exam for those pursuing a credential in human resource management.
Click "Start Test" below to take a free SHRM-CP practice test!
SHRM Exam Eligibility
There are no strict eligibility requirements for the SHRM-CP. The exam is intended for people who perform general HR-related duties, or for those who are pursuing a career in human resource management as a student.
SHRM Exam Format
The SHRM-CP exam contains 134 multiple-choice questions, 24 of which are unscored, and has a time limit of 3 hours and 40 minutes. The unscored questions are used by SHRM to evaluate questions for future versions of the exam.
There are two types of multiple-choice questions on the exam: knowledge-based questions and situational judgment questions.
Knowledge Questions
There are two types of knowledge questions on the exam: HR-specific (KI) and foundational (FKI). The KIs pertain to the concepts covered in the 14 HR functional areas, while the FKIs pertain to concepts covered in the 9 behavioral competencies.
Situational Judgment Questions
The situational judgment questions (SJIs) evaluate your decision-making skills and quality of judgment. These questions present you with a work-related situation and ask you to choose which of several possible strategies will most effectively resolve any conflict and address any issues presented in the scenario.
SHRM Exam Outline
The exam divides the questions into two groups: behavioral competencies and technical competencies. The 9 behavioral competencies are grouped into three clusters, while the single technical competency is split into three domains containing the 14 functional areas.
Behavioral Competencies
CLUSTER 1: LEADERSHIP
The three competencies in the Leadership cluster assess your knowledge of the attributes, behaviors, and base knowledge needed to effectively lead an HR team.
Competency 1: Leadership and Navigation

Navigating the Organization
Vision
Managing HR Initiatives
Influence
Competency 2: Ethical Practice

Personal Integrity
Professional Integrity
Ethical Agent
Competency 3: Diversity, Equity, and Inclusion

Creating a Diverse and Inclusive Culture
Ensuring Equity Effectiveness
Connecting DE&I to Organizational Performance
CLUSTER 2: INTERPERSONAL
The three competencies in the Interpersonal cluster assess your knowledge of the attributes, behaviors, and base knowledge needed to effectively collaborate and perform the interpersonal aspects of an HR professional's job.
Competency 1: Relationship Management

Networking
Relationship-Building
Teamwork
Negotiation
Conflict Management
Competency 2: Communication

Delivering Messages
Exchanging Organizational Information
Listening
Competency 3: Global Mindset

Operating in a Culturally Diverse Workplace
Operating in a Global Environment
Advocating for a Culturally Diverse and Inclusive Workplace
CLUSTER 3: BUSINESS
The three competencies in the Business cluster assess your knowledge of the attributes, behaviors, and base knowledge needed to meet business objectives by implementing various HR solutions.
Competency 1: Business Acumen

Business and Competitive Awareness
Business Analysis
Strategic Alignment
Competency 2: Consultation

Evaluating Business Challenges
Designing HR Solutions
Advising on HR Solutions
Change Management
Service Excellence
Competency 3: Analytical Aptitude

Data Advocate
Data Gathering
Data Analysis
Evidence-Based Decision-Making
Technical Competency
The one technical competency is the HR Expertise competency, which outlines 14 functional areas grouped into three domains.
Domain 1: People Knowledge

HR Strategy
Talent Acquisition
Employee Engagement and Retention
Learning and Development
Total Rewards
Domain 2: Organizational Knowledge

Structure of the HR Function
Organizational Effectiveness and Development
Workforce Management
Employee Labor and Relations
Technology Management
Domain 3: Workplace Knowledge

Managing a Global Workforce
Risk Management
Corporate Social Responsibility
US Employment Law and Regulations
Check Out Mometrix's SHRM-CP Study Guide
Get practice questions, video tutorials, and detailed study lessons
Get Your Study Guide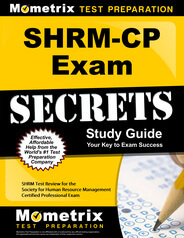 SHRM Exam Registration
To register for the SHRM-CP exam, you must first create an online SHRM account and submit an application.
Along with your application, you will need to send the applicable examination fee. The fee you pay depends on how early you submit your application:
Once your application and fee have been approved, you will receive an Authorization to Test (ATT), which will provide you with details on how to schedule your exam with Prometric.
Test Day
Test day requirements differ slightly between the two delivery methods (in-person testing or Live Remote Proctoring). Both formats require a valid, government-issued ID.
In-person Testing
On the day of the test, you should arrive at the testing center 15 to 30 minutes before your exam is scheduled to begin. If you are late, you will not be admitted, and your test will be canceled.
Before the exam begins, you will be asked to provide your photo ID and sign a candidate agreement. Then, you must store all personal items (cell phone, notebook, backpack, etc.) in a provided locker outside the testing area.
During the exam, you can take one 15-minute break whenever you need to, but the timer will not stop while you are away.
Live Remote Proctoring
You should log in to your account 15 to 30 minutes before your testing appointment. You will be asked to show your photo ID, and the proctor will ask you to scan your testing environment to ensure your area is clear of notes, books, and electronic devices.
The launch button for the exam is enabled when the proctor has determined you are ready to begin.
During your exam, your hands must be visible at all times, and you must remain in front of the camera. If anyone enters your testing area during the exam, you must ask them to leave immediately.
You will be permitted one 15-minute break at any point during the test, but the timer will remain running.
How the Exam is Scored
Your SHRM-CP score is based on a modified Angoff method. This means that your score is determined based solely on your performance on the exam, with no prior work experience or variables factored into your score.
The score range for this exam is 120-200, with the passing score being 200.
Check Out Mometrix's SHRM-CP Flashcards
Get complex subjects broken down into easily understandable concepts
Get Your Flashcards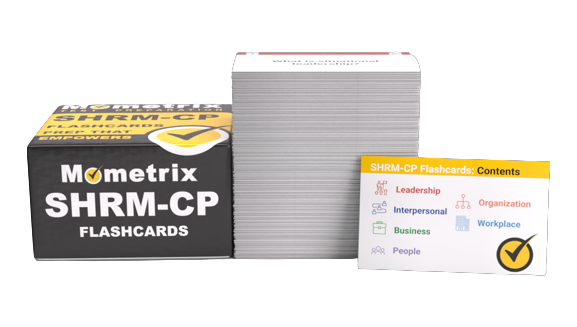 How to Pass the SHRM Exam
How to Study Effectively
Your success on SHRM-CP test day depends not only on how many hours you put into preparing but also on whether you prepared the right way. It's good to check along the way to see whether your studying is paying off. One of the most effective ways to do this is by taking SHRM-CP practice tests to evaluate your progress. Practice tests are useful because they show exactly where you need to improve. Every time you take a free SHRM-CP exam practice test, pay special attention to these three groups of questions:
The questions you got wrong
The ones you had to guess on, even if you guessed right
The ones you found difficult or slow to work through
This will show you exactly what your weak areas are and where you need to devote more study time. Ask yourself why each of these questions gave you trouble. Was it because you didn't understand the material? Was it because you didn't remember the vocabulary? Do you need more repetitions on this type of question to build speed and confidence? Dig into those questions and figure out how you can strengthen your weak areas as you go back to review the material.
Answer Explanations
Additionally, many SHRM-CP practice tests have a section explaining the answer choices. It can be tempting to read the explanation and think that you now have a good understanding of the concept. However, an explanation likely only covers part of the question's broader context. Even if the explanation makes sense, go back and investigate every concept related to the question until you're positive you have a thorough understanding.
Comprehend Each Topic
As you go along, keep in mind that the SHRM-CP practice test is just that: practice. Memorizing these questions and answers will not be very helpful on the actual test because it is unlikely to have any of the same exact questions. If you only know the right answers to the sample questions, you won't be prepared for the real thing. Study the concepts until you understand them fully, and then you'll be able to answer any question that shows up on the test.
Strategy for SHRM-CP Practice
When you're ready to start taking practice tests, follow this strategy:
Remove Limitations. Take the first test with no time constraints and with your notes and SHRM-CP study guide handy. Take your time and focus on applying the strategies you've learned.
Time Yourself. Take the second practice test "open book" as well, but set a timer and practice pacing yourself to finish in time.
Simulate Test Day. Take any other practice tests as if it were test day. Set a timer and put away your study materials. Sit at a table or desk in a quiet room, imagine yourself at the testing center, and answer questions as quickly and accurately as possible.
Keep Practicing. Keep taking practice tests on a regular basis until you run out of practice tests or it's time for the actual test. Your mind will be ready for the schedule and stress of test day, and you'll be able to focus on recalling the material you've learned.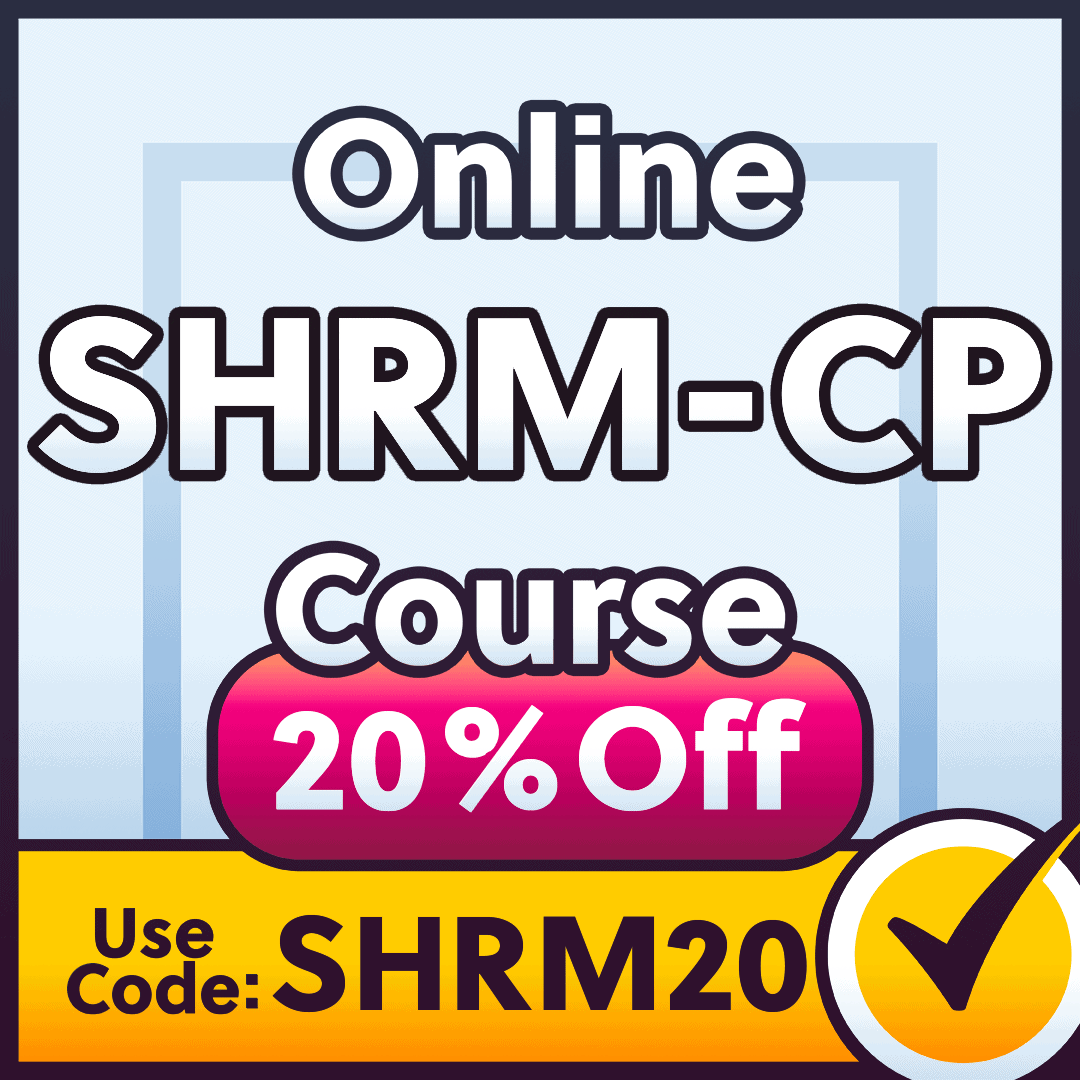 SHRM-CP Online Prep Course
If you are wanting to be fully prepared, Mometrix offers an online SHRM-CP Prep Course. The course is designed to provide you with any and every resource you might want while studying. The SHRM-CP Course includes:
159 Lessons Covering Every Topic
1,250+ SHRM-CP Practice Questions
More than 300 Electronic Flashcards
Money-back Guarantee
Free Mobile Access
and More!
The SHRM-CP Prep Course is designed to help any learner get everything they need to prepare for their SHRM-CP exam. Click below to check it out
FAQs
How long is the SHRM-CP exam?
The time limit for the exam is 3 hours and 40 minutes.
How many questions are on the SHRM-CP exam?
There are 134 multiple-choice questions on the exam, 24 of which are unscored.
How hard is the SHRM-CP exam?
The SHRM-CP exam is considered to be a moderately difficult exam that requires a lot of studying and preparation in order to pass.
What is the passing score for the SHRM-CP exam?
To pass the exam, you must achieve a score of 200.
How much does the SHRM-CP exam cost?
The cost of the exam depends on how and when you register. See full exam fee details here.