SAT Writing Practice Test
The SAT Writing and Language Exam is part of the Evidence-Based Reading and Writing section of the SAT exam. This portion of the exam will test you on skills that you use virtually every day as you proofread and edit your own work for classes. These skills are essential to your success within a college environment and should enable you to read the passages presented on the exam, find any mistakes or weaknesses in the content and fix them. The following skills will be measured on the exam:
Command of Evidence
At its core, command of evidence focuses on how the author of the passage uses support for their claim or argument. Questions within this category will ask you to use evidence to either create, defend or assess an argument. You may be asked to interpret data based on informational graphics, such as tables or charts, and draw connections between what you have read in the passage and the data. You may also need to revise a passage to clarify the main ideas or make it more cohesive by sharpening its focus.
Words in Context
Words in Context questions will ask you to choose the best possible synonym for a given words based on the context in which it is found or establish why a particular word was used in the passage. The questions will assess your ability to improve word choice, combine sentences to improve syntax or fill in the blank to make a sentence more precise.
Analysis in History/Social Studies and Science
Analysis in History/Social Studies and Science questions take concepts that you use in everyday life as you read and analyze about topics such as new discoveries, environmental issues or global events. They will test your ability to use informational graphs and charts to solve problems, synthesize information or revise the text of the passage to align with the data being presented.
Expression of Ideas
Expression of Ideas questions can be further broken down into the following three categories:
1. Development
These questions will ask you to refine content found within a passage in order to achieve the author's purpose.
2. Organization
These questions with require you to improve the structure of a passage with the goal of enhancing both logic and cohesion.
3. Effective Language Use
These questions will ask you to revise the text to achieve the writer's purpose by improving written expression.

Check Out Mometrix's SAT Study Guide
Get practice questions, video tutorials, and detailed study lessons
Get Your Study Guide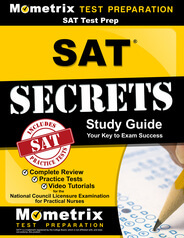 Standard English Conventions
The SAT Writing and Language exam is primarily concerned with the following three elements of standard English convention:
Sentence Structure to recognize and correct how sentences are formed, such as grammatically incomplete sentences, or correcting modifier placement.
Conventions of Usage questions include, but are not limited to: recognizing and correcting ambiguous or vague pronouns, checking for grammatical agreement, distinguishing between words that are commonly mistaken and correcting instances where a word choice does not conform to standard written English practices.
Conventions of Punctuation questions will ask you to use the correct form of punctuation both within and at the end of a passage, correct inappropriate uses of possessive nouns and pronouns, separate lists of items with commas or semicolons and eliminate unnecessary punctuation.
SAT Writing and Language Exam Passages
The SAT Writing and Language Exam consists of four different reading passages. You will be asked to respond to 11 multiple-choice questions for each of these passages within 35 minutes. Each passage will contain about four to five paragraphs, or be about 400 to 450 words in length. Passages will cover a range of topics, including the following: History/Social Studies, Humanities and Science. The passages will typically look like short academic papers, but come may explore specific job fields. Within these passages you will encounter three different text types:
1. Argument passages, which support a claim by taking a position and providing evidence.
2. Narrative nonfiction passages, which will contain a beginning, middle and end to tell a story.
3. Informative or explanatory passages to educate readers about a topic.
Some passages may include a graphic to support a point that was made within the text. On these questions, you may be asked to correct an error within the passage, but never an error with the graphic itself.
SAT Online Study Course
If you want to be fully prepared, Mometrix offers an online SAT Prep Course. The course is designed to provide you with any and every resource you might want while studying. The SAT Course includes:
75 Lessons Covering all the Topics
1,100+ SAT Practice Questions
Over 200 Video Tutorials
More than 450 Electronic Flashcards
Money-back Guarantee
Free Mobile Access
and More!
The SAT Prep Course is designed to help any learner get everything they need to prepare for their SAT exam; click below to check it out.
Check Out Mometrix's SAT Flashcards
Get complex subjects broken down into easily understandable concepts
Get Your Flashcards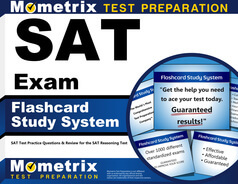 Preparing for the SAT Writing and Language Exam
Prior knowledge is never tested on the SAT Writing and Language Exam, so you do not need to anticipate memorizing facts or formulas for this test. Instead, you will need to be able to quickly, and efficiently, read through the given passages to achieve a level of comprehension required to answer the corresponding questions. This is key as most of the questions on this exam will rely on the context of the passage. For a better idea of what you can expect to encounter on the exam, test yourself with our SAT Writing and Language Practice Test.
As you take the practice test, be sure to time yourself as if it were the real exam to gauge how quickly you will need to read each passage and answer the questions. Given the number of questions you will need to respond to within the time limit, this will equate to around 40 seconds to answer each question, with more or less depending on how quickly you read and respond. You should also make a note of which types of questions you found more difficult, so you can make sure to review those topics further in our SAT Writing and Language Study Guide, which will provide you with more in-depth information about the skills you will be tested over on exam day.
Your SAT Writing and Language Exam score will be determined only on the number of questions you correctly respond to, with no penalty for any incorrect answers. For this reason, it is advisable to attempt to respond to every question. Your score will fall somewhere between the range of 200 to 800, with 200 being the lowest and 800 being the highest possible score.
Official scores are released approximately two weeks following the date of the exam, with scores being sent to the colleges of your choice ten days after that. To select which colleges receive your score, you will need to log into your College Board account.
Upgrade your studying with our SAT study guide and flashcards:
SAT Study Guide
SAT Online Course
SAT Flashcards
SAT Test Dates
SAT Test – Home