The Multistate Professional Responsibility Exam (MPRE) is required by 48 of the 50 states as either a prerequisite to taking the bar exam or as a corequisite, meaning you can take it either before or after the bar, but have to take it at some point before you will be admitted as an attorney-at-law.
Click "Start Test" above to access free MPRE practice questions, and check out our premium-quality MPRE exam prep resources by clicking the links below!
MPRE Outline
The MPRE exam contains 60 multiple-choice questions, 10 of which are unscored, and you will be given a time limit of 2 hours. The unscored questions are used by NCBE to validate questions for future versions of the MPRE exam.
The questions are grouped into 12 subject-matter categories.
I. Regulation of the legal profession (6%-12%)

Restrictions on right to practice
Regulation after admission—lawyer discipline
Powers of courts and other bodies to regulate lawyers
Admission to the profession
Law firm and other forms of practice
Responsibilities of partners, managers, and supervisory and subordinate lawyers
Mandatory and permissive reporting of professional misconduct
Unauthorized practice of law—by lawyers and nonlawyers
Fee division with a nonlawyer
Multijurisdictional practice
II. The client-lawyer relationship (10%–16%)

Client-lawyer contracts
Formation of client-lawyer relationship
Counsel and assistance within the bounds of the law
Termination of the client-lawyer relationship
Scope, objective, and means of the representation
Decision-making authority (actual and apparent)
Communications with the client
Fees
III. Client confidentiality (6%–12%)

Attorney-client privilege
Work-product doctrine
Professional obligation of confidentiality—general rule
Disclosures expressly or impliedly authorized by client
Other exceptions to the confidentiality rule
IV. Conflicts of interest (12%–18%)

Former judge, arbitrator, mediator, or other third-party neutral
Current client conflicts—multiple clients and joint representation
Acquiring an interest in litigation
Business transactions with clients
Third-party compensation and influence
Current client conflicts—lawyer's personal interest or duties
Former client conflicts
Prospective client conflicts
Imputed conflicts
Lawyers currently or formerly in government service
V. Competence, legal malpractice, and other civil liability (6%–12%)

Maintaining competence
Competence necessary to undertake representation
Exercising diligence and care
Civil liability to client, including malpractice
Civil liability to nonclients
Limiting liability for malpractice
Malpractice insurance and risk prevention
VI. Litigation and other forms of advocacy (10%–16%)

Expediting litigation
Candor to the tribunal
Meritorious claims and contentions
Trial publicity
Lawyer as witness
Fairness to opposing party and counsel
Impartiality and decorum of the tribunal
VII. Transactions and communications with persons other than clients (2%–8%)

Communications with represented persons
Respect for rights of third persons
Truthfulness in statements to others
Communications with unrepresented persons
VIII. Different roles of the lawyer (4%-10%)

Lawyer as arbitrator, mediator, or other third-party neutral
Prosecutors and other government lawyers
Lawyer appearing in non-adjudicative proceeding
Lawyer representing an entity or other organization
Lawyer as advisor
Lawyer as negotiator
Lawyer as evaluator
IX. Safekeeping funds and other property (2%–8%)

Establishing and maintaining client trust accounts
Safekeeping funds and other property of clients
Disputed claims
Safekeeping funds and other property of third persons
X. Communications about legal services (4%–10%)

Group legal services
Referrals
Advertising and other public communications about legal services
Solicitation—direct contact with prospective clients
Communications regarding fields of practice and specialization
XI. Lawyers' duties to the public and the legal system (2%–4%)

Criticism of judges and adjudicating officials
Political contributions to obtain engagements or appointments
Improper influence on government officials
Voluntary pro bono service
Accepting appointments
Serving in legal services organizations
Law reform activities affecting client interests
Assisting judicial misconduct
XII. Judicial conduct (2%–8%)

Maintaining the independence and impartiality of the judiciary
Performing the duties of judicial office impartially, competently, and diligently
Ex parte communications
Disqualification
Extrajudicial activities
Key Words and Phrases
As you prepare to take the MPRE exam, there are several words and phrases that appear on the exam that you should familiarize yourself with.
Word/Phrase
Meaning
Attorney
This generally refers to the lawyer whose conduct is at issue, whereas "lawyer" is generally used in reference to a different lawyer.
Subject to discipline
"Discipline" in this phrase refers to the ABA Model Rules of Professional Conduct.
May

Proper
These words are used to ask whether the conduct referred to in the question is professionally appropriate
Subject to litigation sanction
"Litigation sanction" in this phrase refers to any fine, contempt-related punishment, fee forfeiture, etc. that the conduct in the question might subject the attorney to.
Subject to disqualification
"Disqualification" in this phrase specifically refers to disqualification of the attorney as counsel in a criminal or civil matter.
Subject to civil liability
"Civil liability" in this phrase refers to such liability arising from claims of malpractice, breach of fiduciary duty, misrepresentation, etc.
Subject to criminal liability
"Criminal liability" in this phrase refers to such liability arising from destruction of evidence, obstruction of justice, prosecution for insurance or tax fraud, etc.
Disciplinary authority
This refers to the individual with the given authority to enforce the rules of professional conduct.
Lawyer-client relationship

Client-lawyer relationship
These terms are used interchangeably.
Check out Mometrix's MPRE Study Guide
Get practice questions, video tutorials, and detailed study lessons
Get Your Study Guide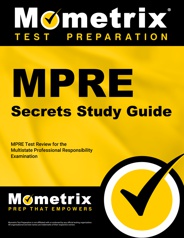 MPRE Registration
To register for the MPRE exam, you must first create an NCBE account via their website. You will then be able to register through your account.
Once your registration is confirmed, you will receive an Authorization to Test, which will grant you the ability to schedule your examination appointment with Pearson VUE. The fee for your testing appointment is $160.
MPRE Dates
The exam is administered during three two-day periods each year. Below are the MPRE dates for 2023 and 2024.
MPRE Dates (2023)

| Test Administration | Registration Deadline |
| --- | --- |
| March 28-29 | January 26 |
| August 9-10 | June 8 |
| November 2-3 | September 12 |
MPRE Dates (2024)

| Test Administration | Registration Deadline |
| --- | --- |
| March 26-27 | January 25 |
| August 13-14 | June 12 |
| November 7-8 | September 18 |
Test Day
You should arrive at the Pearson VUE testing center about 30 minutes earlier than the scheduled exam time on test day. This will give you enough time to complete the check-in process.
When you arrive, you will be asked to sign in and present your photo ID to the proctor. You will be photographed and asked to sign a roster and other rule forms. Personal items such as your cell phone, wallet, keys, and accessories are not allowed in the testing room, so they should be left at home or placed in a secure locker outside the testing area.
Just before the exam starts, you will be given a brief tutorial on the testing system and will be asked to sign an NDA.
MPRE Scores
Your final MPRE score is determined using a scaled scoring system. This system takes your raw score, which is how many questions you answered correctly, and converts it to a numerical score from 50 to 150. The passing score requirements differ for each jurisdiction, ranging anywhere from 80 to 86.
MPRE results are generally made available via your NCBE account within five weeks of testing and will be reported to jurisdictions.
Retaking the MPRE
If you do not pass the MPRE exam on your first try, you may retake it as many times as needed. You will need to complete the full registration process for each attempt, which includes paying the full testing fee.
Check out Mometrix's MPRE Flashcards
Get complex subjects broken down into easily understandable concepts
Get Your Flashcards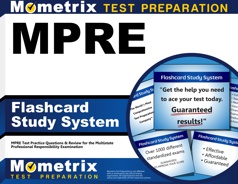 FAQs
Q
How many questions are on the MPRE exam?
A
There are 60 multiple-choice questions on the exam.
Q
How long is the MPRE exam?
A
The time limit for the exam is 2 hours.
Q
What is the passing score for the MPRE exam?
A
The minimum passing score requirements differ in each jurisdiction.
Q
How much does the MPRE exam cost?
A
The examination fee is $160.