Multistate Professional Responsibility Exam (MPRE) Exam
The Multistate Professional Responsibility Exam (MPRE) is required of all candidates seeking to practice law. It is required by 48 of the 50 states and all US territories either as a prerequisite to taking the bar exam or as a "corequisite"—meaning you can take it either before or after the bar, but have to take it at some point before you will be admitted as an attorney-at-law.

When Should I Register for the MPRE?
Most candidates choose to take the exam before the bar and some even choose to take it before they have finished law school so that when it comes time to take the bar, they can focus all of their energy on that exam.
With that said, the test is only offered three times per year, always on a Saturday. However, they do offer alternate dates for test-takers who observe the Sabbath on Saturday. So it's worth registering far in advance to make sure you can take it during a time that is most convenient for your schedule.
MPRE registration can be done on the National Conference Bar Examiners' (NCBE) website. You just need to complete the following steps:
Create an account on the NCBE website
Select the Multistate Professional Responsibility Exam
Select your preferred testing date.
Pay the exam fee. If you are registering during the regular registration period, this will be $95. But if you are registering during the late registration period, it will be $190.
Designate your preferred jurisdiction
Which Topics Will I Be Tested On?
The exam covers a wide range of the foundational principles, concepts, and processes necessary to successfully and responsibly practicing law. The 60 multiple choice questions will be divided into 12 categories, all of which are based on the ABA Model Rules of Professional Conduct and the ABA Model Code of Judicial Conduct:
Regulation of the Legal Profession – 6-12% of questions
The Client-Lawyer Relationship – 10-16% of the exam
Client Confidentiality – 6-12% of questions
Conflicts of Interest – 12-18% of the test
Competence, Legal Malpractice, and Other Civil Liability – 6-12% of exam
Litigation and Other Forms of Advocacy – 10-16% of questions
Transactions and Communications with Persons Other than Clients – 2-8% of the test
Different Roles of the Lawyer – 4-10% of the exam
Safekeeping Funds and Other Property – 2-8% of the total
Communications about Legal Services – 4-10% of the test
Lawyers' Duties to the Legal System and to the Public – 2-4% of questions
Judicial Conduct – 2-8% of the total
Of the 60 questions, only 50 actually count toward your results. The other 10 are being tested for potential inclusion on future versions of the exam. You will have two hours to answer all the questions.
Check out Mometrix's MPRE Study Guide
Get practice questions, video tutorials, and detailed study lessons
Get Your Study Guide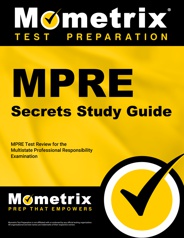 What Is the Minimum Passing Score?
You will be given a scaled score ranging from 50 to 150. Most test-takers score somewhere around 100. The actual score needed to pass will differ from state to state so aim for the minimum score set for the state where you wish to practice law.
For reference to help you study, the absolute highest score required is 85. This is the requirement for 20 of the 48 states which require the exam at all. So if you want to stay on the safe side (or if you're not yet sure which state you would like to practice in), aim for at least an 85 in order to make sure your score is accepted everywhere.
A copy of your score report will be sent to you as well as the board of bar examiners in the jurisdiction you selected during registration. If you would like it to be sent to additional jurisdiction, you can do so for a small fee per jurisdiction.
How Should I Prepare for the MPRE?
Because this is designed as a multistate exam, you do not need to worry about any state-specific rules or laws (as you do when taking the bar exam). You simply need to study those rules and principles which are applicable across all states.
Rather than just trying to study with the huge amount of reference material used to create the questions, you should make sure you have effective study aids that help you better absorb and memorize the information.
The Mometrix Study Guide, for example, provides clear, straightforward explanations of all the ABA Rules of Professional Conduct as well as the ABA Model Code of Judicial Conduct. It also includes other relevant information about generally accepted principles that are clearly defined by a set code or guideline.
If you combine the study guide with Mometrix Flashcards, you can make your study sessions even more effective. Using the proven study method included with these flashcards will help you improve your memory as well as your ability to apply your knowledge to the types of questions you will have to answer.
Check out Mometrix's MPRE Flashcards
Get complex subjects broken down into easily understandable concepts
Get Your Flashcards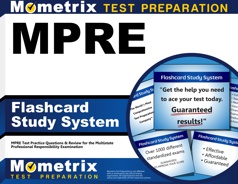 MPRE Study Guide
Mometrix Academy is a completely free resource provided by Mometrix Test Preparation. If you find benefit from our efforts here, check out our premium quality MPRE study guide to take your studying to the next level. Just click the MPRE study guide link below. Your purchase also helps us make even more great, free content for test-takers.
Upgrade your studying with our MPRE study guide and flashcards:
MPRE Study Guide
MPRE Flashcards
MPRE Study Guide Customer Success Stories
Our customers love the tutorial videos from Mometrix Academy that we have incorporated into our MPRE test study guide. The MPRE study guide reviews below are examples of customer experiences.
This product provided a good common sense approach to exam preparation. And the substantive material was very well presented through a very good distillation and explanation of the ABA Model Rules. The Mometrix MPRE Secrets Study Guide was extremely valuable in preparing for the MPRE. I highly recommend it!!
MPRE Study Guide – Customer
The MPRE Secrets is a no-nonsense concise overview for the MPRE, it goes over the material in some depth. It is an excellent review of the ABA Model rules and their application
MPRE Study Guide – Michael
This material is perfect for preparing for the MPRE. It is informative, concise and tracks the basis of law supporting the rules and regulations of lawyers practicing before the Bar. I highly recommend this tool as a valuable resource to add to the tool kit for MPRE preparation.
MPRE Study Guide – Customer
This is a comprehensive guide to the ABA Model Rules, covering every topic that can be tested on the MPRE exam. It is an excellent reference. The hints on taking the exam gave me confidence that I will pass the exam on the first try. Highly recommended

MPRE Study Guide – Mark
As someone who wants to be a professional in the legal division, you know that you will be regulating a lot of things including the legal profession overall, client-lawyer relationships and much more. You know you will be good at that, but you have to get through this test first. If only there was a way you could regulate your test results… Well, there is a way and you can use this study guide to do it. This guide has all of the information in it that you need to know to do well on the test. So if you get the guide and use it wisely, you will be ready. That will help you regulate your test scores on the very high end. The guide is well organized and easy to read so you may even pick up some new things you missed in your books and classes. You will also be able to review everything you learned and brush up on the areas that trouble you. This study guide will do a great deal for you and it will certainly take you through the test with ease if you use it wisely.
MPRE Study Guide – Renard
My impressions from this study guide is that it goes straight to the core and bone of the topics without mess around with lot of pages of testimonials and other stuff. Also the size of the letters is very helpful because it is not tiny like other materials.
MPRE Study Guide – Jimenez