MCAT Psychological, Social, and Biological Foundations Exam
The psychological, social, and biological foundations section of the MCAT seeks to measure your understanding of how aspects of human behavior and social circumstances influence their health and treatment options.

What Is the Registration Process Like for the MCAT?
There are 15 fixed dates throughout the year when the MCAT is offered and there are testing centers all across the United States and Canada. You can register online, but you will need the following:
A valid, government-issued ID
$315 for the registration fee
3 possible dates in order of your preference
3 possible locations in order of your preference
Having these three options ensures that you will already have an alternative lined up in case your first choice is not available when you register. You want to register as early and as quickly as possible to make sure you get a date and location that work for you and still leaves you with plenty of time to study and prepare.
Which Topics Are Included in the Psychological, Social, and Biological Foundations Section of the MCAT?
There are 59 questions included in this section. They are divided across five different foundational concepts as follows:
"Biological, psychological, and sociocultural factors influence behavior and behavior change." – 35% of questions
"Biological, psychological and sociocultural factors influence the way that individuals perceive, think about, and react to the world." – 25% of questions
"Psychological, sociocultural, and biological factors influence the way we think about ourselves and others, as well as how we interact with others." – 20% of questions
"Cultural and social differences influence well-being." – 15% of questions
"Social stratification and access to resources influence well-being." – 5% of questions
To master these concepts, you will need a good overview of most of the social sciences including sociology, anthropology, and psychology. You will also need that for the fourth section of the exam (critical reasoning and analysis) so it's definitely worth putting the effort into learning this material even though it isn't often the focus of an undergraduate pre-med education.
What Do I Need to Get Ready for Test Day?
This section by itself will last 95 minutes, but the entire MCAT is seven and a half hours, including a 30-minute break to eat, so you need to prepare for a long, mentally-straining session of test taking.
That means avoiding last-minute cram sessions, getting a good night's rest, eating a balanced breakfast and waking up early enough that you don't feel rushed or panicked. The exam begins promptly at 8 A.M., and you should arrive at least 30 minutes early.
Before you leave the house, make sure you have your government-issued ID, a healthy, high-protein snack or small meal to eat during your break, and a light sweater or jacket. Remember to account for any possible traffic or delays on your commute to the testing center.
Check Out Mometrix's MCAT Study Guide
Get practice questions, video tutorials, and detailed study lessons
Get Your Study Guide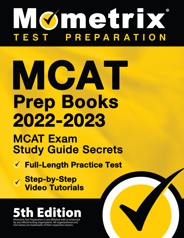 How Is this Section Scored?
Your score can range anywhere from 118 to 132. While there is no minimum needed to pass it, you should aim for at least 128 in order to remain competitive with other candidates applying to medical school.
That means you should do your research in advance to find out what the average MCAT scores are for students accepted to the medical program you are applying to and create a study plan that aims above that.
How Should I Study for the Psychological, Social, and Biological Foundations Section?
In order to ace this section, you will need a combination of study tools. You need the material itself to learn the concepts and information that you will be tested on. But you will also need tools that help you work with that information, breaking it apart, relating it to other concepts, and drawing conclusions beyond the information provided.
To learn the material and strengthen your ability to analyze and draw conclusions, you should use the Mometrix study guide. It not only includes detailed explanations of all the key foundational concepts you will need to know but also a highly effective five-step process called the "phased approach" which helps you absorb as much of that information as possible into your long-term memory. We also include links to videos that explain the topics differently and in greater detail.
Mometrix also makes a great set of flashcards that works perfectly with the study guide. Their team of experts has already done the research and work to figure out what the most important concepts and terms are so that all you have to do is remember them and test your memory with these beautifully crafted cards.
Upgrade your studying with our MCAT study guide and flashcards:
MCAT Study Guide
MCAT Flashcards