MCAT Chemical and Physical Foundations Exam
The chemical and physical foundations section of the MCAT will test your knowledge and skills in topics from the fields of chemistry and physics that are most relevant to the field of medicine.
When Can I Register for the MCAT?
There are 15 dates available throughout the year. Registration opens in early to mid-October for dates between January and June. It opens in early February for dates between July and September. If possible, try to register for your desired date on the first day registration opens.
Seats fill up quickly, though, and your reservation won't be held for long, so before you begin the registration process, make sure to have the following ready:
The credit card you will use to pay the $315 registration fee
3 possible dates, ranked in order of your preference
3 possible testing centers locations, ranked in order of your preference.
You can find lists of possible dates and possible testing center locations on the Association of American Medical Colleges (AAMC) website. The AAMC also provides financial assistance for paying the registration fee for candidates who meet their eligibility criteria.
Which Topics Are Included in the Chemical and Physical Foundations Section of the MCAT?
This section covers the following two foundational concepts from chemistry and physics:
"Complex living organisms transport materials, sense their environment, process signals, and respond to changes using processes understood in terms of physical principles."
"The principles that govern chemical interactions and reactions form the basis for a broader understanding of the molecular dynamics of living systems."
There are 59 questions altogether, with about 40% of them covering the first foundational concept and the other 60% covering the second foundational concept. Within each concept, you will need to demonstrate both your knowledge and your potential for further learning.
Check Out Mometrix's MCAT Study Guide
Get practice questions, video tutorials, and detailed study lessons
Get Your Study Guide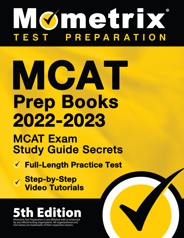 How Can I Prepare for Test Day?
You will have 95 minutes to answer all 59 questions on this section of the exam. However, the whole MCAT takes a full seven and a half hours. That does include a 30-minute break to eat, but it is still an intensive and long process.
That means you need to make sure you are prepared intellectually, mentally, and physically for the demands of this test. Do not cram the night before. Instead, relax and make sure you get a good night's rest. On the morning of the test, wake up early enough to eat a substantial breakfast or perhaps even take a walk.
Arrive at the testing center at least 30 minutes early to check in and bring your government-issued ID, a small meal or snack for your break, and a light sweater or jacket. During the exam, you can take breaks as needed, but you won't be able to leave the testing center.
What Kind of Scores Do I Need?
There is no minimum score required to pass the exam, and the MCAT is not the only piece of your application that will be looked at. With that said, the better you do, the stronger your overall application will be.
This is especially true if you have any weaknesses elsewhere in your application like a lower than desired GPA or a shortage of strong letters of recommendation. A fantastic MCAT score can show admissions officers that you still have a lot of potential.
So, at a minimum, you should aim for at least 128 (out of a possible 132) on this section of the exam and a 510 (out of a possible 528) on the overall MCAT.
What Is the Best Way to Study for the Chemical and Physical Foundations Section?
This section is both content-driven and skill-driven which makes it especially demanding. You need to store large amounts of information in your head, recall it on demand to answer questions, and demonstrate your ability to reason and analyze that information.
One of the best tools to help you do that is the Mometrix study guide. It includes all key information you need, laid out in a way that helps you really absorb it and work with it. The guide also features a detailed study plan designed to be the most effective method for working through the material. This guide includes videos that help explain the various topics.
Plus, you'll have access to prompt and friendly customer support that will be available throughout the process to answer your questions and help you get the most out of your study guide.
For even better results, combine that with the Mometrix flashcards. This portable system can go with you anywhere so that you can squeeze mini study sessions throughout your day while you're standing in line or waiting for the bus. They also come with a proven method for using flashcards to efficiently develop both your memory and your ability to recall information on command.
Check Out Mometrix's MCAT Flashcards
Get complex subjects broken down into easily understandable concepts
Get Your Flashcards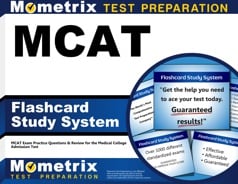 Upgrade your studying with our MCAT study guide and flashcards:
MCAT Study Guide
MCAT Flashcards