MCAT Biological and Biochemical Foundations Exam
The biological and biochemical foundations section of the MCAT is designed to measure the candidate's understanding of core concepts in biology and biochemistry. The questions cover both the knowledge of these foundational concepts and the fundamental skills in research and learning needed to deepen that knowledge.
How Do I Register for the MCAT?
You can register online for the exam, but you need to do it as early as possible. For exam dates between January and June, registration opens in October of the previous year. For dates between July and September, registration opens in February of the same year. If possible, try to register for your exam on the first day that registration is open so that you can get the date you want.
Regardless of when you register, you should choose three possible dates (from the 15 available) and three possible locations so that you are prepared with a backup option if your first choice isn't available.
You also need to be prepared to pay the $315 registration fee at this time. If you are unable to pay the fee, the Association of American Medical Colleges (AAMC) does offer financial assistance for those who meet their eligibility requirements.
Check Out Mometrix's MCAT Study Guide
Get practice questions, video tutorials, and detailed study lessons
Get Your Study Guide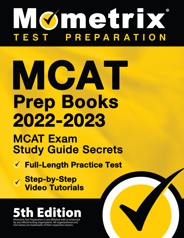 How Is the Biological and Biochemical Foundations Section Scored?
This section represents just one part of your total score. It is scored on a scale of 118 to 132 with people averaging a score of about 125. However, in order to make sure your medical school application is competitive, you should aim for a score of at least 128.
What Is the Best Way to Study for the Chemical and Physical Foundations Section?
Since this portion of the exam measures both knowledge and skills, you will need a study method that develops not only your ability to remember and recall large amounts of complex information but also your ability to reason, analyze, and think critically about that information.
This means your best option is to use a blend of different study aids including study guides, flashcards, and practice questions.
For your guide, you should use the Mometrix study guide. Compiled and designed entirely by a team of experts, this guide contains an outline of a five-step process known as a "phased" approach which helps you combine multiple study tools in a highly efficient rotation.
In addition to detailed information about the material and an expert-crafted approach to studying, the guide also includes a set of comprehensive test day tips for avoiding test anxiety, performing your best, and not mismanaging your time during the exam by going either too fast or too slow. You will also have access to our library of videos that we made to explain these concepts.
To develop your memory and recall abilities, you'll need the Mometrix flashcards. Flashcards are the best way to improve your memory of core concepts and information as well as your ability to recall that information on demand during the test. They are also one of the best ways to let your friends help you study since they can quiz you on the concepts without needing any background knowledge themselves.
Check Out Mometrix's MCAT Flashcards
Get complex subjects broken down into easily understandable concepts
Get Your Flashcards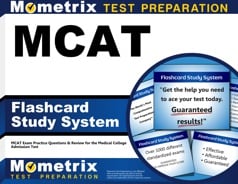 Upgrade your studying with our MCAT study guide and flashcards:
MCAT Study Guide
MCAT Flashcards