HiSET Math Study Guide
Best HiSET Math Review Study Guide
HiSET Mathematics Review
While it is an often dreaded subject for many, math is included on the HiSET for a very important reason. Much like any other subject found on the HiSET, your mathematical skills will be a major component in your ability to succeed in the academic and professional worlds. Most universities still include at least one mathematics course as part of its general education requirements in almost any degree you can think of pursuing. Furthermore, some degree programs are extremely math-heavy—such as engineering or pre-med. If either of these career options appeal to you, you'll definitely have to know your stuff when it comes to math.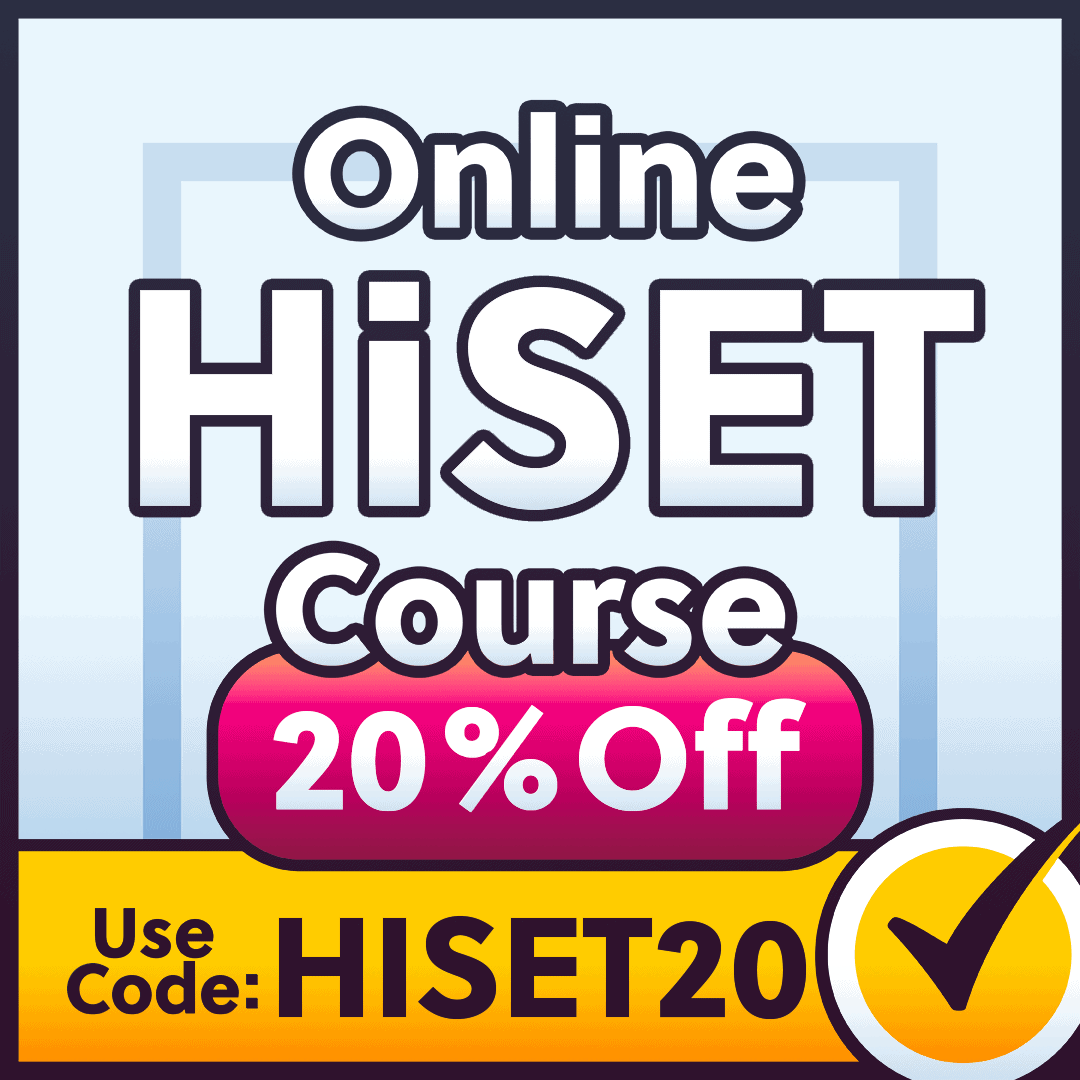 Even if you don't plan on going into a field where math is stringently used, there are still some fundamental elements you will have to carry with you into the professional world. Luckily, none of the math problems you'll encounter on the HiSET go beyond what can be found in the average 12th grade math course. This should help to give you a better sense of how you can prepare. To give you an even greater sense, we will be going over the contents of the Mathematics subsection on this page. If you are interested in studying for this part of the exam, you can either read on or help yourself to our practice exams to get a hands-on idea of what's to come. For help beyond this HiSET Mathematics study guide, you can turn to our HiSET Mathematics practice test and HiSET Mathematics flashcards.
What Will I See on the HiSET Mathematics Subsection?
The Mathematics subsection is your standard fare. Like its sibling subsections, it is multiple choice and around 50 questions in length. You will receive over an hour—or, more specifically, 90 minutes—to complete this portion of the test. It is worth noting that not every question included on the test will have an impact upon your final score. However, since you won't be able to tell what questions count, it is highly worth it to study as thoroughly as can to get as many questions correct as possible.
Unlike any other part of the HiSET, however, you will have the option to use a calculator throughout the whole duration of the section, although it is optional. We recommend that you check to see which types of calculators are allowed at your chosen testing site. Some states have specific requirements as to which calculators can be used during the testing period. This step is to help you prepare, as you are prohibited from bringing a calculator from home to the testing site. Rather, you may ask for a calculator during the testing period, which may be scientific or a basic type.

Check Out Mometrix's HiSET Study Guide
Get practice questions, video tutorials, and detailed study lessons
Get Your Study Guide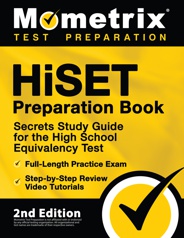 You will also receive a reference table filled with formulas relevant to the content of the test. This formula sheet will not be comprehensive. As such, it would be a good idea for you to memorize some of the more basic formulas prior to taking the Math subsection. The formulas you will not be provided with on the test include the quadratic formula, the Pythagorean theorem, and distance-rate-time.
The point of the Mathematics subsection is to evaluate your mathematical skills. For the most part, you'll receive questions related to the logical side of math, including the evaluation of data, arithmetic, and estimation. However, you may just as likely see some more abstract subjects included on the test, such as probability and algebra. Some questions may very well require problem-solving from both abstract and logical types of math. Other problems may take the usage of the formula sheet to complete.
The Math subsection is approximately composed of 45 percent algebra, 19 percent number operations, 18 percent statistics, probability, and data analysis, and 18 percent geometry and measurement. You will also be tested on four knowledge categories: Algebraic Concepts; Numbers and Operations on Numbers; Data Analysis, Probability, and Statistics; and Measurement and Geometry. Algebra and Geometry are the highest level subjects you can expect to find on the Mathematics subsection. You will not have to worry about studying for any of the more advanced subjects, such as Calculus.
We will go more in-depth about the subjects you will be seeing on the subsection below.
Algebraic Concepts
The 'Algebraic Concepts' category seeks to evaluate your ability to decipher and solve interval-related problems; recognize and apply expressions and formulas; render expressions into other, equal expressions; to pull zeroes from polynomial expressions and create graphs from the information; answer equations of various types; read and interpret functions by their ranges and domains; use graphs to figure out equations; know what functions are and how to solve them adequately through different means; and rewrite equations to display different meanings and relationships between them.
Numbers and Operations on Numbers
The 'Numbers and Operations on Numbers' category assesses six areas of mathematical knowledge: solving problems you might expect to see in real life, often using multiple steps and involving such applications as rounding, money, averaging, and much more; applying operations to many types of numbers; to decipher which type of measurement is most appropriate based on a given context; applying knowledge about exponents and using it to recreate expressions using exponents and radicals; using measuring to answer problems; and applying scientific notation to problems in order to come to the best possible answer.
Data Analysis, Probability, and Statistics
For this category, you will be expected to display your capabilities with applying statistics to gather data about a population based upon what you know about a small portion of them; deciphering information presented to you in a multitude of ways and using it to either figure out problems or draw conclusions; finding the mean of a data set and then apply it to population-related information and create inferences; locating trends in data sets; deciphering how likely given events will happen based on information and build trends; and discover the basic probabilities of a multitude of event types.

Check Out Mometrix's HiSET Flashcards
Get complex subjects broken down into easily understandable concepts
Get Your Flashcards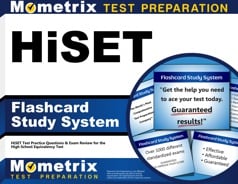 Measurement and Geometry
The 'Measurement and Geometry' category of the Mathematics subsection evaluates your ability to understand the property of density from a mathematical standpoint; recognize congruence and other properties among geometric shapes and use this information to solve related problems; calculate the volumes of different containers; know what the different aspects of circular and polygonal shapes are and how to solve for them; recognize various line segments and their traits; recognize and use the Pythagorean theorem; solve problems related to circular shapes; and comprehend planes and transformations that can take place within them.
In addition to all of these concepts, you will also have to understand how to apply other types of mathematical elements. The information we have provided here is not exhaustive, but we hope you will be able to use it to help formulate a thorough and well-informed study plan for this important exam. Our number one goal is to give you the tools to succeed. If you would like more preparation tools, check out the links on this page and elsewhere on the site. We offer not only a HiSET Mathematics study guide, but a HiSET Mathematics practice exam, HiSET Mathematics flashcards, and other resources. With the help of our site, you should have an ample amount of tools to ace the HiSET.
Good luck!
HiSET Math Practice Test
HiSET Exam - Free HiSET Math Practice Test
Online HiSET Prep Course
If you want to be fully prepared, Mometrix offers an online HiSET Prep Course. The course is designed to provide you with any and every resource you might want while studying. The HiSET Course includes:
Review Lessons Covering All the Topics
1250+ HiSET Practice Questions
More than 1250 Electronic Flashcards
Over 350 Instructional Videos
Money-back Guarantee
Free Mobile Access
and More!
The HiSET Prep Course is designed to help any learner get everything they need to prepare for their HiSET exam; click below to check it out.