HiSET Language Arts – Reading Study Guide
Best HiSET Reading Study Guide!
HiSET Language Arts Review
The HiSET's Language Arts section is composed of two halves: Reading and Writing. The two are markedly different from one another. Because of this, we will be covering each section individually to explain their separate formatting and inform you of the best possible ways to study for either of them. On this page, you will find information about the Reading portion of the Languages Arts subsection. Read on to learn more from this detailed HiSET Reading study guide. Upon reading this guide, you are free to refer to our HiSET Reading flashcards and HiSET Reading practice test for further help.
HiSET Language Arts – Reading Review
As evidenced by the subject alone, the purpose of the HiSET Reading portion of the Language Arts subsection is to evaluate your reading comprehension skills. You will receive a compilation of professionally written works, about which you will answer questions meant to gauge your understanding of the material in multidimensional ways. The selections you'll receive vary in terms of genres and subjects in order to test your ability to comprehend a wide variety of written materials—just as you will encounter various types of written works throughout your academic, professional, and daily life.
Naturally, reading is a heavily important part of getting by in the world on a day-to-day basis, regardless of which career path you choose once you enter the professional world. It is also vital to your career as a student, as a lot of the work you will do depends on your capability with reading and comprehending various instructions and written texts. While high school isn't quite as intensive in terms of the amount of reading expected of you, if you plan to move onto higher education, you will certainly have to juggle reading large volumes of material for several classes—much of which is more complex than what you'll find in most high school curricula.
Regardless of what path you choose after obtaining your high school equivalency, we want to ensure you are as prepared as possible for this new environment by helping you earn as high a score as possible. Doing well on this section of the exam will bring you one step closer to continuing on with your future and building a better life and livelihood for yourself. This is why you need a solid foundation in reading and comprehension—to ensure you're able to perform well in any academic or professional setting.

Check Out Mometrix's HiSET Language Arts Study Guide
Get practice questions, video tutorials, and detailed study lessons
Get Your Study Guide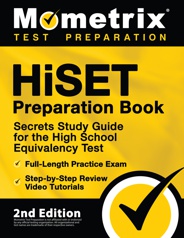 Online HiSET Prep Course
If you want to be fully prepared, Mometrix offers an online HiSET Prep Course. The course is designed to provide you with any and every resource you might want while studying. The HiSET Course includes:
Review Lessons Covering All the Topics
1250+ HiSET Practice Questions
More than 1250 Electronic Flashcards
Over 350 Instructional Videos
Money-back Guarantee
Free Mobile Access
and More!
The HiSET Prep Course is designed to help any learner get everything they need to prepare for their HiSET exam; click below to check it out.
What Is Featured on the HiSET Language Arts – Reading Subsection?
The Reading subsection of the HiSET is, much like its counterparts in other subjects, composed of multiple choice questions. There are 40 questions total, with a time allotment of just over an hour—or, more precisely, 65 minutes—for you to complete the entire section. This is supposed to grant you enough time to read over each passage carefully before you tackle answering the corresponding questions.
You will be expected to demonstrate competency with four specific dimensions of reading—Synthesis and Generalization, Comprehension, Analysis, and Inference and Interpretation—all by way of reading written passages provided to you within the testing booklet and answering corresponding questions about their content.
The questions you will find are 40 percent based on informational texts and 60 percent on literary texts. Each passage you receive will vary between lengths of 400 and 600 words total. Additionally, you will be given a wide variety of works to analyze, ranging from prose and poetry to nonfictional and editorial pieces. As stated above, the purpose of this is to evaluate your ability to comprehend and evaluate multiple kinds of reading materials, as you'll likely encounter written pieces of all types in your daily life. Rest assured, however, that the passages found on the HiSET won't broach anything beyond what can be found in the average high school curricula. This means you don't have to worry about the possibility of any overly complicated materials being published as part of the HiSET. The exam just wants to test you on basic ability.
Because of the multiple standards involved in this exam, we will go over each objective individually and tell you what they mean and what type of thinking is involved.

Check Out Mometrix's HiSET Language Arts Flashcards
Get complex subjects broken down into easily understandable concepts
Get Your Flashcards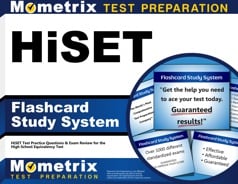 Synthesis and Generalization
This part of the Reading subsection's objectives seeks to evaluate your ability to apply facts gleaned from what you have read. It ties closely to 'Inference and Interpretation'. The 'Synthesis and Generalization' rubric will specifically be looking for how well you can combine information taken from multiple works into one solid conclusion; your ability to create factual statements and logical conclusions from singular works; your capabilities with comparing more than one work for similarities and contradictions; and how well you are able to forecast future events and stances in the text based on context clues given by the author.
Comprehension
Simply put, the HiSET's 'Comprehension' rubric wants to know how well you can understand what you read and process the information provided by the text. This means you should be able to decipher the different meanings of a given work based on diction, as well as how they influence the overall mood of the work; define the meanings of words based on the way the author uses them in the given passage; and to be able to pick up on the meaning of a sentence even when it is paraphrased.
Analysis
The 'Analysis' category is meant to gauge your ability to understand the text on an abstract level—what the piece means, rather than what it says on the surface. It will evaluate how well you can identify various writing devices and techniques; your ability to decipher concepts implied within a work; point out details about a writer's particular usage of language and style; tell the difference between various types of literary statements and how they affect the text; and why the writer may have penned this particular work based upon their wording.
Inference and Interpretation
The HiSET'S 'Inference and Interpretation' category assesses your ability to use information provided by a given text to formulate a logical, well-informed conclusion. In essence, it wants to see how well you can "read between the lines." It accomplishes this by testing for your capabilities with making sense of language that may be more abstract in its implications; use the information provided by a given work in meaningful ways; and glean from textual clues how a character's perspective and personality are being portrayed.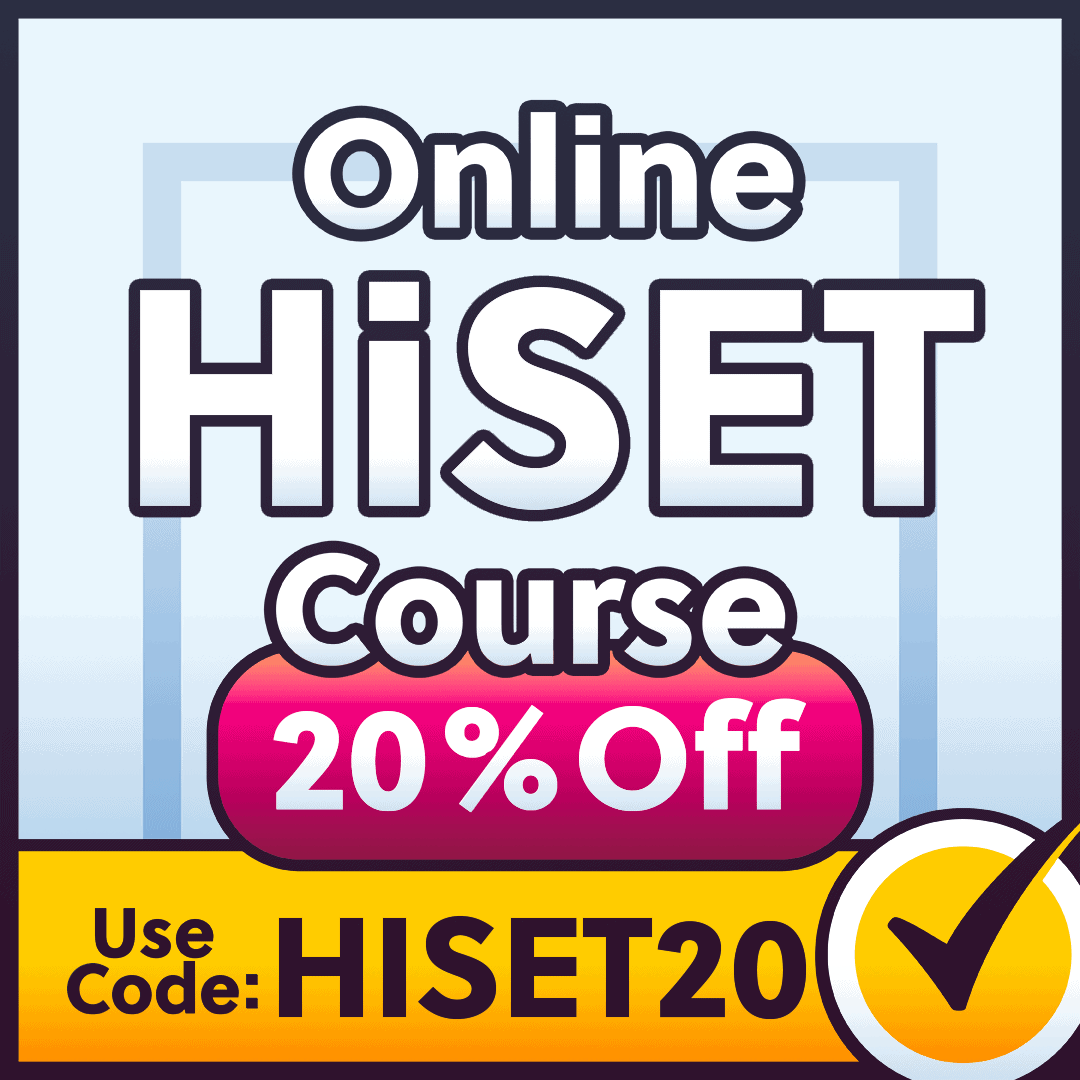 These are only a few of the elements you must understand to pass the Reading section of the HiSET Language Arts subsection. There are other, finer points that the test seeks to assess; however, we have gone over the general objectives to lend you an understanding. With this information, we hope you will be able to start putting together a study plan that will help you prepare for this HiSET portion as best you can. If you need further help, we encourage you to check out the HiSET Reading study guide, HiSET Reading practice test, and HiSET flashcards featured on this page and elsewhere on our website.
Good luck, and study hard!