CSET English Practice Test
The Commission on Teacher Credentialing (CTC) developed the California Subject Examinations for Teachers (CSET) so that prospective teachers would have the subject mastery necessary to teach specific courses. The CSET English examination is only offer in a computer based format.
The examination can be taken all year round, but it must be taken at a testing center. The CSET English practice questions are sure to assist you in being ready to take your examination. The CSET examination is broken out into four subtests. For the entire examination you can expect 100 multiple choice questions and 6 constructed response questions.
For the constructed response questions, you will be given some material to read, and then you will be tested on your knowledge of that material in relation to the subject matter. About 50% of the multiple choice questions will be on Reading Literature and Informational texts and Composition and Rhetoric.
The other 50% of the multiple choice questions will be on Language, Linguistics, and Literacy. The CSET English practice test will prepare you for these questions. Your examination may also include some questions that will be evaluated for future administrations, so don't worry if some questions aren't as familiar to you. You won't be graded on those questions at all.
The constructed response questions will cover the subject areas of Composition and Rhetoric, Reading Literature and Informational Texts, Communications: Speech, Media, and Creative Performance. There will be 2 constructed response questions. One of them will be based on literary text and the other on nonliterary text. You will also want to prepare for 4 short, focused questions in the subject matter of Communications.
Check Out Mometrix's CSET English Study Guide
Get practice questions, video tutorials, and detailed study lessons
Get Your Study Guide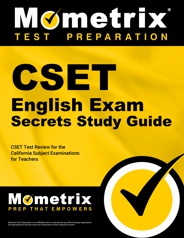 You will be allowed 1 hour and 30 minutes for CSET English subtest #105 and CSET English subtest #107. Your time limit for CSET English subtest #106 will be one hour. CSET English subtest #108 gives you 2 hours to complete the questions. You may take all four of them at the same time. The test clock does not stop for breaks, but you will be given 6 hours to take all four tests, if you wish. The extra time may allow you to take a quick break if you need one. You will need a passing score of 220 on each subtest to receive your certification in CSET English.
CSET English Study Guide
Mometrix Academy is a completely free resource provided by Mometrix Test Preparation. If you benefit from our efforts here, check out our premium quality CSET English study guide to take your studying to the next level. Just click the CSET English study guide link below. Your purchase also helps us make even more great, free content for test-takers.