CMA Part 1 – Financial Planning, Performance and Analytics Practice Test
Although there are two parts that make up the computer-based CMA Exam, for the purpose of this article, we will focus on Part 1: Financial Planning, Performance, and Analytics.
For Part 1 of this exam, you will be given four hours to complete 100 multiple-choice questions and 2 essay questions.
Special testing accommodations are available for those who have conditions that are approved by the Americans with Disabilities Act.
Some testing accommodations include extended testing time, additional breaks, and Braille test materials.
On what cognitive categories will the exam questions be based?
For the CMA Exam, the questions will be based on a combination of six cognitive categories.
The first is knowledge. This is the ability to recall previously learned material.
The second is comprehension. This is the ability to understand learned material.
The third is application. This is the ability to use previously learned material in new ways.
The fourth is analysis. This is the ability to break down information to find relationships between different components.
The fifth is synthesis. This is the ability to take components of material learned, and put them together in such a way that wasn't there before
The sixth is evaluation. This is the ability to judge the material learned.
Additionally, questions will cover one of three levels. Level A questions require knowledge and comprehension. Level B questions require knowledge, comprehension, application, and analysis skills. Level C questions require knowledge, comprehension, application, analysis, synthesis, and evaluation.
Check Out Mometrix's CMA Part 1 Study Guide
Get practice questions, video tutorials, and detailed study lessons
Get Your Study Guide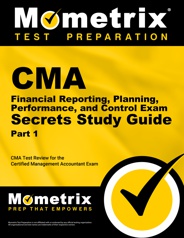 What categories and topics are covered on this portion of the exam? What percentage of questions are there for each category?
External Financial Reporting Decisions: 15%
Planning, Budgeting, and Forecasting: 20%
Performance Management: 20%
Cost Management: 15%
Internal Controls: 15%
Technology and Analytics: 15%
The External Financial Reporting Decisions category focuses on financial statements and recognition, measurement, valuation, and disclosure.
The Planning, Budgeting, and Forecasting category focuses on strategic planning, budgeting concepts, forecasting techniques, budgeting methodologies, annual profit plan and supporting schedules, and top-level planning and analysis.
The Performance Management category focuses on cost and variance measures, responsibility centers and reporting segments, and performance measures.
The Cost Management category focuses on measurement, costing systems, overhead costs, supply chain management, and process improvement.
The Internal Controls category will focus on governance, risk, and compliance, internal auditing, systems controls and security measures.
How can I register for this exam?
Register online.
What is the cost of the exam?
For professional members of the Institute of Management Accountants, the cost to take Part 1 of this exam is $415.
For student/academic members of the Institute of Management Accountants, the cost to take Part 1 of this exam is $311.
What are the testing dates and locations?
The three testing windows each year are January/February, May/June, and September/October.
There are hundreds of testing sites throughout the world.
What should I do the day of the exam?
Arrive on time at the testing center. It is recommended that you get there 15-30 minutes early in order to park, complete the check-in procedures, etc.
Bring two forms of identification. One should include your name, signature, and photo. A passport or driver's license would be suitable. The other, such as a social security card, must have your name and signature, at a minimum. Also bring your scheduling confirmation.
Each testing center has its own rules about what is acceptable at the testing center or in the testing area, so be sure to confirm this with them before the day of the exam.
What happens after I take the exam?
Within approximately two weeks of taking the exam part, you will receive an email with your score report.
What is the minimum passing score of the exam?
The score range for each part of the exam is 0-500. The minimum score you must receive in order to pass is 360 per part.
What happens if I don't pass the exam?
You can only take this exam part one time in a testing window, but you can sit for as many testing windows in a 3-year period as necessary to pass.
What makes studying for this exam exciting? Knowing that you will pass with the use of Mometrix's study guide and flash card set. Buy yours today!
CMA Part 1 – Financial Planning, Performance and Control Study Guide
Mometrix Academy is a completely free resource provided by Mometrix Test Preparation. If you find benefit from our efforts here, check out our premium quality CMA Part 1 – Financial Planning, Performance and Control study guide to take your studying to the next level. Just click the CMA Part 1 – Financial Planning, Performance and Control study guide link below. Your purchase also helps us make even more great, free content for test-takers.
Check Out Mometrix's CMA Part 1 Flashcards
Get complex subjects broken down into easily understandable concepts
Get Your Flashcards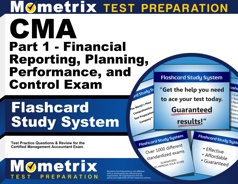 CMA Part 1 Study Guide Customer Success Stories
Our customers love the tutorial videos from Mometrix Academy that we have incorporated into our CMA Part 1 test study guide. The CMA Part 1 study guide reviews below are examples of customer experiences.
It is easy to follow through in the order that the material is presented, but I especially like that the other half has a practice test and explanations. The content provides a good overview before tackling the details, which is a different approach than other test prep companies use. Of course, the price of this book is reasonable too and is a better option for those who can't afford expensive test prep courses but have the determination to succeed in the exam.
CMA Part 1 Study Guide – Haydee
it is very closely related to the materials I need to be studying but also is a great way to refresh the basics to help build up and regain all the important information. Also is a great way to show people how to study for exams and how to avoid so much stress and great time management during test-taking.
CMA Part 1 Study Guide – Colby
The way that each topic was being discussed is very clear and simple. The author is very straightforward. Using simple words makes it easier for the reader to acquire all of the knowledge that they will be able to read this book. After the discussion is the practice test along with its key answers and explanations. It is good because you'll know immediately your error and how did it happen that, that is the correct answer and not the one that you chose. With the authors' explanations to the answersthe questions and the correct answers will retain in your mind. This book also contains test taking tips and tricks, five secrets to success, general strategies, what is test anxiety and how to overcome it, and other special reports and additional materials.
CMA Part 1 Study Guide – Marissa
Great Product! The questions are simple enough to be incorporated into more complex exam questions. They don't confuse you with the added tricky verbiage. I have other study material from other companies, and all the questions seem alike. Very confusing. These are simple, but thorough, and convenient to use.
CMA Part 1 Study Guide – Christina
So far this study material has been very helpful. I plan to take my test in the summer and from what I have read up on and tested myself has been very good. It really tests what I have been reading and I feel that is going to be very useful when I go into the exam.
CMA Part 1 Study Guide – Laura
This is the best study guide that I have ever read. I wish I have found out about your product sooner. Better late than never. Thank you very much!
CMA Part 1 Study Guide – Customer
It is very easy to use. Convenient to bring along anywhere for an impromptu study session. Concise and straight to the point.
CMA Part 1 Study Guide – Naysa