The Certified Management Accountant (CMA) certification exam is designed to assess the knowledge and skills of accountants, as well as increase credibility in the industry.
Click "Start Test" above to take a free CMA practice test, and check out our premium-quality CMA test prep resources by clicking the links below!
CMA Exam Eligibility
To be eligible for this exam, you must meet the following criteria:
You must hold at least a bachelor's degree from an accredited college or university
You must have at least two consecutive years of professional experience in management accounting or financial management
You must have paid the CMA entrance fee and completed the CMA program in the last three years

Professional members: $280
Student/academic members: $210
CMA Exam Outline
The CMA exam is split into two parts, each containing 100 multiple-choice questions and two essays. Each part is timed at 4 hours.
Part 1: Financial Planning, Performance, and Analytics
The questions on this part of the exam are designed to assess your knowledge and skills in the following areas:
External Financial Reporting Decisions (15%)

Financial statements
Recognition
Measurement
Valuation
Disclosure
Planning, Budgeting, and Forecasting (20%)

Strategic planning
Budgeting concepts
Forecasting techniques
Budgeting methodologies
Annual profit plan and supporting schedules
Top-level planning and analysis
Performance Management (20%)

Cost and variance measures
Responsibility centers and reporting segments
Performance measures
Cost Management (15%)

Measurement concepts
Costing systems
Overhead costs
Supply chain management
Business process improvement
Internal Controls (15%)

Governance, risk, and compliance
System controls and security measures
Technology and Analytics (15%)

Information systems
Data governance
Technology-enabled finance transformation
Data analytics
Part 2: Strategic Financial Management
The questions on this part of the exam are designed to assess your knowledge and skills in the following areas:
Financial Statement Analysis (20%)

Basic financial statement analysis
Financial ratios
Profitability analysis
Special issues
Corporate Finance (20%)

Risk and return
Long-term financial management
Raising capital
Working capital management
Corporate restructuring
International finance
Decision Analysis (25%)

Cost/volume/profit analysis
Marginal analysis
Pricing
Risk Management (10%)

Types of risk
Risk identification and assessment
Risk mitigation strategies
Managing risk
Investment Decisions (10%)

Capital budgeting process
Capital investment analysis methods
Professional Ethics (15%)

Business ethics
Ethical considerations for management accounting and financial management professionals
Ethical considerations for the organization
Check Out Mometrix's CMA Study Guide
Get practice questions, video tutorials, and detailed study lessons
Get Your Study Guide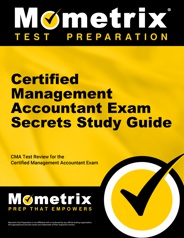 CMA Exam Registration
To register for the exam, you must be approved by ICMA and receive an authorization letter. Once, you have this letter, you may schedule your exam appointment and pay the $460 exam fee ($345 for student/academic members).
Test Day
On test day, you should arrive 15-30 minutes early to the testing center. This will allow time for the check-in process. The check-in process involves checking your ID and signing a confidentiality form.
Before entering the testing area, you will be asked to place all personal or prohibited items in a secure locker outside the testing area, and you will be given a piece of scratch paper and two pencils to take notes with during the exam.
Once you are ready, the proctor will lead you to the testing station and provide a brief introduction to the testing system before the exam begins.
How the CMA Exam is Scored
Your CMA exam score is calculating using a scaled scoring system. This system takes your raw score (the number of questions you answered correctly) and converts it to a numerical score on a scale from 0 to 500. To pass, your final scaled score must be at least 360 on each part of the exam.
Retaking the Exam
If you wish to retake the exam, you must re-register and pay the necessary examination fees in full.
Check Out Mometrix's CMA Flashcards
Get complex subjects broken down into easily understandable concepts
Get Your Flashcards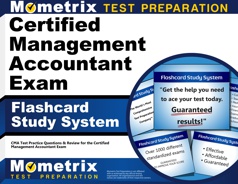 FAQs
Q
How many questions are on the CMA exam?
A
There are 200 questions and four essays on the exam.
Q
How long is the CMA exam?
A
The total time limit for this exam is 8 hours (4 hours for each part).
Q
What is the passing score for the CMA exam?
A
To pass the exam, you must achieve a scaled score of at least 360 on each part.
Q
How much does the CMA exam cost?
A
The examination fee is $460 for professional members and $345 for student/academic members.