CAST Practice Test
A wide variety of employment opportunities exist in the fields of construction and skilled trades. Candidates seeking employment in one of these positions will most likely be required to take the Construction and Skilled Trade Selection System examination (CAST).
Click one of the options below to take a free CAST practice test!
What is the CAST Exam?
The CAST is a battery of tests used to gauge an applicant's aptitude and ability to learn and process new information, which provides an indication of the likelihood of success on the job.
The exam is a typical component of the employment application process for individuals seeking employment in industry jobs such as facility maintenance and repair, transmission and distribution, electrical repair, machine maintenance and repair, vehicle maintenance and repair, meter service and repair, and other skilled trades.
Exam Outline Review
The CAST exam consists of four paper-and-pencil aptitude tests that take approximately 1.5 hours to complete:
1. Graphic Arithmetic (16 questions)
This test measures your ability to solve arithmetic problems based on information from prints and drawings. You will encounter a lot of floor plans, blueprints, and other types of drawings and prints that are relevant to construction and skilled trades.
You will have 30 minutes to answer the 16 questions on this test, which will cover the following skills:
Basic arithmetic (addition, subtraction, multiplication, division, etc.)
Elementary algebra (based on high school level algebra curriculum)
Interpretation of visual information
2. Mechanical Concepts (44 questions)
This test will focus on your ability to work with fundamental mechanical concepts that are most relevant to construction and other skilled trade jobs. Each question will include a visual representation of a mechanical situation and three possible answers.
You will have 20 minutes to complete the 44 multiple-choice questions, which cover a range of everyday mechanical principles:
Gravity
Levers
Pulleys
Gears
Shapes
Centrifugal Force
3. Reading for Comprehension (32 questions)
The reading for comprehension test assesses exactly what its name implies: your reading and comprehension skills.
The test is made up of four separate reading passages, which are each followed by a series of multiple-choice questions related to the passage you just read. You will have 30 minutes to answer 32 questions, all of which measure how much of the text you understood and retained.
4. Mathematical Usage (18 questions)
The 18 questions in this test will be focused on the math that you would be most likely to use in the day-to-day duties of your job, and you will have 7 minutes to complete the test.
You'll need to brush up on the following subjects:
Basic arithmetic including addition, subtraction, multiplication, and division
High-school-level algebra
Measurements, including the ability to convert between different kinds of measurements
Check Out Mometrix's CAST Printed Study Guide
Get practice questions, video tutorials, and detailed study lessons
Get Your Study Guide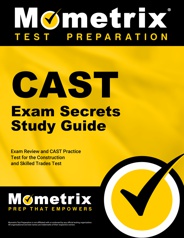 Registration
While the CAST exam is the same no matter where you take it, it's not administered by any central organization. Instead, the company where you are applying for the job will administer the test to you. Because of this, registering for it is just a matter of scheduling an appointment with your potential employer to take the test.
Test Day
There are a few general guidelines that will hold true no matter where you are taking the test. Those guidelines include:
The test will always be pencil-and-paper-based.
The full exam will last roughly 90 minutes.
No calculators, dictionaries, or other study aids will be allowed in the exam room.
Everything that you will need for the test will be provided for you so you don't need to bring anything except your photo ID.
Any questions you have about the exam need to be asked before you begin taking it.
It's advisable to show up 15-30 minutes before your actual appointment to check in.
How the Test is Scored
The results of these four tests are combined to provide a single index score ranging from 1 to 10. There is no defined "passing score" since each individual company can set its own score minimums.
Scoring well on the CAST indicates an ability to learn and perform the job due to an understanding of mathematical relationships, possession of good analytical skills, and attention to detail. Since you are competing against other applicants and scoring well does not guarantee employment, you will want to achieve as high a score as possible.
Online CAST Test Prep Course
If you want to be fully prepared, Mometrix offers an online CAST Prep Course. The course is designed to provide you with any and every resource you might want while studying. The CAST Course includes:
33 Review Lessons Covering Every Topic
350+ CAST Practice Questions
20+ Video Tutorials
More than 80 Electronic Flashcards
Money-back Guarantee
Free Mobile Access
and More!
The CAST Test Prep Course is designed to help any learner get everything they need to prepare for their CAST exam. Click below to check it out!
Check Out Mometrix's CAST Flashcards
Get complex subjects broken down into easily understandable concepts
Get Your Flashcards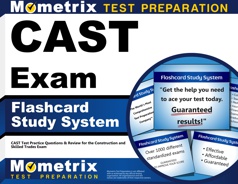 How to Study for the CAST Exam
How to Study Effectively
Your success on CAST test day depends not only on how many hours you put into preparing but also on whether you prepared the right way. It's good to check along the way to see whether your studying is paying off. One of the most effective ways to do this is by taking CAST practice tests to evaluate your progress. Practice tests are useful because they show exactly where you need to improve. Every time you take a free CAST exam practice test, pay special attention to these three groups of questions:
The questions you got wrong
The ones you had to guess on, even if you guessed right
The ones you found difficult or slow to work through
This will show you exactly what your weak areas are and where you need to devote more study time. Ask yourself why each of these questions gave you trouble. Was it because you didn't understand the material? Was it because you didn't remember the vocabulary? Do you need more repetitions on this type of question to build speed and confidence? Dig into those questions and figure out how you can strengthen your weak areas as you go back to review the material.
Answer Explanations
Additionally, many CAST practice tests have a section explaining the answer choices. It can be tempting to read the explanation and think that you now have a good understanding of the concept. However, an explanation likely only covers part of the question's broader context. Even if the explanation makes sense, go back and investigate every concept related to the question until you're positive you have a thorough understanding.
Comprehend Each Topic
As you go along, keep in mind that the CAST practice test is just that: practice. Memorizing these questions and answers will not be very helpful on the actual test because it is unlikely to have any of the same exact questions. If you only know the right answers to the sample questions, you won't be prepared for the real thing. Study the concepts until you understand them fully, and then you'll be able to answer any question that shows up on the test.
Strategy for CAST Practice
When you're ready to start taking practice tests, follow this strategy:
Remove Limitations. Take the first test with no time constraints and with your notes and CAST study guide handy. Take your time and focus on applying the strategies you've learned.
Time Yourself. Take the second practice test "open book" as well, but set a timer and practice pacing yourself to finish in time.
Simulate Test Day. Take any other practice tests as if it were test day. Set a timer and put away your study materials. Sit at a table or desk in a quiet room, imagine yourself at the testing center, and answer questions as quickly and accurately as possible.
Keep Practicing. Keep taking practice tests on a regular basis until you run out of practice tests or it's time for the actual test. Your mind will be ready for the schedule and stress of test day, and you'll be able to focus on recalling the material you've learned.
FAQs
How many questions are on the CAST exam?
There are a total of 110 questions on the exam.
How long is the CAST exam?
The exam is timed at approximately 2 hours.
What is a passing score for the CAST?
Because the exam is scored via index, there is no set passing score.
CAST Study Guide Customer Success Stories
Our customers love the tutorial videos from Mometrix Academy that we have incorporated into our CAST test study guide. The CAST study guide reviews below are examples of customer experiences.
My boyfriend had to take the cast exam and was super nervous because he heard how hard it was. I ordered this book for him based on reviews. He passed on the first try!
CAST Study Guide – Laura
Very useful study book that gets straight to the point. Met my needs for wanting to know exactly what to study for opposed to doing research online. Very helpful in regards to explaining answers to questions.
CAST Study Guide – Timothy
When I received the book at first glance I thought the book was too small, but after skimming through the book and going over the material, I now know that the book is amazing. The book is way more than expected and will most definitely be recommended to others.
CAST Study Guide – Shawntice
I rated this product as a 5 because it's the only book that I have found that has actually helped me learned and understand mechanical concepts.This book has made it easy for me to understand different concepts. The more I read it the easier it is for me to remember how to approach different test formats. Great book!
CAST Study Guide – Customer
With the material purchased and serious study for a very short time frame, I was able to pass the CAST on the first attempt. This material was very much responsible for my new career, and highly recommend the purchase to any one who plans to test. I do recommend, however, doing so well in advance of testing and dedicate plenty of study time, as the CAST test is no joke, and can lead to a very good career.
CAST Study Guide – Customer
The outline and breakdown of the parts of the test is excellent. The practice test is quite valuable. The test taking tips are very good and useful.
CAST Study Guide – Customer
This exam book has good pointers. It explains subjects I didn't fully understand but now have a better understanding. The practice exam explains the answer which helps me to understand what I have done wrong and right. I believe this book will allow me to have great success on the CAST exam and my future.
CAST Study Guide – Customer
It has given me the skills that I so badly needed to pass the mechanical aptitude test. I have approximately another week before I take the test, but studying the CAST Exam Secrets Study Guide has given me not only the confidence I needed to pass the test, but more importantly the skills. I love the detailed explanations, they are so easy to understand. I love the instructions as well. I have followed them without question and my mechanical reasoning is at an unbelievable high point! I would recommend this booklet to anyone who needs to take a mechanical aptitude test.
CAST Study Guide – Customer
I truly appreciate the Mometrix team. We have used your books for the last two years and it has prepared our participants for the CAST Exam which in turn helped them to obtain incredible jobs in the Construction and Utilities field.
CAST Study Guide – Ashlee
It is a very easy read and really helps you to understand the test more thoroughly. I have recommended this book to many individuals that have taken the CAST exam have failed. The best study guide on the market.
CAST Study Guide – Antonio